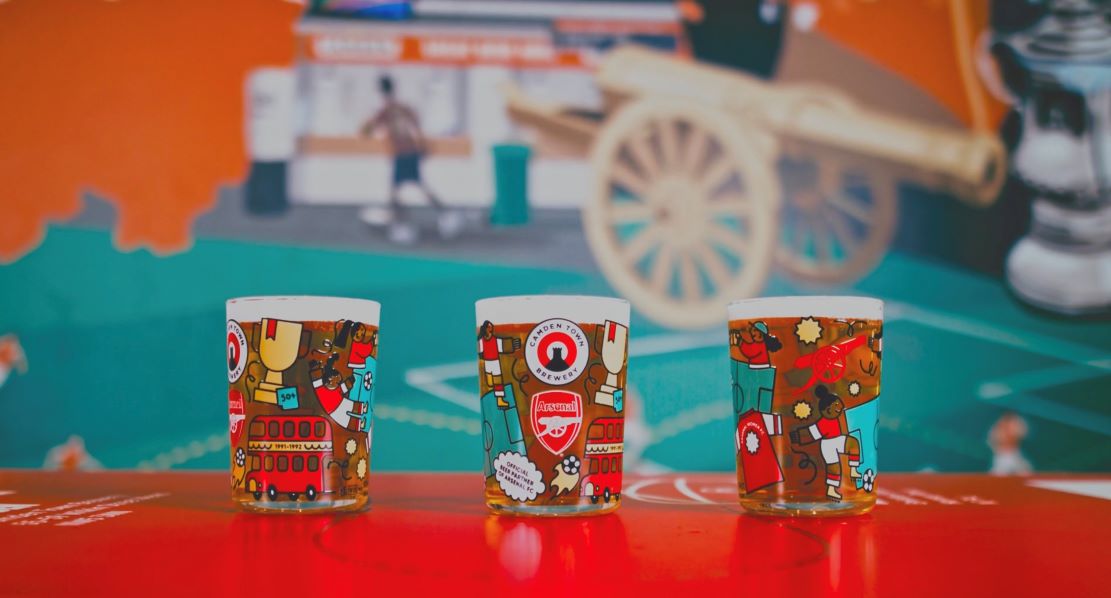 Camden Town Brewery launches Arsenal Women's Jack glass, with 20% of sales going to gender equality charity the Fawcett Society.
Continuing their mission to champion women in sport, Camden's new Jack glass is part of a new partnership with Arsenal's Beth Mead
Illustrator, Martyna Makes, has created a limited-edition design that pays homage to the Gunners, with just 2,000  available from the Camden web shop for £8 each and £40 for 2 glasses and 12 Arsenal Alu bottles of Hells.
The partnership with Beth is part of Camden's continued support of women's football, following the launch OF Goalden Mead Wheat Ale, with all sales going to Mead's chosen charity, Cancer Research UK.
Holly Gibson, Head of Brand Activations & Experiences at Camden Town Brewery, said: "We are so excited to launch our new Arsenal Jack glass and shine a light on the Arsenal Women's team a long side our long term Arsenal partnership. It has been fantastic to work on this launch with Beth, Martyna and the Fawcett Society, bringing together strong females in their respective fields as we continue to grow Camden's activity to support women's football."
Beth Mead said: "The Camden team have been so supportive, particularly over the past few months, and I'm thrilled to be working with them on some of their upcoming activity. I'm a fan of the beer and having my own name on a can for Goalden Mead was pretty surreal for sure. It's great to see Camden supporting women's football and we've got a couple of exciting projects in store so be sure to stay tuned!"
Jemima Olchawski, CEO at Fawcett Society, said: "We're really grateful to Camden Town Brewery for supporting Fawcett's work to improve gender equality and our campaigning for women's rights at work, at home and in public life. Our vision is a society in which women and girls in all their diversity are equal and truly free to fulfil their potential creating a stronger, happier, better future for us all."
Last weekend, the brewery purchased hundreds of tickets to the North London Derby, giving them away to fans so they could attend the record-breaking game and fill their very own 'Camden Corner' at the Emirates.