Players and coaches from WSL1 side Birmingham City Ladies FC took to the kitchens at University College Birmingham last week, for an introduction to a new cookery skills and nutrition programme devised by their shirt sponsors, Maple Products from Quebec.
The food programme is part of a three-year agreement with The Federation of Quebec Maple Syrup Producers (FPAQ), through its brand Maple Products from Quebec, which is the biggest partnership deal in Blues Ladies' history. The new scheme will be used to promote the nutritional benefits of pure Quebec maple syrup as a healthier alternative to processed sugars and other sweeteners.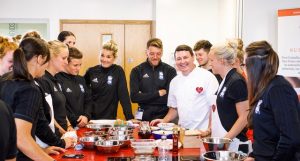 Led by Maple Products from Quebec's UK chef ambassador David Colcombe, the players took part in a cookery demonstration showcasing the versatility of pure maple products.
Chef Colcombe said: "We had a great morning with the squad, taking them through the history and production method of maple syrup before introducing them to cooking with maple products.
"The most important thing we touched on today was the importance of diet and how our cooking and nutrition sessions will help them progress as professional athletes.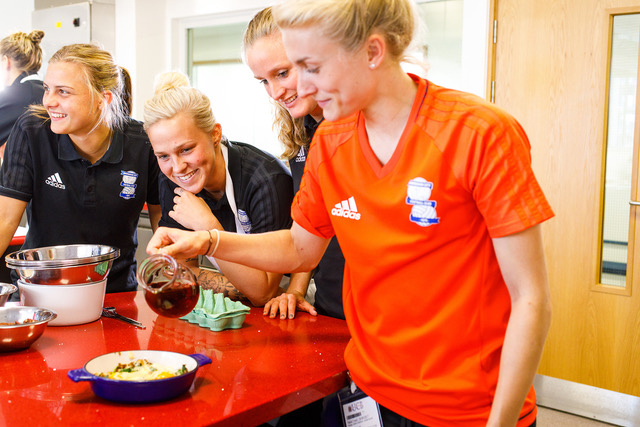 "The players have responded to the partnership and nutrition sessions with such enthusiasm. There wasn't one piece of food left at the end. We're looking forward to developing sport-specific recipes with the players to share with the wider sporting audience."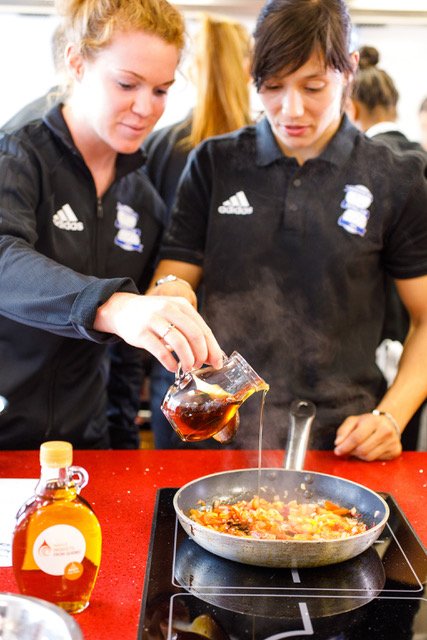 Carl Green, Birmingham City Ladies FC sport scientist, said: "Nutrition is such a key part of an athlete's regime and we are delighted to have a principal partner that wants to invest in the players at the club and help them progress to the next level.
"The first session was fantastic and I'll be working with David to create a bespoke nutrition programme for the players across the season to complement their existing training schedule."
The partnership between BCLFC and Maple Products from Quebec aims to inspire girls and young women to take up sports activity and educate them about the importance of nutrition in sports and everyday life.
Pure Quebec maple syrup is a 100% natural, unprocessed product, packed with essential minerals and antioxidants vital for athletic performance, as well as carbohydrates that easily metabolise glucose and provide energy before, during and after exercise. It is also a vegan product.
This is not FPAQ's first involvement with Blues; last season saw Maple Products from Quebec sponsor the Ladies Regional Talent Centre (RTC). Through the new agreement the federation is now stepping up its commitment not only to Blues but women's sport in general.