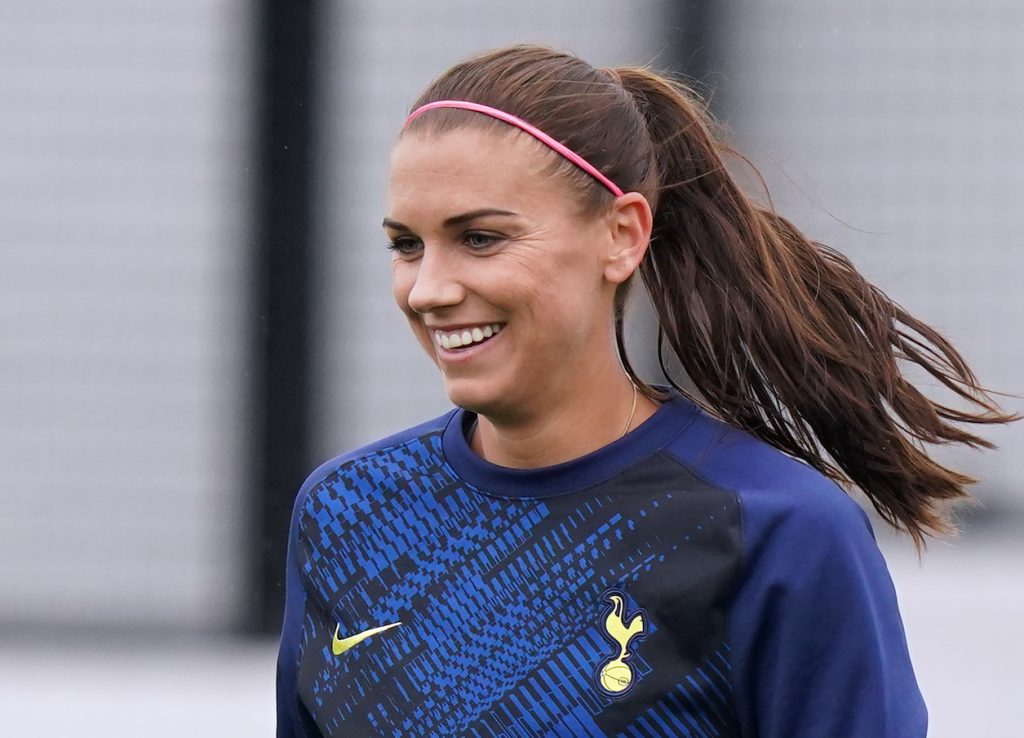 Alex Morgan met the media in a virtual press conference on Friday for the first time since her move to Spurs. We thought you might be interested not just in what she had to say, but what the eagerly anticipated event felt like from our side of the computer screen, writes CATHERINE ETOE…
It had been more than two weeks since the email from Spurs pinged into our inboxes to finally confirm the rumour that Olympic gold, Champions League and two-time World Cup winner Alex Morgan was north London-bound.
In the days since, we'd hung on every word and camera angle of a Spurs TV exclusive interview with the American superstar; we'd lapped up countless television images of her fending off the bitter cold as her new club fell to Arsenal in the FA Cup.
We had even quizzed her new bosses, joint head coaches Juan Amoros and Karen Hills, for tidbits on their blockbuster signing. But that was as close as we had come to the woman herself.
Virtual press conference time…

Then, at tea-time on Friday and punctual to almost the millisecond, Alex Morgan finally sat down in front of a backdrop lined with sponsors' logos and the famous cockerel and ball of Tottenham Hotspur FC to meet the press. As big reveals go, this felt like the mother of them all.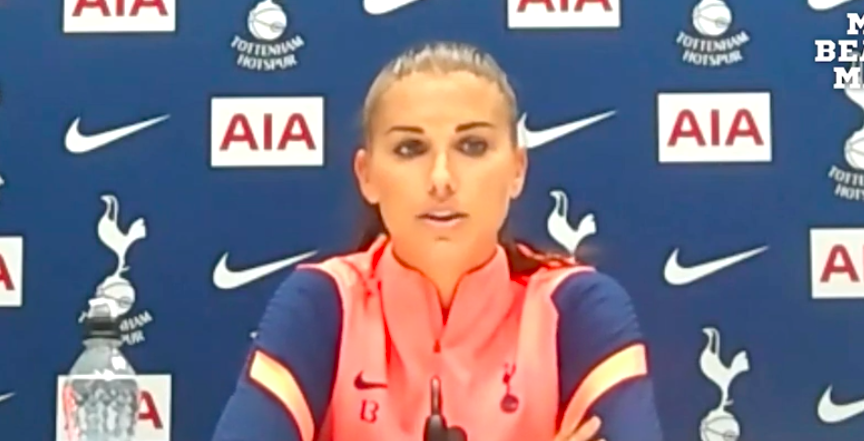 Almost 40 journalists and broadcasters were in the virtual room, all no doubt eager to finally add flesh to the bones of the biggest transfer story in Spurs Women's history. Having first written about Spurs 'Ladies' 21 years ago, for me personally, it was all just a tiny bit surreal.
So why this club and the WSL and why now?
It wasn't easy to hear what Morgan had to say in reply, some glitch in the microphone making her sound like she was talking from outer space, but it was something about the league being the best option and Spurs a no-brainer.
Growly mic or not, those early thoughts weren't delivered with quite the smooth ease that we'd seen on Spurs TV; but how could they be? There were scores of faces gawking at her from a computer screen, some familiar, most not, and even a megastar might need a minute or two to warm up.
Then, in the blink of an eye, we got the first glimpse of the personality behind the player. Reacting to a noise in her non-virtual room, Morgan apologised, believing it to be her phone. "Sorry, that's my phone – is that mine? I heard some buzzing," she asked sheepishly, like a cheeky schoolgirl caught in the act.
Newsflash: not only is this superstar footballer human, she's a polite one at that.
She's also got balls, as the story behind her decision to quit America soon revealed. It seems that Morgan was in Orlando, but training alone due to Covid-19 protocols. Desperate to get back to working with a team and to full fitness after her recent pregnancy, the 31-year-old began to consider how few games she might actually play in the shortened NWSL season and how quickly it would be over.
"All of these questions were coming up," she explained. "I spoke with my husband at length about it and we decided to start looking at other options. It wasn't my intention to go to Orlando and decide to play for another club in another country, but I wanted to give myself the best opportunity to get back to full fitness, get back to playing consistent matches."
Within days a contract from Spurs was on the table. "This was when I was 50/50, just wasn't sure if I was ready to make the move with my daughter, pull my family apart from each other," she said. "I was in Orlando for nearly two weeks at that point and I decided to go back [home] and pack my bags and come here instead."
Adapting to life in London and as a new mother
Morgan did not arrive in London alone. She said her daughter is with her, as is her mother-in-law, and they are using FaceTime to stay in touch with her husband. Which all sounds fine, but when she talked about how she juggles motherhood with training, I almost wanted to offer to babysit.
"The days here are a lot longer [than in America], like six or seven hours," she said. "So just juggling being away from her that much and kinda leaving that responsibility with my mother-in-law, and also figuring out not being able to nurse Charlie and having to [breast] pump between training and a meeting or training and gym, it's been quite interesting.
"The first week I felt like the days were running together and now this second week I feel like I'm starting to get the hang of it a little bit.
"I've taken as much as I can from [mum-of-two Sydney Leroux] – even on how to pump on the way to training or what to do after training in terms of going back home and having to take care of kids rather than having to really take care of your recovery and make sure your legs are good. You have to really play like supermom, so it's been great to be able to have someone who's been through it to be able to give me advice."
Two other Orlando Pride teamies have helped Morgan get to grips with this new life, Spurs' loan signings Alanna Kennedy and Shelina Zadorsky offering her "rides" to and from training and taking her out to dinner. The weather has not been her friend (but then she did come to England from Florida), while the footballing public are blowing hot and cold.
"It feels like football is everywhere," she said. "People also, when I'm wearing my Spurs gear, they're booing me, or cheering me on, or seeing me walking down the street, and either giving me a nod of approval or not, it's quite fun to see just how competitive clubs are here and how people are so invested in their teams."
Returning to action
So when will Spurs fans get to see the Alex Morgan who has knocked the goals in for fun on the biggest stages? She was straight about it. She's not quite ready for 90 minutes and is still getting her touch back after so long out, with muscles I've never even heard of having temporarily done a runner.
"Last week was my first introduction to team training and I felt really sharp, really fit and really fast in individual training and then I get into team training and my touch is all over the place, I'm the slowest on the pitch, my quick-to-twitch muscles are non-existent," she said.
"In my second week of training it has gotten much better, my speed has increased a lot, still not to a point that I'm super happy with, so I think that I just need to be really patient with myself. Overall I feel really good, just very sore."
Not her cup of tea
As you'd expect from a packed press conference, there were so many questions and plenty of considered answers, too many to even go into here. One of the killers, though, was on what kind of goal celebrations we can expect. It was a pass on the tea front from Morgan, but her witty team mates might give it a go by the sounds of it.
"You're not going to be seeing the tea celebration! " she laughed. "I said to my team mates, you can, but I'm going to take a step back from that one. They already did it in training, one of the girls did after scoring a pen. I wasn't really looking and then all the girls were laughing and I realised why."
After 50 minutes, it was time to leave Morgan to it. Who knows what she made of it, and although we only skimmed the surface, it felt as though she had given us a little peek into her life right now. All we need now is to see her do her thing in the WSL. Personally, I can't wait.