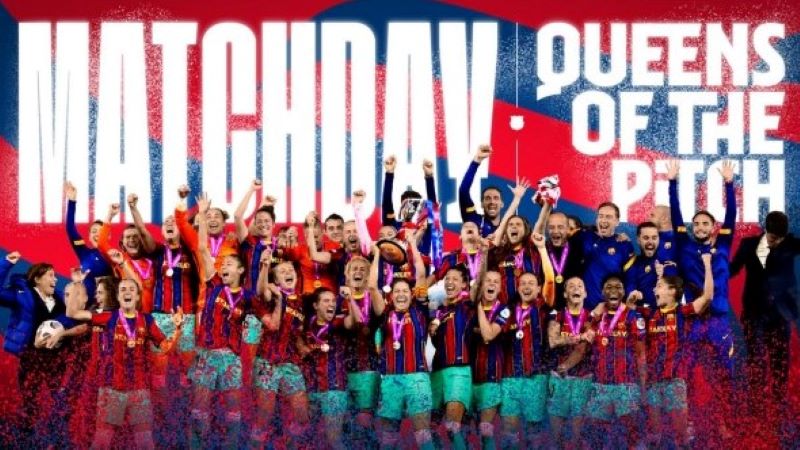 Global premiere announced for Matchday-Queens of the Pitch, about Barcelona Women's triumphant 2020/21 campaign.
The historic treble winning season by Barça Women has been immortalised in a documentary series produced by Barça TV+ and which will have its global premiere on 25 February. Matchday Queens of the Pitch is a look at the team that in the 2020/21 season won their first ever Champions League title, the league, and the Copa de la Reina. Beyond their results, this was a team that won worldwide admiration and acclaim for their style of play, values and their contribution to women's sport via the awakening of interest and passion amongst the fans.
To celebrate the premiere of the documentary on 25 February, Barça will hold an event at the Palau de la Música Catalana in Barcelona in which various representatives from the club will take part, and one of the episodes of the documentary will also be shown.
Matchday-Queens of the Pitch has been produced by Barça Studios, the hub that brings together the creation, production and commercialisation of FC Barcelona audio-visual content. Their cameras captured exclusive footage of the team, the players, the coaching staff and of the day to day life of training, travelling and camaraderie of a group of people who consider themselves family. The images capture the collective strength and charisma of the players such as captains Vicky Losada – in her final season with the club – and current Ballon d'Or Alexia Putellas, one of the key pillars in their sporting success.
Values such as working in a team, strength, the ability to overcome obstacles, humility and a connection with the fans are show in the series that is spread over six 30 minute episodes and that will be available worldwide via Barça TV+ in three languages, Catalan, Spanish and English. The premiere comes on 25 February when the first two episodes will be available on the platform: the first free with registration and the second under subscription. Subsequently, the rest of the episodes will be released on weekly basis, also under subscription.