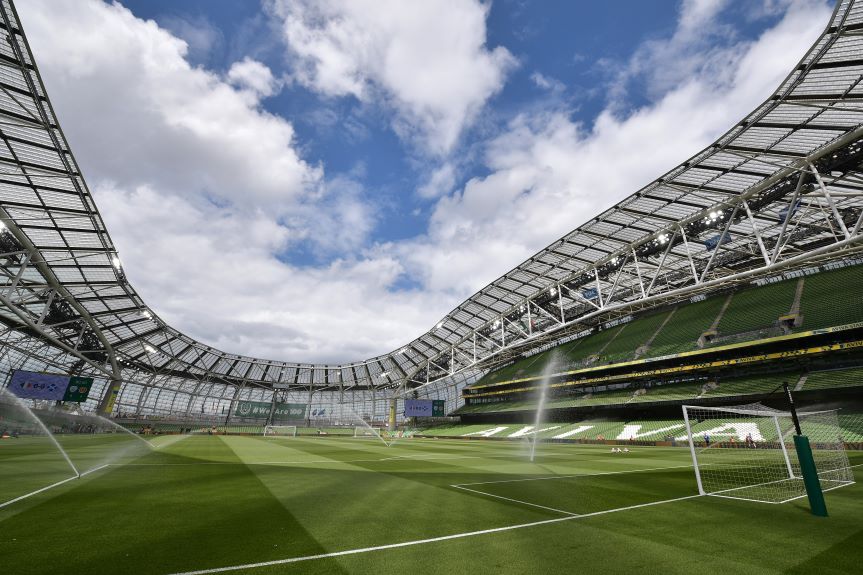 Republic of Ireland Women will play at the Aviva Stadium for the first time on 23 September, in their opening game of the Nations League against Northern Ireland.
FAI CEO Jonathan Hill told fai.ie: "We are extremely proud to be able to announce the first-ever Ireland Women's National Team game at our national stadium, the Aviva Stadium, with what will be the first game for the team after their return from the FIFA Women's World Cup.
"Football for women and girls has clearly moved a significant way forward in the last three years, much of it driven by the inspirational performance by Vera Pauw and the team but also on the back of our equal pay agreement in 2021 and the hard work of thousands of coaches and volunteers the length and breadth of the country who are inspiring women's football to new highs. We are all very excited that another glass ceiling has been removed."
Ireland WNT Manager Vera Pauw said: "It is fantastic to know that our players will get to play in such an iconic stadium – one of the best in the world! Playing in the national stadium is another big jump forward for our team and we encourage our supporters to come out to get behind the team.
"We have had outstanding support in recent years in Tallaght Stadium – who we remain extremely grateful to – but we always said that if the right opportunity to play in the Aviva Stadium came along then we would look at it. This is that right opportunity and we want to have a record attendance to cheer the team on in their first game after the World Cup.
"On behalf of the players and staff, I'd like to thank everyone at the FAI who has made this happen. Playing this game in the Aviva Stadium can be a game-changer for women and girls' football in Ireland."