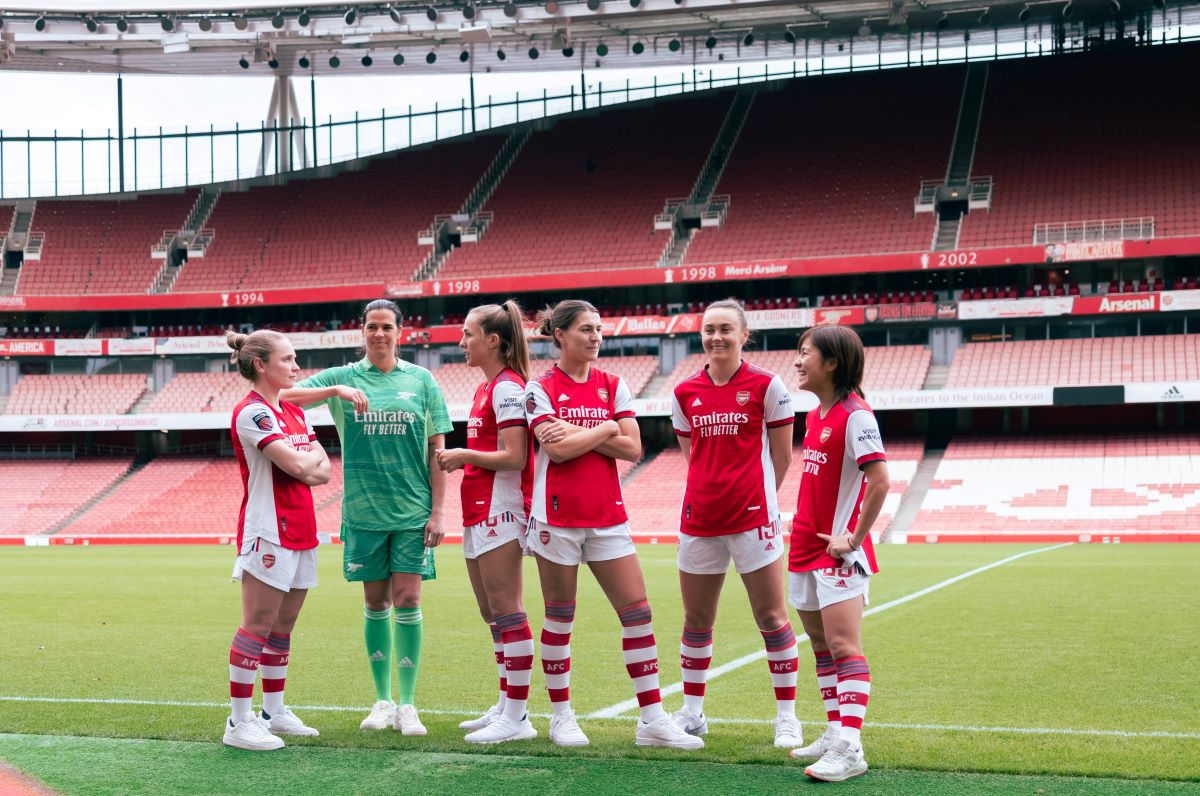 Arsenal will host VfL Wolfsburg and Tottenham Hotspur at Emirates Stadium over the next four days and Gunners' Aussie international Caitlin Foord says: "These are top games, and should be played in top stadiums." 
Arsenal v VfL Wolfsburg, 8pm, Wed 23 March, Emirates Stadium
Arsenal v Tottenham, 2.15pm, Sat 26 March, Emirates Stadium
The WSL league leaders are in action at Emirates Stadium twice this week, firstly taking on VfL Wolfsburg in the first leg of their Champions League quarter-final before a quick turn-around before the North London Derby on Saturday afternoon, the first time this hotly anticipated league fixture has been played at the Emirates.
Jonas Eidevall's side enter the matches in confident form with four consecutive wins across all competitions, most recently a 4-0 win against Coventry United that saw them progress into the FA Cup semi-finals.
Arsenal, the only English club to have won the European club competition (as the UEFA Cup in 2007), are still in the running for the treble this season despite some occasional hiccups, such as suffering a disappointing 4-0 defeat to current UWCL champions Barcelona in group competition at the Emirates back in December. 12,232 fans came out to support the Gunners that evening and the squad are hoping for an even bigger crowd to cheer them on, this time around.
Tonight's opponents will certainly present a stiff challenge as Wolfsburg have considerable experience at the sharp end of the UWCL – this will be their tenth consecutive appearance in the quarter-finals – and have been one of the standout side in the Champions league competition this season finishing top of their group, including a 4-0 blowout against Chelsea.
We spoke to some of Arsenal's stars ahead of the big double-header of Emirates matches and Matildas forward, Caitlin Foord admitted: "It's a big month, a lot of big games. The most important thing is recovery and then focus straight on the next game. Obviously, if we have a win, you want to be excited and celebrate, but that's kind of cut fairly quickly to shift focus to the next game. It's going to be a bit of a rollercoaster."
Foord and her teammates are of course relishing the opportunity and excitement of performing on such a big stage too: "It just gives you that feeling that it is a big game because normally as women heading to a stadium means it's a big game. So yeah, it does. It does bring that excitement," though she did hint that she would happily play in grounds of the size and status of the Emirates more often: "In a way that feeling is nice, but when you think about it, it's also wrong in a way, because that should just be the regular, but it's still not." That every team left in the UWCL, aside from Real Madrid, are playing their quarter-final games at their men's stadium demonstrates the hugely positive direction that these clubs and this prestigious competition are heading in.
The Gunners only have two days to decompress following the massive quarter-final tie before they head straight back into league action against local rivals Tottenham. Republic of Ireland skipper Katie McCabe insists she is: "delighted to play at Emirates on Saturday, it's one of our oldest rivalries, It's going to be a pretty exciting and hopeful day."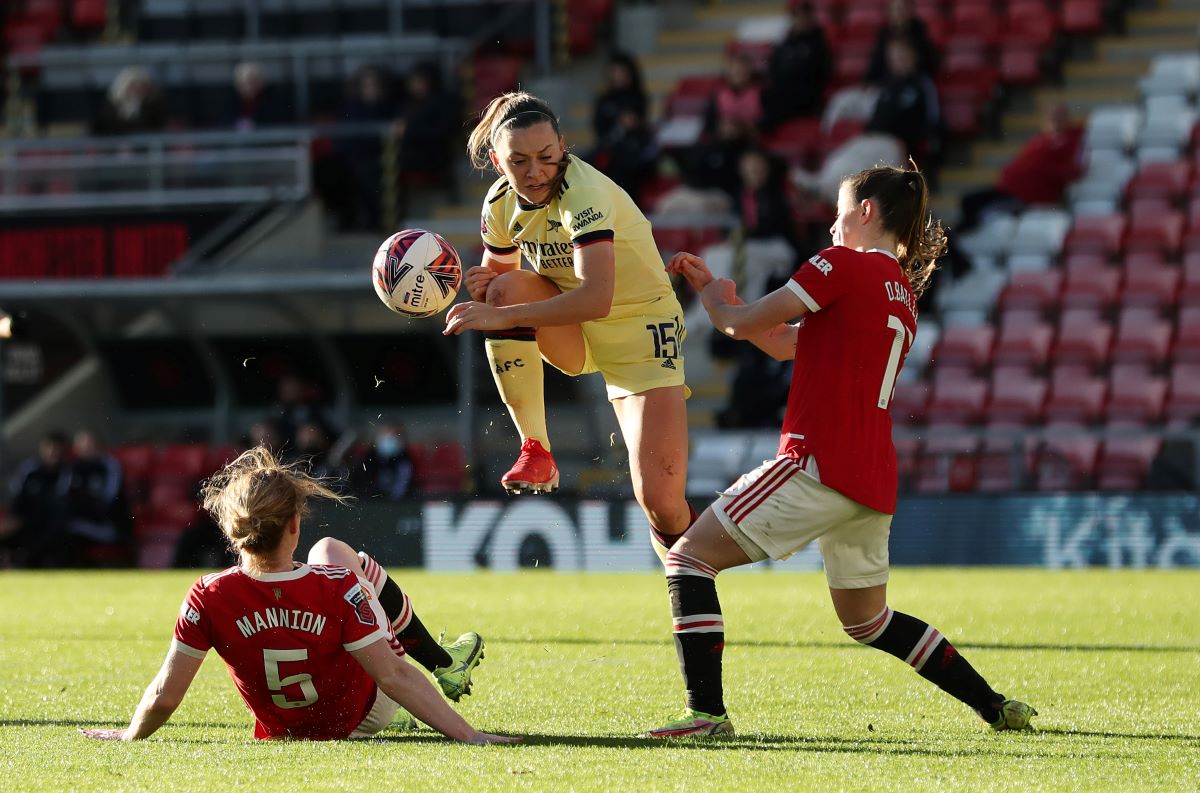 Back in 2019, Tottenham hosted their 'neighbours' at the relatively new Tottenham Hotspur stadium. That clash currently stands as the benchmark for 'big WSL matches' as it drew over 38,000 fans – currently the WSL attendance record.
McCabe elaborates: "The North London Derby itself is getting more and more competitive every year, but that day in 2019 showed the level the game can grow to."
Does she think this could be part of the foundation of a new tradition for the North London Derby? "I'd love to think so, I think when we put it on a platform and we plug it in the right areas and do it well, people come and watch. I'm hoping this is the start of something that will become a regular occurrence every season."
And what is it like playing in front of such big crowds? Does the sound and energy of the crowd feed the players and their performance?
"100% when you win a big challenge, it's electric," smiles McCabe. "You can't really describe it, it just gives you that energy to go on. You can't beat that feeling when the fans are behind you. It's a class feeling."
As summed up perfectly by Foord: "Hopefully it's going to be two great matches and we hope that moving forward we can get more fans out!"
By Chloe Atkins
Tickets for both matches are still available. Details below:
The North London Derby at Emirates Stadium, between Arsenal and Tottenham Hotspur takes place on Saturday 26 March, at 2.15pm. To purchase tickets please visit: https://www.eticketing.co.uk/arsenal/EDP/Event/Index/2989