Arsenal Ladies are entering their 30th year as one of England's top women's football teams – having led the way in the game for two decades, winning 43 trophies along the way – and to further improve and move the modern game forward they are taking the move of dropping the 'Ladies' references on Arsenal channels, interviews and messaging. Video and pictures will make it clear which team they are talking about. The achievements of the the team are something the football club emphasises that they are very proud of and 'an important part of what the club stand for'.
As a club spokesperson explains: "This is a clear signal of togetherness and unity. For formal purposes we will be renamed Arsenal Women Football Club as it is more in keeping with modern day thinking on equality. The name Arsenal Women will only be used in times of potential confusion with the men's team."
We at She Kicks echo the the words from Arsenal in agreeing that this is an important and progressive step as they embark on the next chapter of their history in women's football.
It is exciting times for Arsenal's women, with players performing brilliantly in the Netherlands at #WEURO2017, new signings coming in and access to the club's excellent new facilities at London Colney.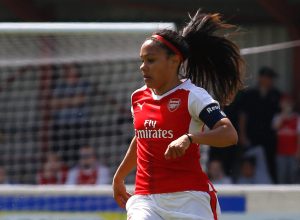 Arsenal's captain Alex Scott has released a statement that says:

"Arsenal Ladies is a name that has a great legacy. However a legacy is not something that you leave behind, your legacy is also what you teach and pass on to the next generation.

"This is one of many positive developments going on at Arsenal. We are attracting some of the best players in the world to our team, and we are training in world class facilities. In changing our name we are celebrating a new chapter in our history, a chapter in which we want to empower a new generation of both males and females. The term 'Women' delineates between men and women without as many stereotypes or preconceived notions and it is in keeping with modern day thinking on equality.

"At Arsenal we want to continue to inspire young people and to be positive influences for all females and males around the world no matter what age or circumstance. We want to continue to show that we are at a stage that it is ok to welcome change, to speak out and to dream whilst having the confidence to do so."
Read the full statement at: https://www.arsenal.com/news/message-alex-scott#dFeEQcoi6prUqi6M.99
Do you agree with the change?