Waking up on the edge of a rainforest in Uganda, you lace your boots as the sun rises ready for another day of coaching enthusiastic, football mad local kids… it sounds like a good opportunity, doesn't it?
Arsenal Football Club are recruiting 'Gappers' for their August intake of the 'Arsenal Gap Year Programme', giving everyone the opportunity to take a truly unique gap year that boosts your CV, enables you to travel the world and gain key qualifications that will help you stand out from the rest, whilst all the while having the best year of your life with Arsenal in the Community.
Starting in August, successful applicants will have an intensive month of Coach Education – learning how to coach kids and adults from Arsenal in the Community coaches, explore how the game can be used as a social vehicle to engage those hardest to reach and build life lasting friendships with fellow Gappers. They'll develop their coaching skills and confidence in local primary and secondary schools as well as get involved with numerous Arsenal in the Community activities before getting ready for an adventure of a lifetime.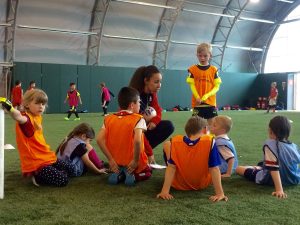 Arsenal in the Community has partner projects all over the world. After Stage 1, Gappers pack their bags ready to spend three months coaching football and developing their leadership skills at one of Arsenal's partners from India, Uganda, Ghana, Bolivia, Australia or South Africa, Philippines and Hong Kong!
Previous Gappers have gone on to careers in teaching, social work, sports marketing, coaching roles at professional clubs – both in the UK and abroad, as well as into further education. If you're keen to know more and apply for the August intake visit: arsenal.com/community/gapyear
A Gapper's story
Lola Ogunbote joined the Arsenal Gap Year in August 2016. She sacrificed a successful career as a lawyer to follow her passion. She had a dream to inspire more girls to play football, just as she did as a child. Such was her dedication to making her dream become a reality, she worked night shifts with a law firm for 4 months, never failing to turn up for coaching the next day.
During her placement in Mozambique, the norm was for 200 local boys to take part in a big tournament. Lola took it upon herself to insist that girls were invited to take part in a tournament of their own.
She was perfectly aware of the cultural attitudes towards women playing football. She also knew she would face resistance from the girls' families. Lola remained bold and determined not to deprive the girls of the opportunity to play. She won over those she needed to and the 30 girls who took part were on cloud nine that they were allowed to play in the tournament for the first time.
Lola's impact on the community in Mozambique does not end there. Based at a local football club, the men's first team were used to having coaches from Arsenal in the Community visit each year. So far they had all been male. Lola admitted to feeling apprehensive as to how she would be received as a female coach, coaching a men's team. She describes them now as a team of brothers.
Clearly, Lola has a bright future in the game. Not just as a coach, but also a mentor, a role model and a trailblazer in the women's AND the men's game. As a result of her time on the Gap Year, Lola has recently accepted a job offer to work in Beijing, China as a coach with Wanguo Qunxing Football Club and is developing women's teams of various ages.
Where are they now?
Lola and Laura are both previous Gappers who have gone onto have successful sports based careers as a result of their participation on the Arsenal Gap Year Programme, Laura is now working in sports marketing, helping sports rights holders understand their audiences and fans better through data. Laura's worked on projects with Liverpool FC, England Rugby, Wimbledon and is now working with the NFL in building their profile across Europe. Lola finished the gap year programme with Arsenal and went straight into a job in Beijing, China, where she is developing a female participation programme with ClubFootball China.
What did you gain from doing the Gap Year?
LK:  A huge amount of self-confidence and self-belief, as well as a real appreciation for how powerful football is as a social vehicle.
Being a coach means being a huge number of things, not just a teacher but a friend, a support, a confidant in some cases. Because of this you need to constantly think on your feet, and that type of spontaneity, and confidence in yourself that you can deal with anything that's thrown at you, is completely invaluable.
Ultimately, if you can stand in front of 100 kids, with whom you do not share a common language, with no equipment other than a ball and maybe a couple of cones, and keep them entertained for an hour, there will be very few things you can't do. Since the Gap Year I have given presentations to very senior people, and not felt half as intimidated as I was before my first coaching session.
LO: I gained invaluable experiences on and off the pitch. I obtained my Level 1 and Level 2 FA qualifications, in addition to skills that enable me to deliver P.E. and school sport for all ages. I also received an introductory certificate in Teaching English as a Foreign Language (TEFL) which was handy when I coached football abroad. I made lifelong friendships with individuals I wouldn't have met, purely because of our mutual love for football. I was fortunate enough to receive coach education and network with some of the most experienced and outstanding coaches in the game.
What was your favourite part of the programme?
LK: Being able to visit and coach at London Colney was amazing, although a bit of a challenge when the players kept walking through the pitch and the kids would lose their minds with excitement.
Just being part of the club was amazing; knowing you are representing Arsenal gives you a huge sense of pride when you put the kit on and seeing how excited the kids were to see you each week.
Appearing live on the Sky Sports equivalent in Ghana talking about the charity and Arsenal's work around the world was incredibly nerve racking but a great experience too.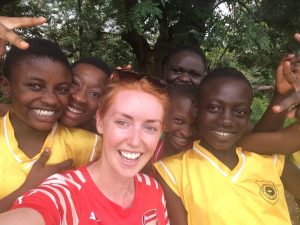 LO: It's difficult to choose. I loved phase 1 in London because meeting other Gappers and being coached regularly throughout the summer was awesome. There is no better feeing than waking up each day knowing you'll play/coach football. Phase 3 was also a highlight but for different reasons, I love to travel and being able tao combine 2 of my favourite hobbies was amazing. I coached in London Mozambique South Africa and Australia. I was also lucky to meet the Arsenal players too, which isn't a guarantee but as an Arsenal fan it was phenomenal experience and one that will stay with me forever.
How would you describe your overall experience on the Arsenal Gap Year?
LK: The hardest, but also the best thing I've ever done and the most challenged I've ever felt in my entire life. You get such a variety of opportunities beyond coaching, such as getting involved in all of the projects run by Arsenal in the Community, as well as Junior Gunners events, and you essentially get out what you put in.
For the duration of the programme you are seen as an integral part of the Arsenal in the Community team – not just an extra pair of hands – and it's great to feel that you are trusted and relied upon to continue the amazing work they do both at home and abroad. As an Arsenal fan, it was just awesome to be a small part of the club for a year.
LO: Pre- Arsenal Gap Year I worked within the legal/investment banking sector. I had always played football and wanted to pursue it further. Unfortunately, my dedication to studies prevented me from doing so. I used the Arsenal Gap Year programme to transition from law into football, with a reputable club, gaining qualification and real hands on experience. In my view the Arsenal Gap Year was positive and insightful. I learned more about myself and football in that year than ever before.
What advice would you give to anyone thinking of doing the Arsenal Gap Year?
LK: Speaking particularly from a female point of view, I don't think we can underestimate how important it is for girls in schools to have role models – not just celebrities or figures in the media, but people who they interact with on a daily basis. As a coach going into schools you have a huge responsibility to be a role model for girls, particularly those who might be unmotivated to play any kind of sport, let alone football, because of societal or even religious pressures not to. My most rewarding moment was a young girl in a school telling me she used to hate PE, but now looked forward to it every week because of the work my partner and I did.
You have a huge opportunity to ensure the girls you come across consider sport as not just something they have to do once a week because the government says so, but something they actively want to participate in throughout school and hopefully well into the future. You don't need to be the next Lionel Messi or Alex Scott to gain a huge amount of value from playing sport – not just the health benefits, but the values it teaches, so it's your job to demonstrate that to those who appear less keen!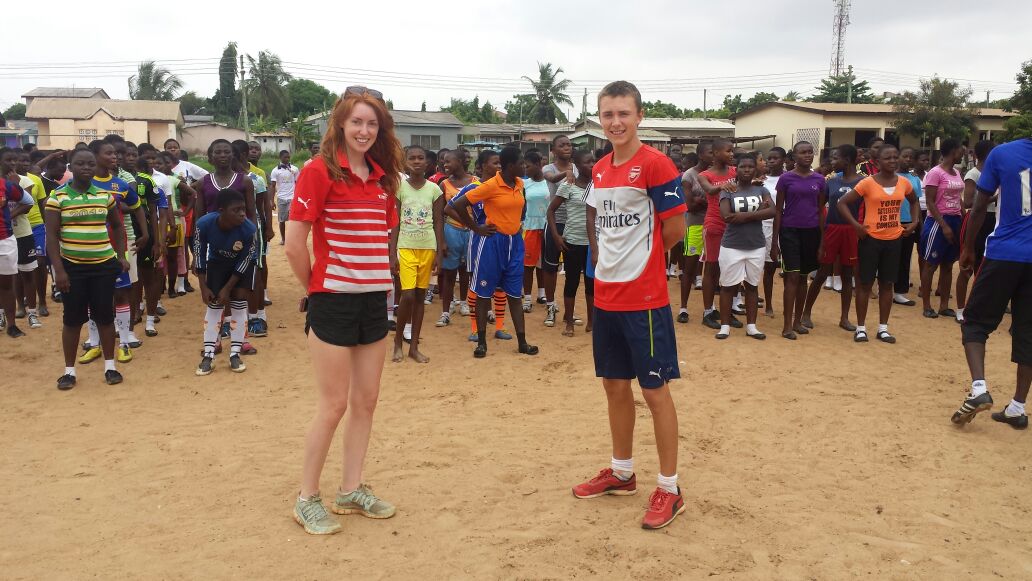 LO: I would also add that female coaches have a place in the male game, and you shouldn't be put off by being faced with a group of rowdy 18 year old boys either. That role model effect still applies to boys – if they are being coached by a confident, friendly and ultimately inspiring coach, it doesn't matter if they are male or female, and they could have a huge positive effect on that child's life.
If you are considering the Arsenal Gap Year Programme, I would really suggest reflecting on your objectives and what it is you want to achieve. It is often said "you get out what you put in" and I believe that was true for this programme. I would also advise being respectful towards your fellow coaches/Gappers. Some may want to become the next Guardiola whereas others may want to combine travel and fun for more of a social experience. Either way it's a fantastic opportunity to develop and you should 100% consider it.