Motherwell are set to go again in their second consecutive top flight season since gaining promotion to SWPL 1 in 2018 under Eddie Wolecki Black, writes CATHERINE ETOE.
This season their old coach is back and attacking midfielder Katie Rice says we ought to expect plenty of goal celebrations from the 'women of steel'. The former Rangers and Hamilton Academical player was a Scotland international in her teens and one of the first youth players from Glasgow City to be invited to a national squad training camp. Now in her second season with Motherwell, the 20-year-old juggles her studies and work at McDonalds with her football and cannot wait to get back into competitive action on Sunday when last season's sixth placed side visit Forfar Farmington, who finished in seventh.
SK: So Katie, can you describe yourself as a player?
KR: I'm quite solid, aggressive, quite good with my feet.
SK: Have you set any personal targets this season?
KR: I just want to keep improving. I felt like I developed a lot last year so just to continue my development and make an impact on the team. I felt like I learnt a lot from Donald [Jennow] who was the manager last year and I grew more of a football brain last year, maybe before I just went on the pitch and kicked the ball. Now I'm more tactically aware of the game and my fitness improved a lot last year as well.
SK: What can we expect from the 'women of steel' this year?
KR: I don't think teams are expecting a lot from us, but I think we'll surprise a few teams. Our new manager Eddie [Wolecki Black] has had lots of success in the women's game. We're hoping to finish in the higher end of the table than last season and we're looking to play a more attacking style of football, aggressive, putting pressure on the other team.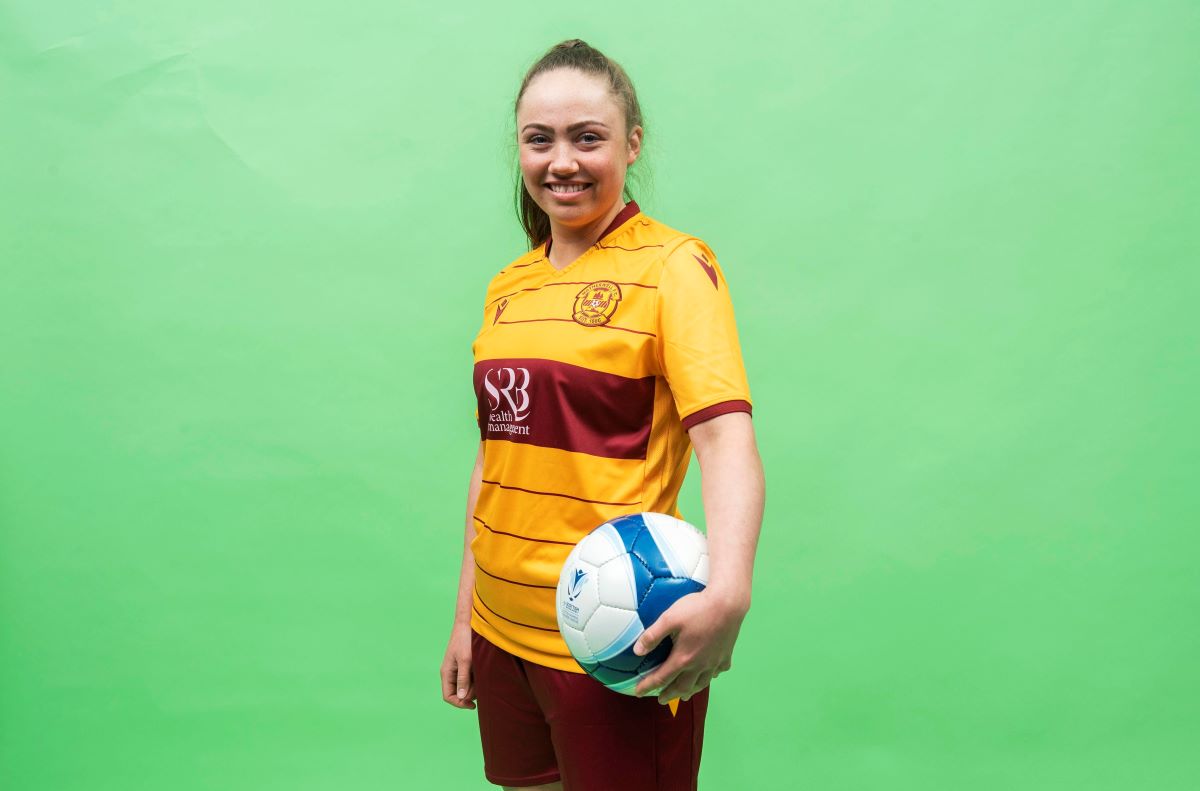 SK: Got any jokers in the team?
KR: There's a few, I may be one of them. Lori Gardner is a bit of a joker and Eddie himself cracks a few jokes now and again.
SK: Who is the chattiest?
KR: Probably me again and Lori again, she doesn't stop talking.
SK: What can fans attending your home ground expect this season?
KR: We play at Ravenscraig Regional Sports Facility. It's indoors which is good so they won't get too cold. There's a wee cafe and some vending machines, I think the snacks are good!
SK: And why should our readers get behind your team?
KR: We've got a good team spirit and good resilience, we've shown that in the past, we don't give up and hopefully it's good football for people to watch and good celebrations, we like a knee slide, or a knee drop – we can't do a knee slide on the astro. We'll be scoring loads of goals so you'll see a few knee drops this season.
Follow Katie on Twitter @katie_rice and Motherwell on Twitter @MotherwellFC
Watch: Forfar v Motherwell, Sunday 23rd February, Station Park, Forfar. KO 2pm.
2020 #SBSSWPL 1 – GETTING TO KNOW: Magdalena Olafsdottir (Forfar Farmington)