Soccer Assist's newest student athlete is Jasmine Turner from Cardiff City Ladies. Jasmine signed to the agency after attending their November 2017 Birmingham assessment day. She is currently in her third year at Cardiff University and wants to go out to America and pursue her Master's degree whilst on a soccer scholarship; providing high level soccer, education and an amazing international experience.
Soccer Assist are a leading sports scholarship agency who aim to place student-athletes aged between 15-23 into U.S universities on athletic scholarships. Each year they scout over 1,000 students, in the process of obtaining scholarships to the United States. On average, they aim to save clients over $25,000 in tuition fees; compared to the £27,000 debt students could be left with after studying at British universities.
They say their service was born upon shared experiences in competing in America on scholarships and, that having found they did not think agencies provided full support to the student-athletes they placed in the U.S., they decided to do something about it!
THE PROCESS
Athletes are provided with a three-step process before going over to America:
Preparation – A mandatory training camp to prepare athletes for pre-season
Placement – Placing talented student-athletes into their preferred destination
Support – Working with the athlete throughout their university career
UPCOMING TRIAL
Soccer Assist have an opportunity for young female football players to attend their scholarship assessment day in London, to assess a student-athlete's footballing ability.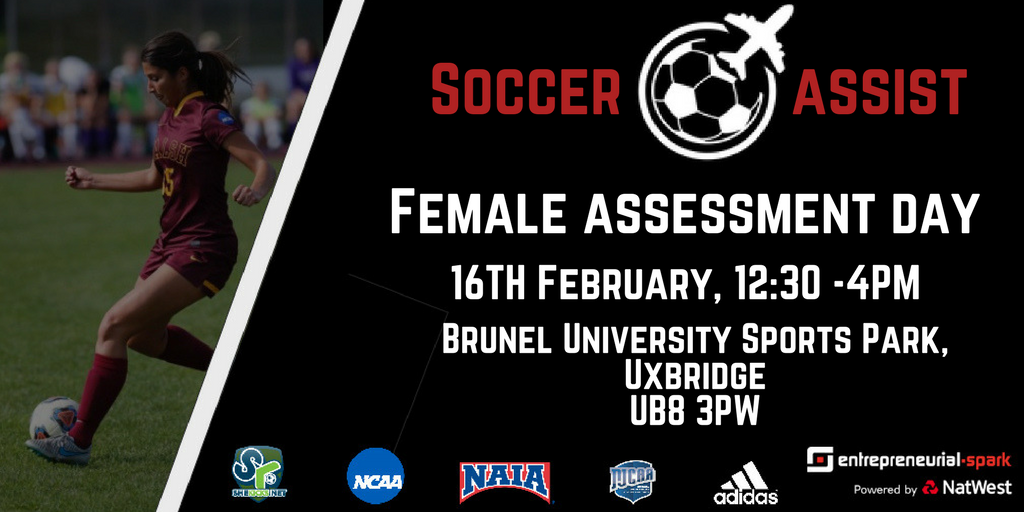 Location: Brunel University Sports Park, Uxbridge, UB8 3WP, London
Date: Friday 16th February 2018
Time: 12:30 – 4pm
The day will consist of a presentation of what Soccer Assist do and an overview of life as a student-athlete, football drills, and a competitive game. Full game footage is recorded and used for analysis, feedback and successful athletes' video portfolios. Snacks, refreshments and full kit is provided on the day– all you need to take is your boots and shin pads. Parents and guardians are also very welcome to go and spectate and experience the SA presentation.
To attend this event click here for Eventbrite  and book yourself directly onto the assessment day, visit their website  or simply call 01908 202603 and one of their consultants can book you in directly over the phone.
WHAT DO STUDENTS SAY ABOUT SA?
See what some of their successful student-athletes have had to say about Soccer Assist on Trust Pilot
Soccer Assist athlete Leah Lambert currently at Cloud County in Kansas: "best decision that I have ever made!" and, "Soccer Assist has helped me to achieve my dreams. With their support and guidance, they have contributed to getting me on track to achieve my ultimate career goal. They really do live up to their word and do all they can to help their clients. Truly a remarkable agency!"
You can follow Soccer Assist on Twitter: @SoccerAssist) or visit their Website: http://www.soccer-assist.co.uk  
They are also on Facebook: https://www.facebook.com/soccerassist   and Instagram: https://www.instagram.com/soccerassist/