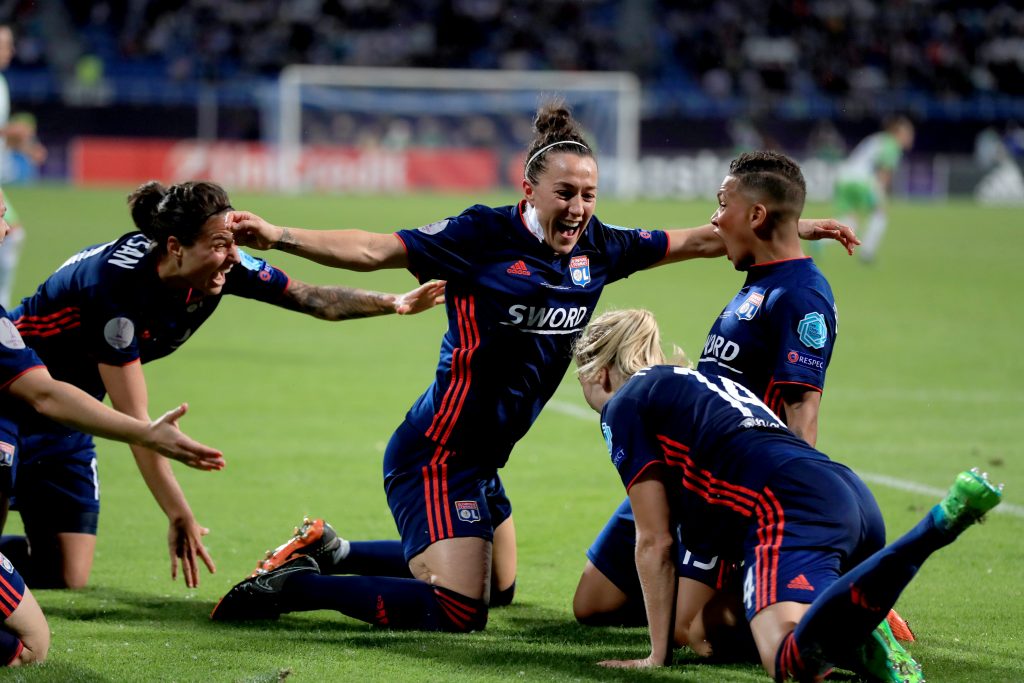 One of the most action-packed 15 minutes you are likely to witness in a period of extra-time saw four goals and a red card as Lyon came from behind to claim their third Champions League title in a row by beating Wolfsburg 4-1, reports Kieran Theivam  from Kyiv.
(Images: PA Images)
A fairly uneventful 90 minutes was followed by the most frantic 15 as Pernille Harder gave the Germans the lead through a deflected effort, following a daring solo run and shot, early in extra-time.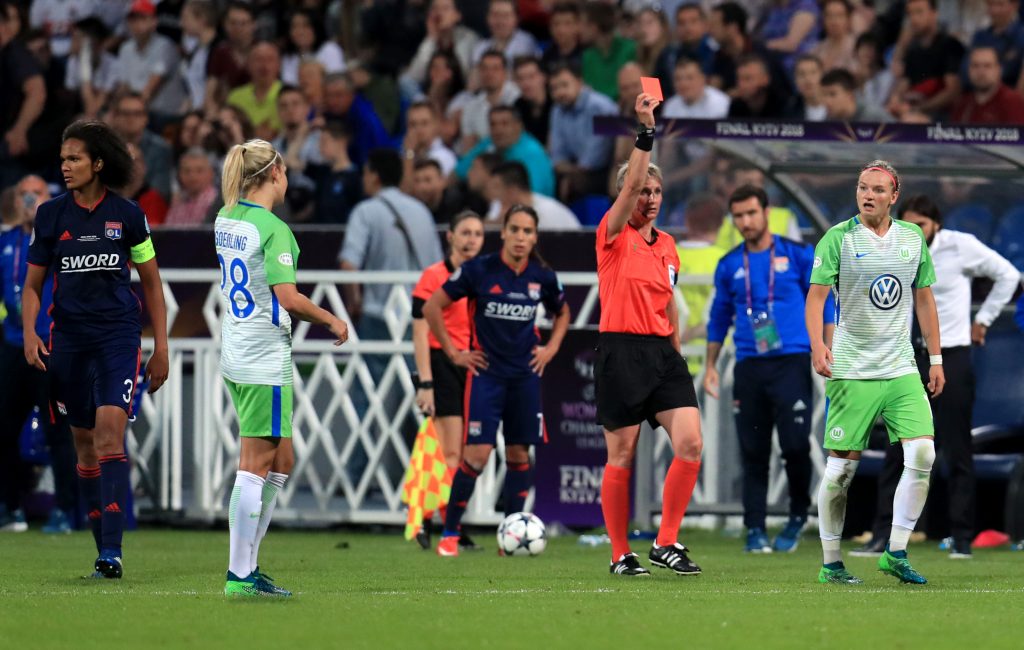 However, Wolfsburg's Alex Popp was sent off for a second booking, which turned the game and opened the floodgates for Lyon. Three goals in five minutes from Amandine Henry, Eugenie Le Sommer and Ada Hegerberg wiped out the German club's lead, with the retiring Camille Abily adding a fourth in the second period. The win meant Lyon triumphed for a fifth time in the competition.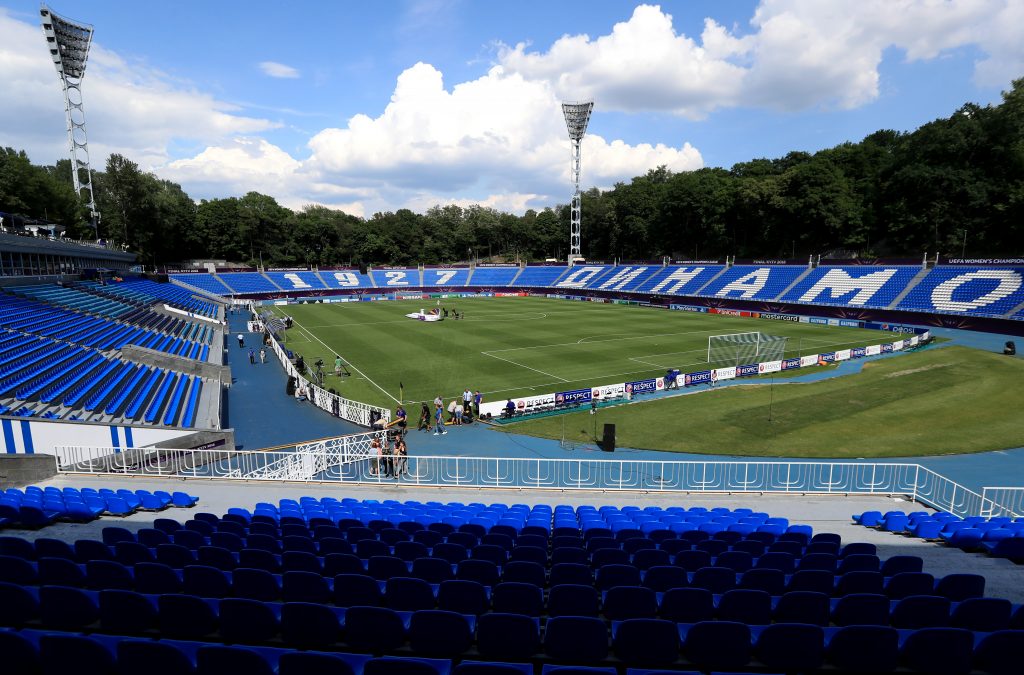 The Setting
Set alongside Mariinskyi Park, the Dynamo Stadium has probably one of the more picturesque backdrops to a football venue, as it hosted two of the most enjoyable teams to watch in women's club football for the UEFA Women's Champions League Final.
Only a stone's throw away from Kyiv's city centre, the UEFA Fanzone presented an opportunity for fans to congregate before the game and take in some of the atmosphere.
In truth, it was hard to spot the Wolfsburg and Lyon fans amongst those in town for some other game happening this weekend, but in fairness, the crowd turned up in their thousands, with empty seats only scattered rather than big blocks being vacant.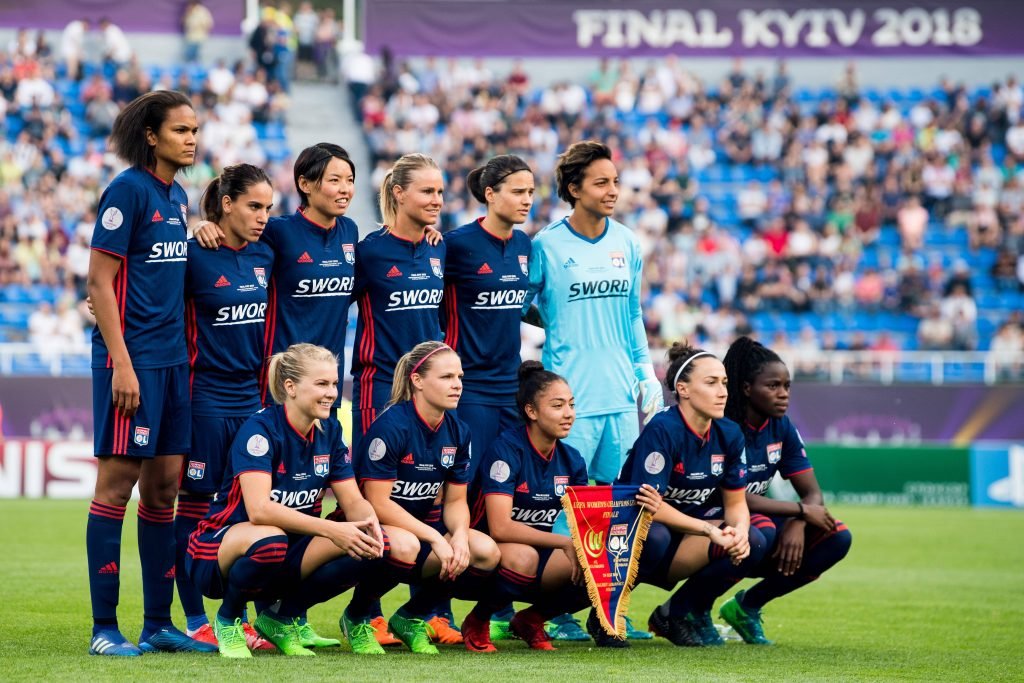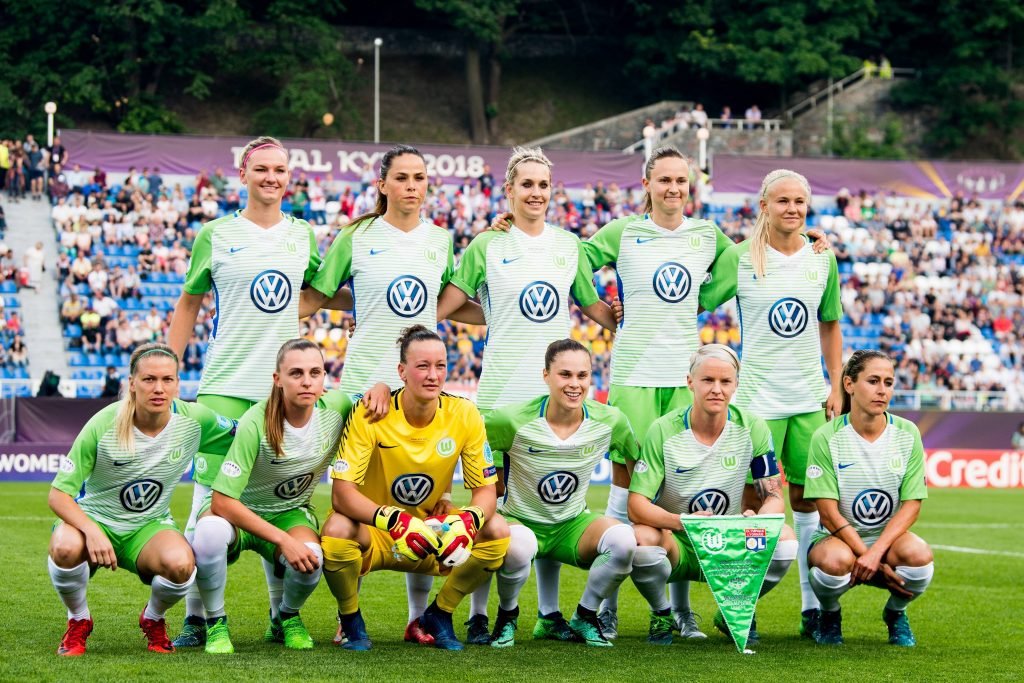 The Opening
The atmosphere within the crowd took a bit of time to get going, not just because the game started off cagey, but because the game was largely attended by neutrals. The standard Mexican Wave went up on around 15 minutes, but this seemed to spark the crowd into life as they responded to the talent on show and the tricks being displayed – especially those of the majestic Amel Majri of Lyon.
Few chances were created in normal time, with neither Sarah Bouhaddi in the Lyon goal or her counterpart Almuth Schult really tested in the opening exchanges.
Amandine Henry saw a shot blocked, before Lucy Bronze had a volley that was fired over inside the first 20 minutes.
As the sun began to set on Kyiv, the chances started to become slightly more frequent, with Lyon looking the most likely to open the scoring, but Wolfsburg looking to catch them on the break.
The polite applause from the crowd at half-time was an indication that they were satisfied with what they had witnessed, but were well aware they hadn't watched a classic 45 minutes.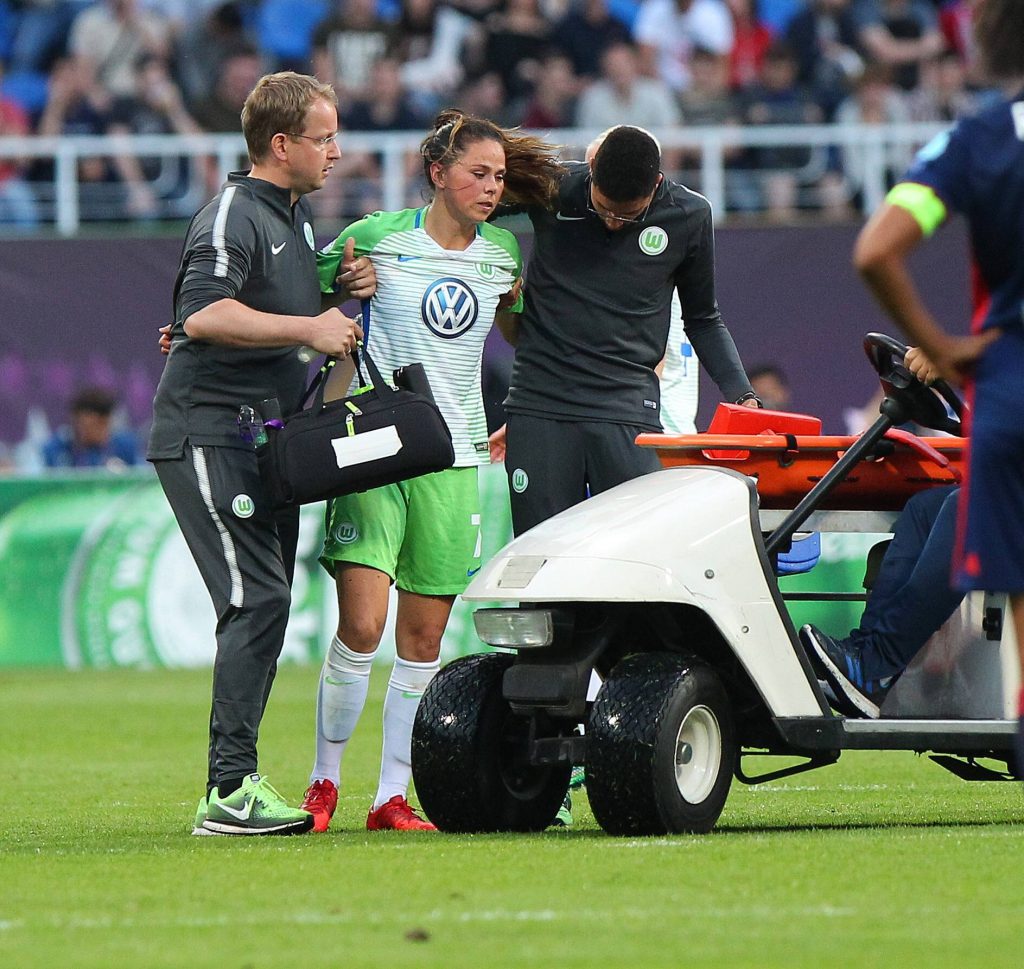 The Second Half
The second half certainly had them out of their seat more often as both teams looked to avoid a second penalty shootout in two years – while it would have been Lyon's third in a row in Champions League Finals (they beat PSG last year).
Le Sommer went close but fired straight at Schult, as did Wendie Renard a few minutes later, but her header from a corner sailed over.
Wolfsburg lost Caroline Hansen at half-time and Sara Bjork Gunnarsdottir early in the second half as the Germans tried to force their way past a stubborn Lyon backline. Tessa Wuullaert looked the most likely, but was unable to find the killer chance.
The best chance of normal time fell to Amandine Henry as she saw an effort hooked off the line, which replays showed was probably over the line and should have been a goal for her side.
Some of the crowd disappeared as normal time wrapped up – but they will wish they had stuck around.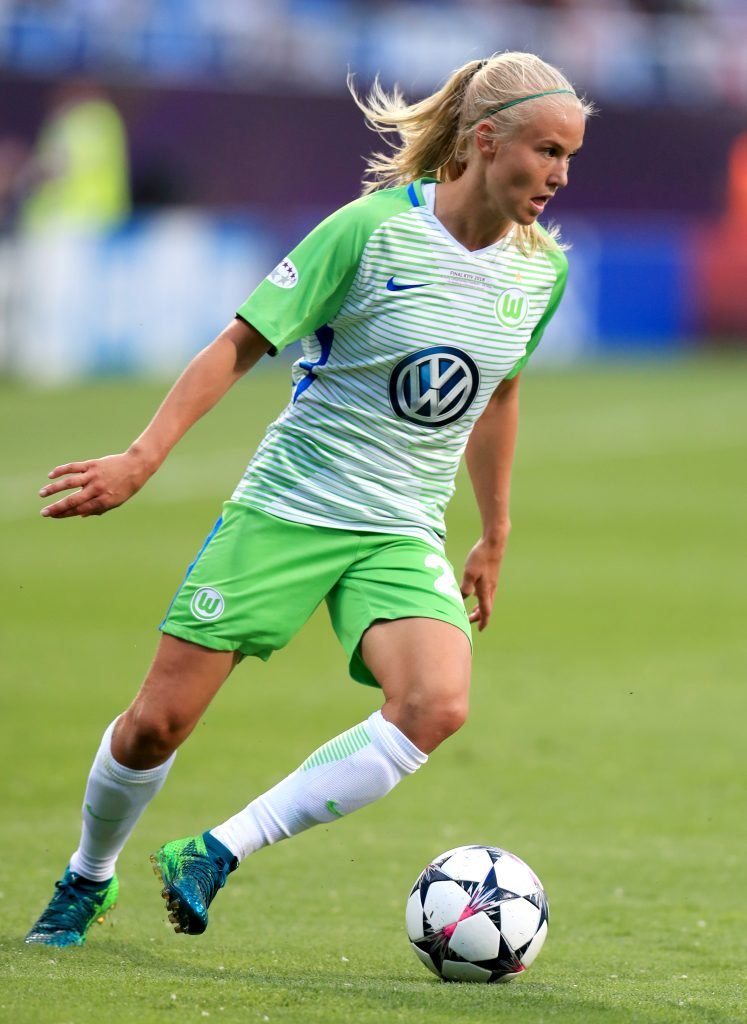 Crazy, frantic extra-time
Harder's goal almost seemed to come too early, but her side were not helped by Popp's rash challenge that saw her sent off. A ruthless and brutal five minutes followed as Henry, Le Sommer and Hegerberg scored to put Lyon in charge and out of sight.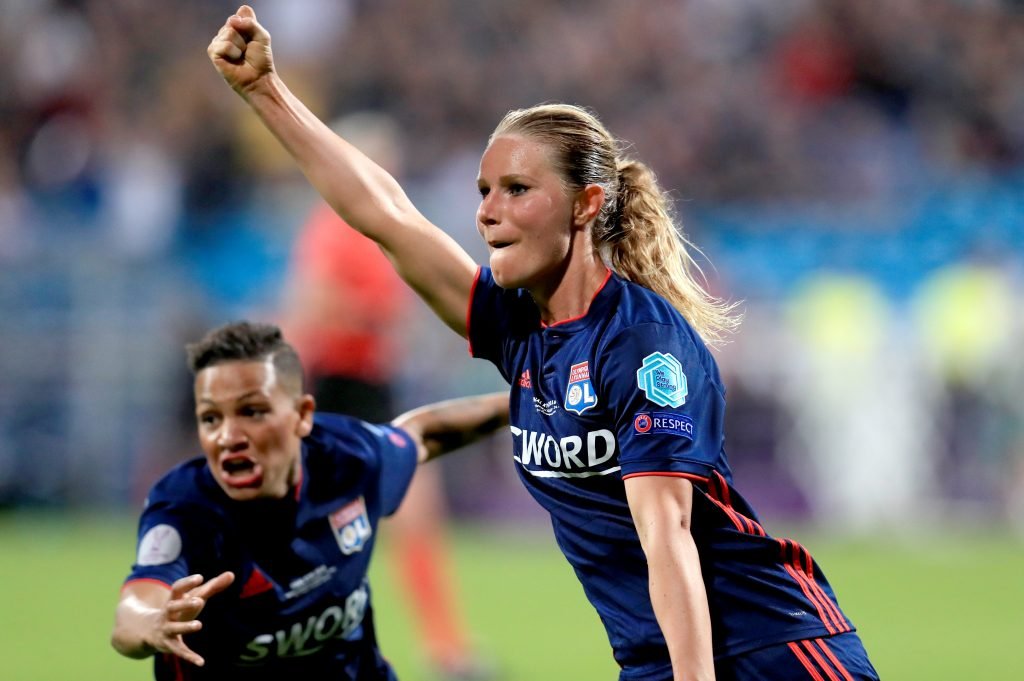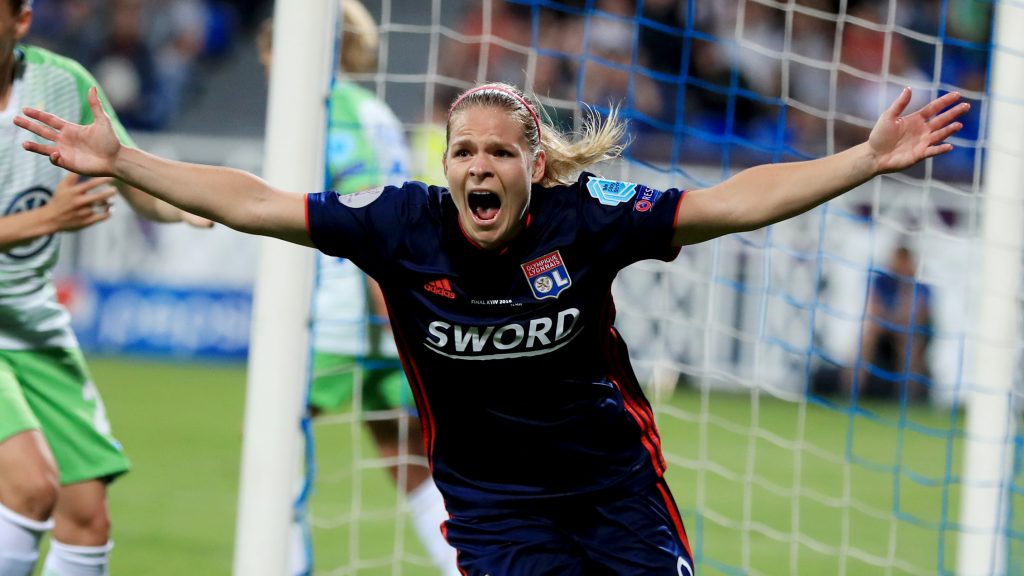 Camille Abily, playing her last European game before retiring, came on with eight minutes remaining and scored shortly after. It was a fitting way to wave goodbye to one of the game's great midfielders. It was a performance from her club in extra-time worthy of winning any game.
So the crowd, still gobsmacked by what they had witnessed, had about enough time to catch their breath as Lyon captain Wendie Renard lifted the trophy for the third year in a row.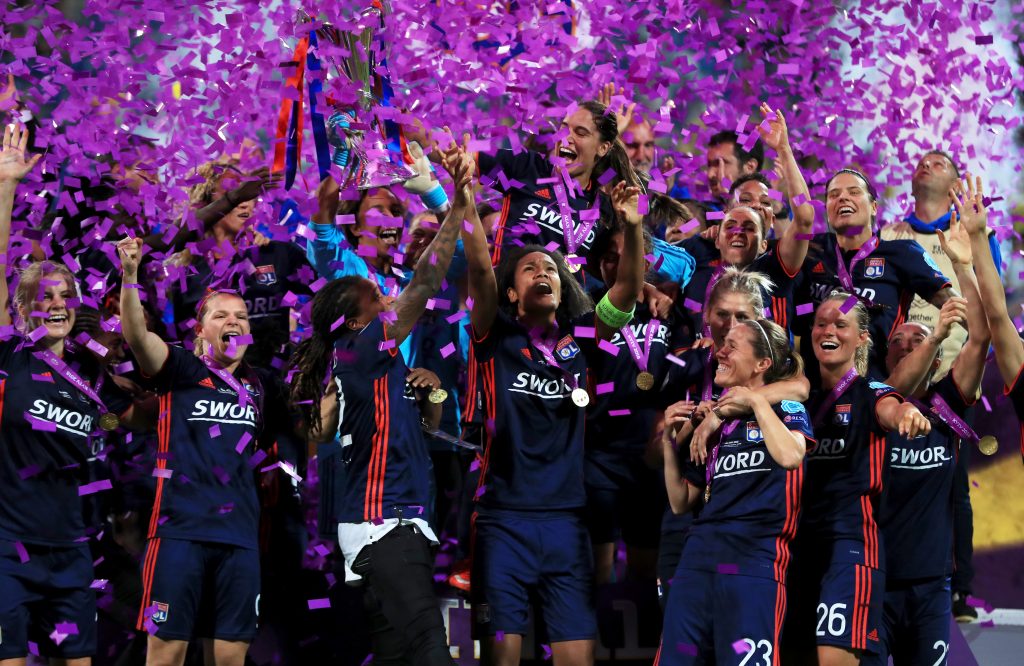 POST MATCH REACTION TO FOLLOW…