Close, but no cigar. England talked of taking the game to the USA and really going for the win, to start Phil Neville's tenure off with a tournament triumph. It's easier said than done and the top ranked outfit showed they are still the team to beat as they dominated for long spells and ultimately deserved the 1-0 win on the night, even if their goal was a fortunate one (an OG given to Karen Bardsley – who had made a succession of outstanding saves and we're surprised didn't feature higher up the voting – you're hard to please!). Of course we (players, staff, fans) are all disappointed but we aren't dismayed – there was much to be encouraged by. And we're looking forward to the Wales FIFA 2019 WWC qualifying game on 6th April at St. Mary's Stadium, Southampton!
Again, we asked YOU to tell us which player was your She Kicks #Lionesses Player of the Match. (Apologies for slight delay in bringing you this – we are on our way home.) Surprisingly, the top votes were split evenly between two players and then the same happened for the next three! Who would have thunk it was possible? Here's what your collective footballing minds decided. In reverse order the top five are (as % of all votes):
Fran Kirby 7%
Demi Stokes 7%
Keira Walsh 7%
And your top rated player, and our 2018 #SHEBELIEVES Cup: ENG v USA – #Lionesses Players of the Match are:
ABBIE McMANUS & ELLEN WHITE both received  35% of the votes. Yeahhhhh!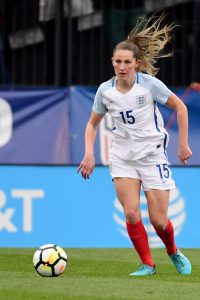 Called into the England squad after late drop outs from other players, then plunged into the action to make your debut early in the win against France (due to injury to Anita Asante), Abbie McManus then made starts against Germany and the U.S. They're only the top two ranked teams in the world. And she thrived – in the USA game in particular. Sound positioning, good anticipation and reading of the game, important clearances, composure on the ball and all against world class forwards.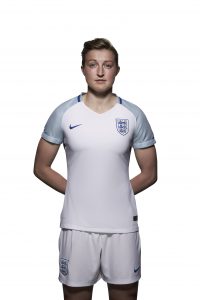 Ellen White also got your shout in this game because again, this time as a wide forward, her attitude was top notch, her efforts huge, her 'almost' late leveller came off the woodwork…her second year in fine form at this tournament – she loves the SheBelieves Cup.
Thanks for your votes and massive thanks to our sponsors Soccer Mindset Academy. Check them out!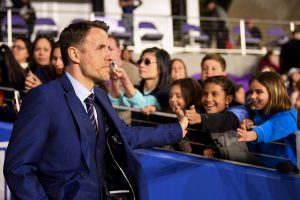 You can read Phil Neville's post-match/tournament views HERE.
And here is what some of you who voted had to say about your top-rated performers:
Ellen White
Julia Hobman: Workhorse. I think Ellen has the positive attitude, the mental aptitude, and the physical engine to be our pivotal player again. (Except when she tries to catch the ball.)
Laura Garraway: Gave 110% chased every ball and defended well from the front, unlucky with the header late in the game
Anon: Amazing. Never stops running and chasing down the ball. Absolute role model for younger generation of player. Great attitude and character to never give up. Well done Ellen
Abbie McManus
Deb Hughes: Thought McManus had a great game tonight. Had my reservations about the call-up but she was calm against the world's best and didn't look out of place.
Rook Meister: Outstanding from such a young, inexperienced player. Looking forward to seeing her develop in the national side.
Becky Lenton: Absolute class.
Demi Stokes
Bethany Suggett: Demi didn't give up once last night – a very strong player in any position she found herself in, attacking and defending with resilience
And finally, on the Team Performance
Anon: Second not bad results against top teams with a new manager and injuries. Well done England.

THANKS TO SOCCER MINDSET & ENGLAND PLAYERS & STAFF, US SOCCER & YOU, THE VOTERS!