England headed to the Red Bull Arena ready to take another scalp, after their rousing victory over an off-colour France on Thursday, but they also knew that Germany would be a step up in terms of strength, organisation and attacking threat. Phil Neville's side (with five changes to the starting 11) didn't really hit flowing form, although they fitted together some exciting passages of play and created several chances, and conceded two scruffy, almost comical goals. On both occasions though, the Lionesses hit back to draw level, showing great character and determination. It was a dramatic nail biter for all of us watching!
Again, we asked YOU to tell us which player was your She Kicks #Lionesses Player of the Match. It was perhaps a little easier to select just one player from this game, though there were two or three standout performances and your voting reflected that. Here's what your collective footballing minds decided. In reverse order the top five are (as % of all votes):
Lucy Bronze 3%
Izzy Christiansen 3%
Millie Bright 4%
Mel Lawley 33%
And your top rated player, and our 2018 #SHEBELIEVES Cup: ENG v GER – #Lionesses Player of the Match is: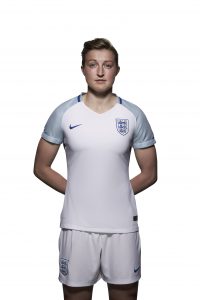 ELLEN WHITE who received an unassailable 54% of the votes. Ja Wohl!
Ellen was her usual selfless self, chasing and scrapping for everything, making runs in behind and ultimately netting the two equalisers (even if one of them wasn't exactly one for the showreel!).
Thanks to our sponsors Soccer Mindset Academy.
You can read our post-match interview with 'Ellen White White White!' HERE.
And here is what some of you who voted had to say about your top-rated performers:
Ellen White
Maggs: She was awesome up front and scored 2 great goals
Rachel Carrott: Ellen led the line for England, she ran hard, chased every ball. Very unlucky not to get the hat trick.
Alan Walker: Simply amazing, scored 2 well taken goals. Defence couldn't handle her.
Rich Paish: Two well taken goals and played very well in the whole game
Paul Newman: Ellen White worked tirelessly for the team. Always a threat, great second goal. Backs to the wall at times but a good point. We can still win it!
Stephen Bell: Took her two goals calmly and confidently
Faye Meredith-Shone: An absolute workhorse, never stopped running & is a menace for defenders, for club & country!
Martin Cottle: Determined to win and prove she has got what it takes to be there in Phil Neville's starting eleven.
Paul McGreal: Led the line brilliantly, and constantly harried the German defence.
Frankie Sollo: Had an amazing game. 2 good goals, really good work ethic. She was definitely the best England player on the pitch.
Sarah: Tenacious and always hungry for the ball!
Caz Smith: Think it was very close between Mel and Ellen but with the 2 goals I think Ellen deserves it
Wendy Sissons: Ellen has never stopped pushing all game, she has given 110% and no-one could ask more than that.
Mel Lawley
Ian Taylor: Never stopped running always got back to help defend and provided dangerous crosses with either foot.
Becky Lenton: Always going forward and looking to take players on, and played her part in the 1st goal.
Erin Cooper: Melissa Lawley worked the right wing. Super crosses into dangerous areas. Worked hard. Closely followed by Millie Bright – Solid defending.
Shana Haynes: Lawley was fast and always looked to attack and looked a threat whilst on the ball.
Anon: Mel was just awesome throughout the game, created opportunities in goal and made some great runs down the side lines.
Janet Westley: Always a threat down the wing. Looked particularly sharp when Keira and Izzy came on. Had the beating of the defender every time.
Bethany Suggett: Very strong attacking and technical play running circles around Germany given the chance. Her resilience and refusal to give up was clear to see tonight. One to watch!
Julie Makin: A great game for Mel Lawley. Ellen put in a shift but Mel gets my vote today.
Millie Bright
Anon: Solid as ever. Never fails to impress.
Rebecca Stringer: I think she had a rough time with the own goal, but she worked her butt off and stopped England conceding more goals.
Louise Bradshaw: At times was defending on her own, kept us in game for last 15 minutes with solid, cast iron defending. She has proved herself dependable, always fighting & gives 110%.
Izzy Christiansen
Anon: Changed the game when she came on. Her passing was great.
Paula Clarke: Amazing the game changed from the moment Izzy came on the pitch!!
Lucy Bronze
Louise: Did a great job in defence in a tough messy game.

And there was some great feedback on the overall team performance too:
Jess Cully: A deserved draw against a challenging German side.
Alex Greenshields: Sloppy from England to concede the two goals. But two stand out players for me Lawley and White. White in particular worked so hard and got her rewards.
Grace Miller: Team worked hard even when they went behind. Organised and believed in themselves to get result. It will not be long before they are rewarded for their hard work.
Nicholas Pope: Good performance apart from two moments of defensive madness. The squad gets stronger each game; all this without Carney, Houghton and Nobbs.
Lea Baynes: Amazing to come from behind twice to a team that is better than us in the rankings. Showed how much we have improved as a team.
Richard Scott: Great performance to come back from twice to get a draw against the seven-time world champions.
Fantastic stuff guys, thanks for getting involved (and to our sponsors Soccer Mindset Academy). Let's all get ready for another rollercoaster against the USA on Wed/Thursday. LIVE at Midnight on BBC TWO (or catch up on player the next day?). And don't forget to vote for your player of the match, after the final whistle. Link below ⬇
2018 #SHEBELIEVES Cup: ENG v GER – Ellen White is your #Lionesses Player of the Match