The 2018/2019 season is almost upon us and so to get you in the mood for the action ahead, we're trawling the top three tiers of the newly re-branded women's pyramid to get the lowdown on the atmosphere, expectations, horrors and delights of pre-season from the on-field talents putting in the hard yards and the coaches barking the orders and shaping their teams…
We're checking in with clubs in the new-look FA Women's National League (formerly the FA WPL) and here's one with a bit of a difference, as we hear from Burnley FC Women manager Matt Bee and not one (not two…) but FOUR of their players! The Clarets begin this Sunday against Chester Le Street Town Ladies (at Padiham FC), as the team competes at its highest level since the club began. So let's get right to it…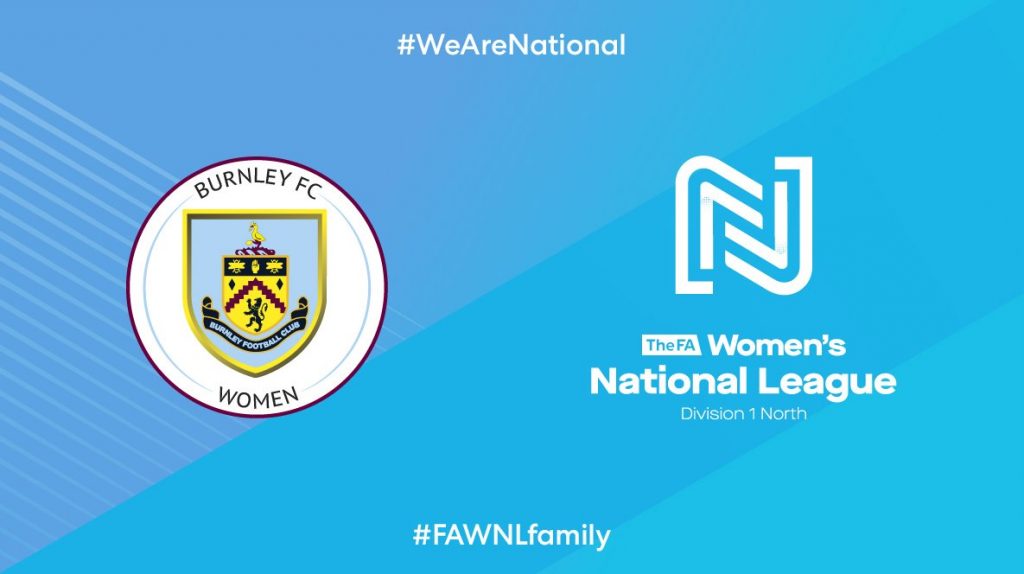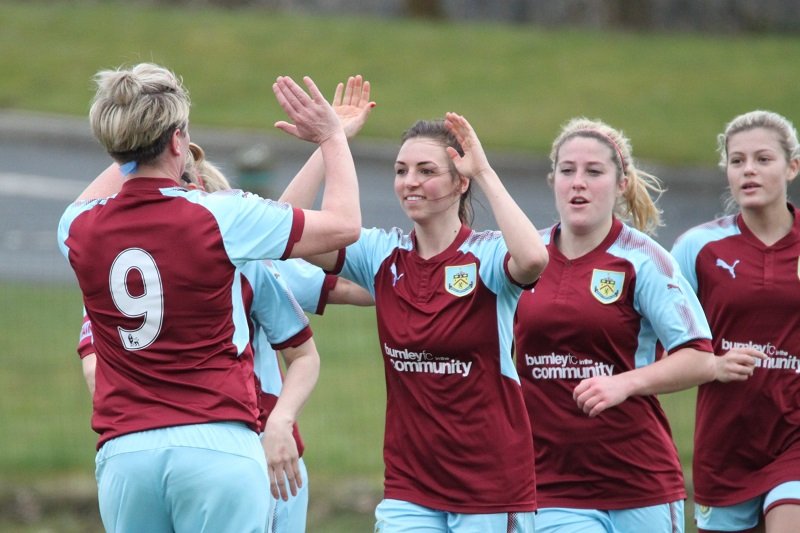 Lauren Bracewell (Goalkeeper), Jo Holt (Centre-half, captain), Justine Wallace (Centre-midfield, vice-captain), Sarah Greenhalgh (Striker) (Burnley FC Women)
SK: What's been the best thing about being back for pre-season?
Jo: I think probably being back with the girls, getting the laughs going again, working hard.
Justine: Everyone's been missing each other because we have such a laugh. It's such a great group of girls.
SK: So, talking about having a laugh, who's the comedian in the team?
(All point at Justine!)
Sarah: That's an easy one!
Justine: No, no, it probably is me, I've got to admit that!
SK: Out of everybody, who puts the most effort into preening and looking their best for any pre-season photoshoots?
Jo: It's probably princess Holly.
Justine: Yes.
Sarah: Yeah, prinny.
Jo: Holly, our right-back, absolute stunner, likes to look her best.
Sarah: Kim K of the squad.
Justine: If you put a tackle in her, you've got to stop play and then she goes and sorts herself out! She's a good girl though.
SK: Who's looking really sharp and in form on the field?
(Everyone laughs!)
Justine: Probably me or Banner to be honest, we're the fastest by far! They call us the cheetahs!
Jo: I think probably in all seriousness Leah's probably started the season how she finished it off. She finished the season flying and she's looking really sharp, working really hard in the gym, she's looking good.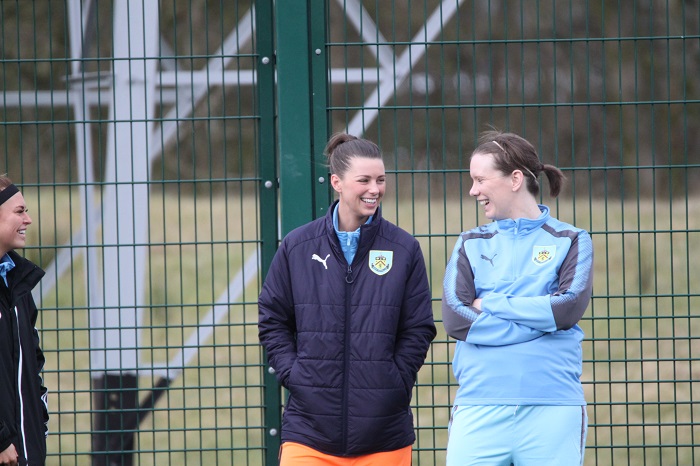 SK: What did you get up to over the break?
Jo: Erm, a bit of chilling out really.
Justine: Just a bit of family time, with the kids and just trying to keep fit really because we haven't had that much of a break because we're going into a different league, so we wanted to keep sharp.
Sarah: We've carried on playing a bit haven't we? Playing some five-a-side.
SK: And so, what can we expect to see from the team and why should people get behind you this upcoming season?
Jo: I think we all know it's going to be a tougher season this season. We're going to have to be on the ball in every single game, whereas last season we could probably get away with having an off game; we aren't going to have that opportunity this season.
Justine: And you're going to see some good quality football, to be honest, because we're going to play very direct and we've got a manager that is pushing us all the time to be our best, so it will be good football.
Jo: I think it's a great opportunity as well for some of the youngsters that are coming through; a chance to go and express themselves at that harder level and that higher level. I think you'll see real progression over the course of the season with those players that have that opportunity.
SK: Are there any teams that you are particularly looking forward to playing?
Justine: We're looking forward, to be honest, to playing all of them because we've been in the league for a long time, so this to us now is all going to be new and we're just ready for the challenge aren't we Holty?
Jo: Absolutely!
Justine: Yes, come on!
SK: Can you tell us any facts, hidden talents or anything funny about one of your team mates?
Justine: Do not…start with me! Go to someone else.
Sarah: How long have you got?
(Everyone laughs)
Lauren: I think they are best to keep private!
Justine: Yes, I think that stays with the squad, to be honest!
Jo: Yeah what goes on tour stays on tour!
Justine: Definitely!
Follow Lauren and Sarah on Twitter
Now we zoom over to hear from the gaffer…
Matt Bee (Burnley FC Women, Manager)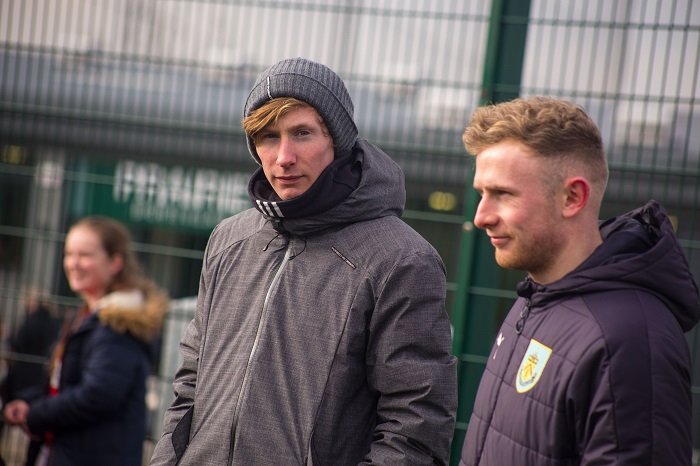 SK: What's been the most important task for you and your staff this summer break?
MB: I think it's been to get the players back in and focused again after what was a great season for us last year. I think it's about getting the players back in and training and working hard as a group. Then also trying to recruit and adapt new players, new signings to the system and to my philosophy and how I want the team to operate this year.
Obviously, the fitness elements have come through that as well. I'm very keen on every session is involved with the ball, but then also the tactical work is coming very quickly, because we've not got a massive amount of time to start adapting new signings into the systems that we want to play in, to really mould them into the squad and how we want to operate this year.
SK: Aside from readying the squad in terms of match fitness, what is the single most important message you hope to get across to the team for the upcoming season?
MB: I think it's about belief and the key one is going to be ambition as well. That's something that I've tried to put into this team since the minute I walked through the door.
I inherited a team that didn't really have much belief, that didn't believe they could get over finish lines and we've managed to change that mentality here. We've had two great seasons and obviously won the league, had a fantastic FA Cup run, so there is certainly an ambition and belief in the squad now and I think it's about carrying that on.
I think that's important because you go and you get promoted and probably a lot of people will assume that the target is just to survive. Now that's an expectation but it's certainly not the main focus or target for me; I have a belief in the squad, of the players that I've got and I've got a belief in myself as a coach that we can go and achieve more than that. I want to push and be successful and really compete in the league and try and take on the challenge with no fear and really have a go at every team in the league.
SK: What have you or are you enjoying most about pre-season?
MB: I think the weeks of pre-season so far have been hard work. It's probably not been as much enjoyment; it's been more about hard work and getting everyone back in and focused again.
I think the enjoyable aspects of pre-season, certainly for me as a manager, are seeing the new players and existing players and how they combine together and the only way we'll really be able to see that is in the games. We've had a big run of fixtures in pre-season to prepare us for that first game on the 19th of August.
SK: What is the most exciting thing about the upcoming season for you and the club?
MB: I think it's the fact that we're at that level now. I came in with an ambition when I joined here that I wanted to progress this team through the divisions and I've done that. I've got us promotion and got us now into a league that is credible and I want us to keep pushing on.
I think the exciting thing is for all the players and everyone connected with the club now to really have something that they can be proud of. That was a key message for me, as much as I've put a lot of emphasis and always will on the tactical and the real football side of stuff, for me it was also about building a team that the town and everyone can be proud of. Before that it probably wasn't as much of a 'let's get behind the women's first team' kind of attitude, whereas I think there is now and it's our job now to make sure that we give people a reason to keep getting behind us, and that will only come with performances.
I'm not under any illusions that for as much as we've done in the last two years, if we were to struggle this year, the whole mood connected with everyone will go. Football doesn't owe you anything and you don't have the right to always be in the limelight, so we've got to make sure that we perform again this year and take on the challenges against what's going to be some really, really good teams and a really good division.
We're going to have to be prepared, we're going to have to work hard, but I'm certainly confident in the players and I'm confident in what we can achieve this year, so hopefully everyone will continue to get behind us.
Follow Burnley FC Women on Twitter