The 2018/2019 season is almost upon us and so to get you in the mood for the action ahead, we're trawling the top three tiers of the newly re-branded women's pyramid to get the lowdown on the atmosphere, expectations, horrors and delights of pre-season from the on-field talents putting in the hard yards and the coaches barking the orders and shaping their teams…
We're checking in with clubs in the new-look FA Women's Championship (formerly WSL2) and it's the turn of Lewes FC Women. We will hear from manager John Donoghue, but first, we check in with Northern Ireland international Vicky Carleton, a midfielder who has been enjoying her new life as a right-wing-back! The 21-year-old is out to help Lewes push on and earn herself a recall to the national team.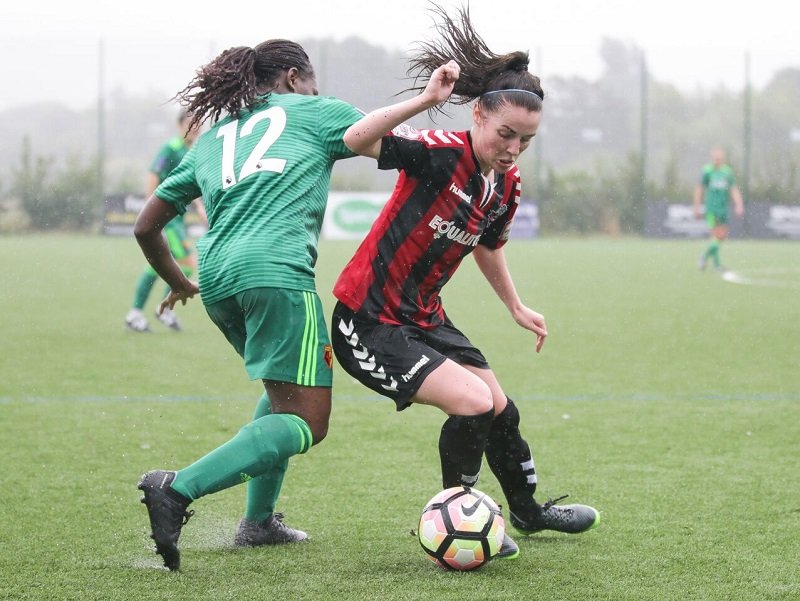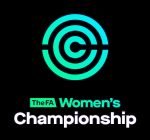 Vicky Carleton (Lewes FC Women)
SK: How did the close-season break go for you – what did you get up to/how did you relax/unwind/stay in shape?
VC: I went to Australia for two weeks to visit my sister who lives over there and had the best time feeding kangaroos and seeing all her animals, because she lives on a farm. Definitely an animal lover. I also went home to Northern Ireland to surprise my mum; I told her all year I wasn't coming home for summer, so her reaction was priceless. When I was in Australia I mainly did HIIT sessions and went on a few runs. I also kept up my sessions with my uni S&C coach so I'd come to pre-season feeling pretty sharp.
SK: How were you feeling on the first day back?
VC: I was so excited on the first day back. I couldn't wait to start training again – five weeks was definitely too long!
SK: What did the players do on the first day back?
VC: Nothing too exciting; we all just met at our ground and had a chat, then all the coaches came in and had a short meeting with us and then we went and trained.
SK: How many new faces are there in the squad and how do you make them feel welcome? (Any initiations to look forward to or things they have to do)?
VC: There's a few new signings; should check out our Twitter to keep up to date with all the new signings and re-signings! We have a few new staff members too; a new coach and two new S&C guys. I actually have worked with our new S&C guys before, Jordan and John, as they went to and worked in my uni high-performance academy as sports science interns. I'm sure the team will think of something for all the new guys to do for an initiation on our first away trip!
SK: Who's been first in the running/fitness sessions?
VC: I think it was Sammy (Samantha Quayle) that came first in the yo-yo test we did on one of our first sessions back.
SK: What has been the best thing about being back (and what has been the worst!)?
VC: The best thing about being back is just playing again; I was so bored in the off-season because I had nothing to do. Also being back in the football environment with all the girls.
The worst is definitely the blisters that I got on the first week of pre-season!
SK: Who's been the comedian, making everyone laugh? (If there's been time or energy for that…)
VC: Everyone just has a laugh together, to be honest. We know when to have a joke and when to be serious, so there's always a good vibe and balance.
SK: Who's been the chattiest?
VC: Without a doubt Faye (Baker) has been the chattiest – nothing changes!
SK: Who's come back in the fanciest new footwear?
VC: Always got to appreciate (Kate McIntyre) Macca's trainers. She's always got decent ones on and fresh boots too.
SK: Who has come back with the best tan (and/or tanlines)?
VC: Definitely myself – I'm a new shade of white!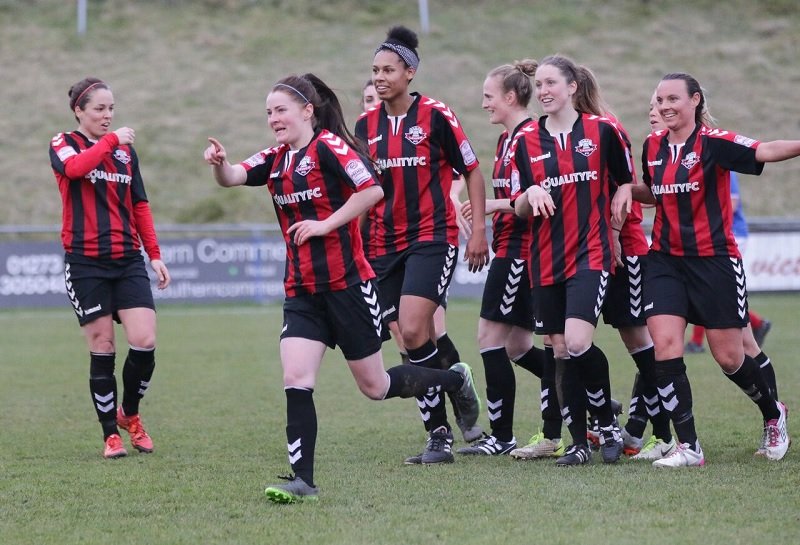 SK: Who will put the most effort into preening and looking their best for the pre-season photo shoots?
VC: Got to be Paddy (Avilla Bergin); she's always photoshoot-ready.
SK: Who is looking really sharp and in form on the field, in pre-season?
VC: Charley Boswell and Amy Taylor are looking sharp since the start of pre-season. Bos never stops running and Amy is just a machine.
SK: Any personal targets you've set yourself for the upcoming season?
VC: I'd definitely like to score a few more goals and less impact injuries this season, as even the ref managed to break my finger and knuckle last season by running into me!
SK: Any facts, hidden talents or funny things you can tell us about one of your team mates that we might not know?
VC: I've heard Sammy does a decent worm. She hasn't brought it out at Lewes yet but i'm sure she will eventually!
SK: Who will be your team's or your own biggest fan?
VC: It's hard to pick one person for the club because we have so many individuals that support us continuously throughout the whole season! For myself, it would be Richard Morpeth, as not a game goes by I don't get a good luck tweet.
SK: What is your home ground like and any tips for newbies turning up?
VC: I personally love our home ground; I think it's so unique with the beach huts for people to watch the game from and other wee bits just make it so special. For any newbies, just have a look around the full ground to appreciate everything.
SK: What can we expect to see from your team and why should SK readers get behind your team in the upcoming season?
VC: Everyone can expect a team that isn't going to roll over easy and we'll give everything every game for the badge and for each other. SK readers should get behind Lewes because it's going to be such an exciting season for us and we appreciate all the support we get!
Follow Vicky on Twitter: @__Carleton
And now we quickly zoom over to hear from…
John Donoghue (Lewes FC Women) First Team / Academy Manager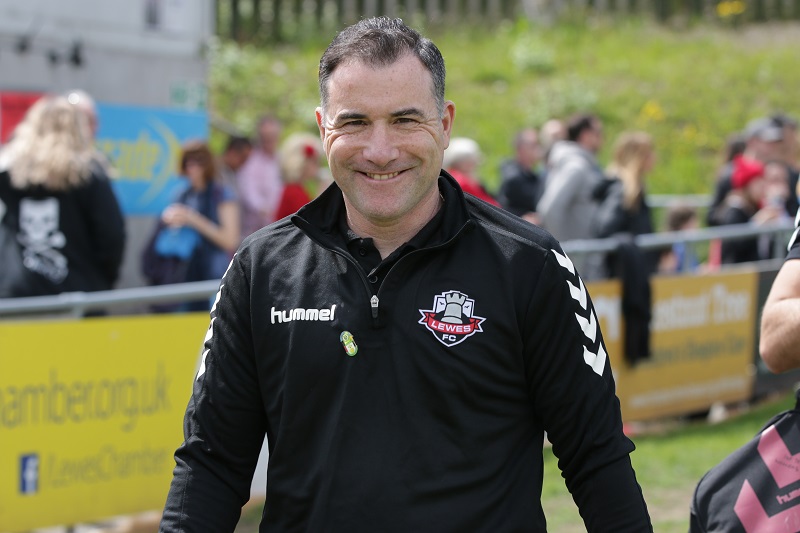 SK: What's been the key/most important task for you and your staff this summer break?
JD: This summer we made sure the players had a consummate off-season plan that was periodised over the break in order to gradually take up intensity and volume. Our focus was to allow the players to come back fit so this could be taken on another step during pre-season and we could utilise the time on technical and tactical work.
Of course, recruitment during the off-season is key. When the players are away, a tremendous amount of hard work is completed identifying targets and looking to improve the squad so that it compliments the current squad. Getting the right characters in who can improve the team both on and off the pitch is imperative.
SK: Aside from readying the squad in terms of match fitness, what is the single most important message you hope you get across to the team for the upcoming season?
JD: The players need to understand the step-up in physical and mental strength that is needed to perform each week against teams that are used to playing this level. Opposition players as a collective will be more competitive and opportunities to attack need to be taken with quality passes and great movement off the ball.
SK: What have you or are you enjoying most about pre-season?
JD: Pre-season has been excellent with regards to putting in place a way of playing and trying out some different formations. There is a real focus and determination within the squad.
SK: What is the most exciting thing about the upcoming season for you and the club?
JD: There's always an anticipation leading into each season to come. This season is a bit unknown for many and there are some teams with great names in the women's game, but my message is that's all they are – names. They still need to train hard, they still need to concentrate, and we need to play the game not the occasion when we play them.
Follow John on Twitter: @JEDonoghue8
Follow Lewes FC Women on Twitter