The 2018/2019 season is almost upon us and so to get you in the mood for the action ahead, we're trawling the top three tiers of the newly re-branded women's pyramid to get the lowdown on the atmosphere, expectations, horrors and delights of pre-season from the on-field talents putting in the hard yards and the coaches barking the orders and shaping their teams…
We're checking in with clubs in the new-look FA Women's Championship (formerly the FA WSL2) and fresh off the back of her return to the club being officially rubber-stamped, we've got Tottenham Hotspur Ladies midfielder Coral Haines! Returning to Spurs on a full deal after last season's loan from Birmingham City, England Under-23 international Coral is the next one into the 'Pre-Kicks' Q&A action!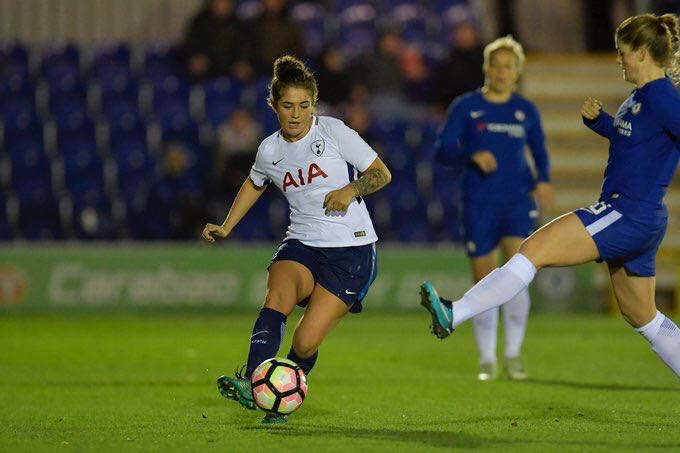 Coral Haines (Tottenham Hotspur Ladies)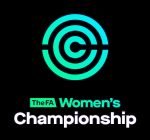 SK: How did the close-season break go for you – what did you get up to/how did you relax/unwind/stay in shape?
CH: I really enjoyed my break, I still had work but used the time well to spend time with my family and those closest to me! The park sessions I did over the off-season made me not want to go to the park for a very long while!
SK: How were you feeling on the first day back?
CH: I was feeling excited to see everyone on my first day back; I felt rejuvenated and raring to go! I was intrigued to see what all the Spurs staff had been doing behind the scenes, player-wise!
SK: What did the players do on the first day back?

CH: On the first day back, it was the (men's World Cup) quarter final – at the SAME TIME! But (first-team head coach) Juan (Amoros) got straight down to the business on the first day; tactics and formations galore! However, when we had to do our running at the end, we had a small break to find out England had qualified and the team went mental! Enjoyable first day back but also effective!
SK: How many new faces are there in the squad and how do you make them feel welcome? (Any initiations to look forward to or things they have to do)?
CH: Pleasantly, there are a fair few people we need to get to know this season. Everyone's already wondering how the management don't have headaches 24/7 with there only being 11 players that can start on a Sunday! There will be initiations, and if last season is anything to go by, I'm not sure whether they should be excited to participate, or nervous, but I am sure the girls from last season will enjoy putting them through it! I'm confident the girls will have so much fun at Spurs and they'll grow to love the family environment as quick as I did!
SK: Who's been first in the running/fitness sessions?
CH: I have been on holiday, so I'll go by the first few weeks of training! We were welcomed by the Cooper Run (a 12-minute fitness test) early stages. I think Sarah Wiltshire and Megan Wynne were top two; I apologise if I'm wrong, but I was lucky I was conscious enough to even take notice of who was winning. My efforts were on keeping the sweat out of my eyes!
SK: What has been the best thing about being back (and what has been the worst?!)?
CH: The best thing about being back was definitely seeing all the girls and hearing how their holidays went! It was so nice to see them, after what seemed like the longest off-season I've ever gone through! Not forgetting the staff – we semi-missed them too!
The worst thing only dawned on me recently, actually. You'd think it was the running but it's definitely the reality of not seeing a few players from last season! I grew quite fond of Toni (Wayne) and Leggy (Katie O'Leary) and it felt so strange to be at training without hearing Toni, and having banter with Leggy! Miss you girls!
SK: Who's been the comedian, making everyone laugh? (If there's been time or energy for that…)
CH: I think everyone has their part to play in the atmosphere at Spurs! There are so many strong personalities so it's hard to pick one person that is the funniest. I'm going to say Juan though; he keeps the spirits high when we have no energy to laugh and also connects us! I think he makes (captain) Jenna (Schillaci) funnier than she actually is as well – by that I mean he makes fun of Jenna and that keeps everyone laughing!
SK: Who's been the chattiest?
CH: Now this is even harder than the question before! I might be getting 'chattiest' and 'loudest' mixed up…but I'd say Renée (Hector). Everybody hears her, so we will put that down as being the chattiest! It's either me or Renée who gets moaned at by David, our strength and conditioning guy, whilst we're doing pre-act. We're always talking when we shouldn't be, so I'll let her take that crown away from me, with pleasure!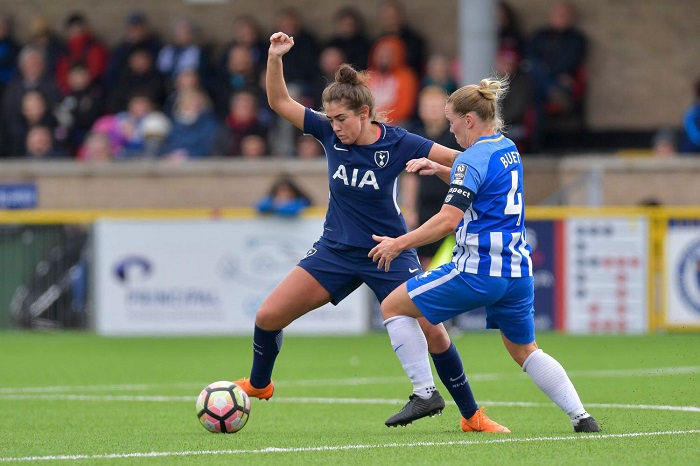 SK: Who's come back in the fanciest new footwear?
CH: I haven't really noticed any footwear changes, to be honest! We did notice David had a new pair of trainers ready for the new season, but no doubt Bianca (Baptiste), Sarah (Wiltshire) and Re (Hector) will have some flashy boots this season!
SK: Who has come back with the best tan (and/or tanlines)?
CH: I think Sophie Mclean has come back with the best tan in the team, if I'm honest. Before the end of the season I could only describe her as being pale, but Superdrug must have had an offer on the St. Tropez. Her legs don't blend into her white training socks now ?
SK: Who will put the most effort into preening and looking their best for the pre-season photo shoots?
CH: I would say Josie (Green) is the princess of the team and always looks unbelievable in the pictures, but I don't think she'd go through the procedures Renée would. I reckon Renée's hairdresser would get a last-minute call to tame her mane!
SK: Who is looking really sharp and in-form on the field, in pre-season?
CH: I don't think anyone has enjoyed their off-season too much, to be fair to them. But after playing a pre-season friendly, watching how it's all come together, there has been a great impression made by a new signing. I'm not sure if I'm allowed to say who it is just yet, but we will just name her as mini-Messi! But for me, Chloe Morgan has impressed me. She stepped in as the number 1 and in the difficult friendly game we played, she was literally outstanding. She looks physically fit and sharp and kept us in the game with some worldie saves!
SK: Any personal targets you've set yourself for the upcoming season?
CH: My personal target this season is to take my game to the next level and to be able to consistently play to a standard where I help the team dominate the game, and play football in a stylish manner to create goals.
SK: Any facts, hidden talents or funny things you can tell us about one of your teammates that we might not know?
CH: Well I learnt this weekend that one of our teammates has a home in the Dominican Republic and has invited us to go visit whenever. The best thing to come from this season has already come! Only joking; this season will be full of important lessons! Actually, a fun fact is…there are six people at Spurs who are a twin.
SK: Who will be your team's or your own biggest fan?
CH: I think we have the best fans, so it's without a doubt they're all going to be supporting us through thick and thin. Spurs have got a worldwide fan base and I think I've heard of 'fan clubs' in Asia, America and Europe – amazing! For me, though, I am deeply lucky to have a friend named Kenny who I met through football. He follows me whatever team I play for, up and down the country supporting me home and away! He will definitely be my biggest supporter this season!
SK: What is your home ground like and any tips for newbies turning up?
CH: Our home ground is a fun-filled, family environment with friendly faces around everywhere! You will feel right at home with the family Spurs have created and no one is ever too busy to have a chat to anyone! Newbies will feel right at home and be welcomed with arms open, so you have no worries when turning up anywhere!
SK: What can we expect to see from your team and why should SK readers get behind your team in the upcoming season?
CH: Everyone this season will see what direction Spurs are going in; the drive for success is internal so we will be massively competitive this season. We're not looking back at all and we are going to work extremely hard, as one, to compete for top spot! You can also expect from everyone at Spurs, a grounded,  most warmest environment where we will fight for each other and have each other's backs throughout! This togetherness is going to help us massively this season!
Follow Coral on Twitter
And follow Spurs Ladies in the following ways this season:
Twitter – https://twitter.com/thlfcofficial
Facebook – https://www.facebook.com/SpursLadies/
Instagram – https://www.instagram.com/spursladiesofficial/
Website – https://www.tottenhamhotspur.com/teams/spurs-ladies/players/