The 2018/2019 season is almost upon us and so to get you in the mood for the action ahead, we're trawling the top three tiers of the newly re-branded women's pyramid to get the lowdown on the atmosphere, expectations, horrors and delights of pre-season from the on-field talents putting in the hard yards and the coaches barking the orders and shaping their teams…
We're checking in with clubs in the new-look FA Women's Championship (formerly WSL2) and we're flying high with the Eagles in this one! Crystal Palace Ladies' Northern Irish international midfielder Ciara Sherwood has had a summer she won't be forgetting in a hurry…and then there was pre-season…
Ciara Sherwood (Crystal Palace LFC)
SK: How did the close-season break go for you – what did you get up to/how did you relax/unwind/stay in shape?
CS: I didn't stop at the same time as everyone else, as I had a World Cup qualifier against Netherlands, but when I finally got a break I enjoyed it. I had a really busy summer. I went to Ibiza with my best friend Laura Rafferty, then on to Tenerife with all of my friends for my hen do. In Tenerife, me and Raff were working in the gym and doing runs on the beach, working hard. After Tenerife, I then went to Dubai and then on to the Maldives. I worked out most days when I was away, in the evenings, to maintain my fitness. I then ended the summer by getting married!
SK: How were you feeling on the first day back?
CS: I couldn't wait to get back, to be honest. It was a 'welcome back' session so it wasn't too crazy, but it was nice to see everyone and a few new faces.
SK: What did the players do on the first day back?
CS: We started by some running. All different types; short and long distance. Some were nearly sick! We then did some passing patterns, ending in a game.
SK: How many new faces are there in the squad and how do you make them feel welcome? (Any initiations to look forward to or things they have to do)?
CS: There are a lot of new faces, but I've played with the majority at Charlton or at Millwall. I've done all I can to make everyone feel welcome when they arrive, showing them where to go and introducing them. We have one new coach too. I feel if you make a few jokes with them to start it eases them in! Me and (captain) Freya (Holdaway) are planning initiations!
SK: Who's been first in the running/fitness sessions?
CS: There's a bunch of us at the top with the running: me, Freya, Amy Green and one of the girls who hasn't signed yet.
SK: What has been the best thing about being back (and what has been the worst!)?
CS: The best thing about being back is just playing football and enjoying it with a lot of competition. The worst I'd have to say is the running, but that's always the case.
SK: Who's been the comedian, making everyone laugh? (If there's been time or energy for that…)
CS: We have a few. I do try my best, and also Fran Ali when she's around.
SK: Who's been the chattiest?
CS: Ashlee Hincks doesn't stop talking.
SK: Who's come back in the fanciest new footwear?
CS: Kallie (Balfour) has some new white boots – they're very nice – and Pam (McRoberts) has some fancy, grey, personalised Nikes too.
SK: Who has come back with the best tan (and/or tanlines)?
CS: With all of my holidays I think I have the best tan – and it's real for once, so I'm happy with it!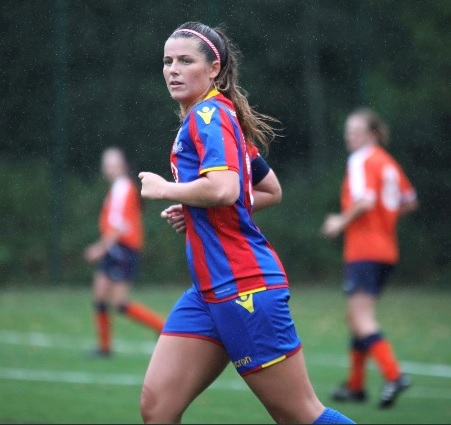 SK: Who will put the most effort into preening and looking their best for the pre-season photo shoots?
CS: Freya! She's now wearing make-up, tanning, getting her nails done, so she's definitely getting ready.
SK: Who is looking really sharp and in form on the field, in pre-season?
CS: Everyone is looking sharp at the minute, so I'm hoping we can keep improving and getting better for the season.
SK: Any personal targets you've set yourself for the upcoming season?
CS: I've set myself some targets for the start of the season and throughout the season, so hopefully I will achieve them all.
SK: Any facts, hidden talents or funny things you can tell us about one of your team mates that we might not know?
CS: Hmm, not that I can think of, or could tell you anyway!
SK: Who will be your team's or your own biggest fan?
CS: All of the Palace fans are amazing; we definitely will have the best fans in the league. They come to our games home and away with banners and are always singing.
SK: What is your home ground like and any tips for newbies turning up?
CS: We will be playing at Bromley FC (Hayes Lane). There's the Ravens Bar, which always has the football on a big screen, and wireless phone chargers!
SK: What can we expect to see from your team and why should SK readers get behind your team in the upcoming season?
CS: We are going to be a team who works very hard on and off the ball. We have some young and older players with a lot of flair! Every match should be interesting!
Follow Ciara on Twitter: @CiaraSherwood