2018/19's The FA Continental Tyres League Cup will feature the 22 teams of the FA Women's Super League and FA Women's Championship, in four groups: two northern and two southern.
Holders Arsenal have been pitched in Group Two South of The FA Continental Tyres League Cup, alongside London neighbours West Ham, Millwall and Charlton.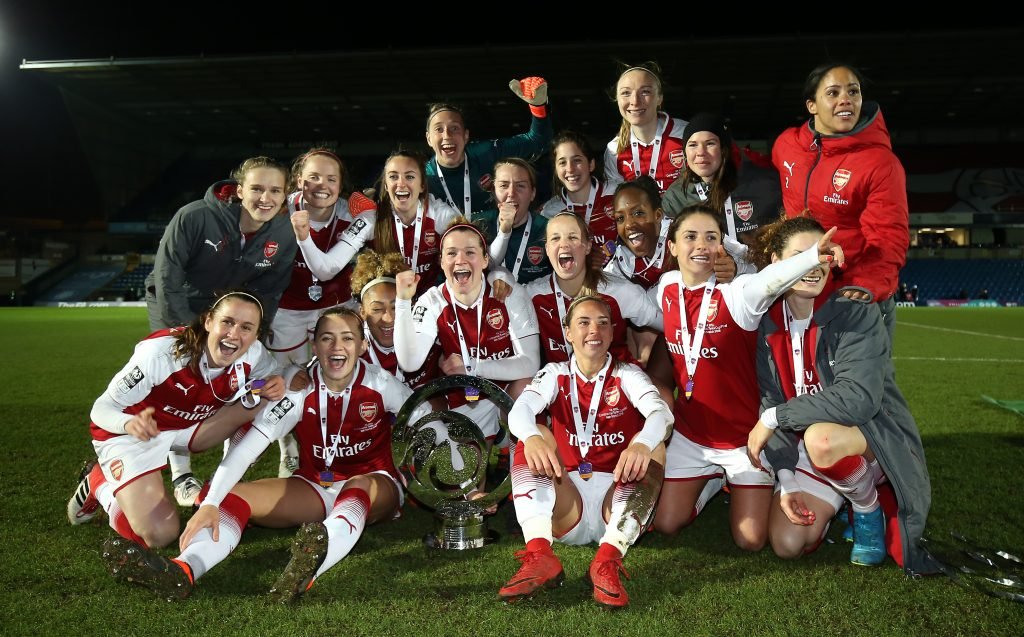 Manchester City, winners in 2016, have been drawn in Group One North with three-time runners-up Birmingham City.
Meanwhile, Manchester United have been placed in Group Two North along with Merseyside rivals Liverpool and Everton.
The group stages are scheduled to take place between 18 August and 13 December. The top two teams from each group will go through to the knock-out rounds. The quarter finals are set for 8-9 January 2019 and the semi-finals will commence on 5 February 2019.
The final has been pencilled in for Saturday 23 February, subject to broadcast.
Opening weekend fixtures are: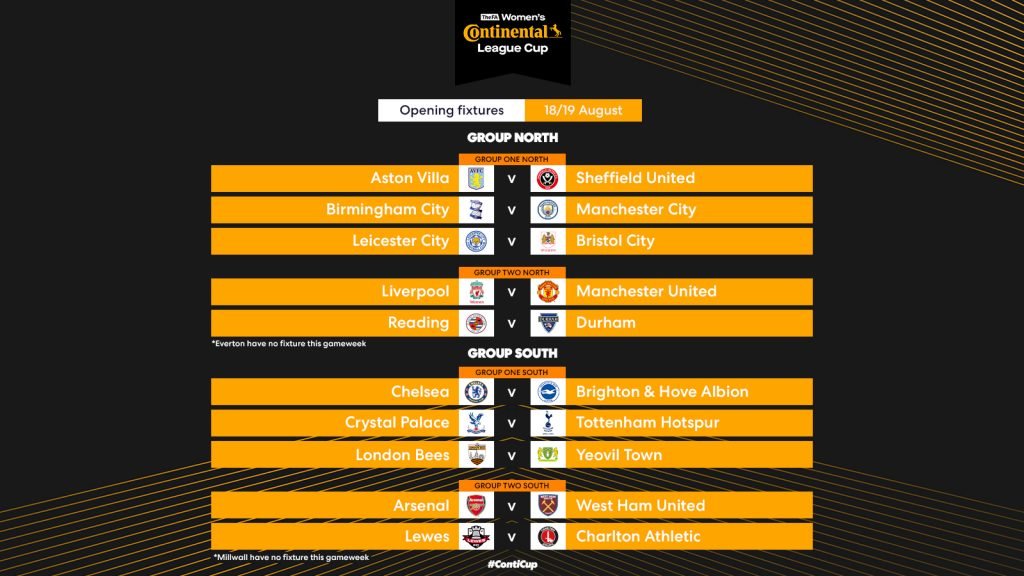 How the groups look:
Group One North
Birmingham City
Sheffield United
Leicester City
Aston Villa
Bristol City
Manchester City
Group Two North
Liverpool
Everton
Manchester United
Reading
Durham
Group One South
Chelsea
Crystal Palace
Tottenham Hotspur
Brighton & Hove Albion
London Bees
Yeovil
Group Two South
Lewes
Arsenal
West Ham
Millwall Lionesses
Charlton Athletic
Group One North fixtures
Sat 18 Aug Aston Villa v Sheffield United (7pm) at Boldmere St Michaels
Sun 19 Aug Birmingham City v Manchester City (2pm) at Solihull Moors FC
Sun 19 Aug Leicester City v Bristol City (2pm) at Quorn FC
Sun 26 Aug Birmingham City v Aston Villa (2pm), venue TBC
Sun 26 Aug Bristol City v Sheffield United (3pm) at Stoke Gifford
Sun 26 Aug Manchester City v Leicester City (3pm) at Academy Stadium
Sun 16 Sep Bristol City v Manchester City (3pm) at Stoke Gifford
Sun 16 Sep Leicester City v Aston Villa (2pm) at Quorn FC
Sun 16 Sep Sheffield United v Birmingham City (2pm), venue TBC
Weds 5 Dec Bristol City v Aston Villa (7pm) at Stoke Gifford
Weds 5 Dec Manchester City v Sheffield United (7pm) at Academy Stadium
Weds 5 Dec Leicester City v Birmingham City (7.45pm) at Quorn FC
Tues 11 Dec Aston Villa v Manchester City (7.30pm) at Boldmere St Michaels
Weds 12 Dec Birmingham City v Bristol City (7.30pm) at Solihull Moors FC
Weds 12 Dec Sheffield United v Leicester City (7.45pm), venue TBC
Group Two North fixtures
Sun 19 Aug Liverpool v Manchester United (2pm), venue TBC
Sun 19 Aug Reading v Durham (2pm) at Adams Park
Sat 25 Aug Manchester United v Reading (Midday) at Leigh Sports Village
Sun 26 Aug Durham v Everton (Midday) at New Ferens Park
Sun 16 Sep Durham v Liverpool (Midday) at New Ferens Park
Sun 16 Sep Everton v Reading (2pm), venue TBC
Weds 5 Dec Liverpool v Everton (7pm), venue TBC
Weds 5 Dec Manchester United v Durham (7pm) at Leigh Sports Village
Thurs 13 Dec Everton v Manchester United (7pm) venue TBC
Thurs 13 Dec Reading v Liverpool (7.30pm) at Adams Park
Group One South fixtures
Sun 19 Aug Chelsea v Brighton & Hove Albion (2pm) at Kingsmeadow
Sun 19 Aug Crystal Palace v Tottenham Hotspur (2pm) at Beckenham Town FC
Sun 19 Aug London Bees v Yeovil Town (2pm) at The Hive
Sun 26 Aug London Bees v Chelsea (2pm) at The Hive
Sun 26 Aug Tottenham Hotspur v Brighton & Hove Albion (1pm) at Cheshunt FC
Sun 26 Aug Yeovil Town v Crystal Palace (3pm) at Dorchester Town FC
Sun 16 Sep Brighton & Hove Albion v London Bees (2pm) at Crawley Town FC
Sun 16 Sep Crystal Palace v Chelsea (2pm) at Bromley FC
Sun 16 Sep Yeovil Town v Tottenham Hotspur (3pm) at Dorchester Town FC
Weds 5 Dec Chelsea v Yeovil Town (7.30pm) at Kingsmeadow
Weds 5 Dec Brighton & Hove Albion v Crystal Palace (7.45pm) at Crawley Town FC
Weds 5 Dec London Bees v Tottenham Hotspur (8pm), at The Hive
Weds 12 Dec Tottenham Hotspur v Chelsea (7.30pm) at Cheshunt FC
Weds 12 Dec Yeovil Town v Brighton & Hove Albion (7.45pm) at Dorchester Town FC
Thurs 13 Dec Crystal Palace v London Bees (7.45pm) at Bromley FC
Group Two South fixtures
Sun 19 Aug Arsenal v West Ham United (2pm), Borehamwood FC
Sun 19 Aug Lewes v Charlton Athletic (2pm) at Lewes FC
Sun 26 Aug Charlton Athletic v Millwall Lionesses (2pm) at VCD Athletic
Sun 26 Aug West Ham United v Lewes (3pm) at Rush Green Stadium
Sun 16 Sep Lewes v Arsenal (2pm) at Lewes FC
Sun 16 Sep West Ham United v Millwall Lionesses (3pm) at Rush Green Stadium
Weds 5 Dec Millwall Lionesses v Lewes (7.30pm) at Dartford FC
Thurs 6 Dec Arsenal v Charlton Athletic (7.30pm) at Borehamwood FC
Weds 12 Dec Charlton Athletic v West Ham United (7.45pm) at VCD Athletic
Weds 12 Dec Millwall Lionesses v Arsenal (7.30pm) at Dartford FC