Ahead of the 2017 UEFA Women's Championships, Kick It Out attended the England media afternoon to interview Kick It Out 'Next 20' Ambassadors Jordan Nobbs and Toni Duggan.
First up, it's Jordan – a key player for both Arsenal Ladies and England – she discussed her season so far, the upcoming Euros, the development of the women's game and her role working with Kick It Out.
It's been a fantastic year for Kick It Out 'Next 20' Ambassador Jordan Nobbs.
Performances for club and country have seen her pick up multiple individual awards, including England Player of the Year and London Football Awards Player of the Year, as well as earning a place in the PFA FA Women's Super League (FA WSL) Team of the Year.
"I feel like I've been working hard and I think that's been shown in my performances," Jordan said. "But I'm still learning and hopefully I can keep on improving. It's definitely a good place for me to start, leading into the Euros."
Jordan's terrific form has seen her go viral in the last couple weeks; the first time after she scored a stunning 40-yard free-kick for Arsenal, before a delightful, swerving shot past the Switzerland goalkeeper in a Euro 2017 warm-up friendly sent social media spinning once again.
Individual success is not what drives Jordan, however, and she remains determined to build on Arsenal's third-place Spring Series performance and challenge Manchester City and Chelsea for the title next season.
"We are disappointed that we've drawn games that we probably should have won," she reflected. "So even though we were unbeaten, in my eyes we need to be doing better and we want to be winning trophies.
"The difference now with the league is if you drop one point, it can literally take you from first to third. Whether it's the start or end of the season, you can't take any game for granted and you really need to get those wins when it matters."
The England squad pose for photos outside Wembley Stadium

In the meantime, the focus for Jordan is England and improving on their brilliant third-place performance at the 2015 World Cup.
"We want to be in that final, we've prepared over the last few years and we've shown what we can do and how well we can play against some of the top teams in the world, and we're putting ourselves on that pedestal now.
"We want to push ourselves to that limit and we have real belief since Mark (Sampson) came in and pushed us as players to achieve what we can achieve."
Clearly the expectation on the England squad is greater than ever going into the tournament in Holland, but Jordan remains bullish about their chances.
"When you come third in the world, there's naturally that pressure on you to then do well in the next tournament but I think we know that and I think it's about time that us as players want that pressure. We want to be known and looked at as people who should be winning big games."
She's delighted that media coverage of the women's football is increasing and believes another inspiring tournament performance will allow the game to progress even further.
"Since the World Cup, it's changed massively. Even the support in the WSL has increased and when it comes to international level, it's a massive stage for people to be role models and really promote the women's game again.
"The Euros are going to be a major stepping stone for the next big push of the media and the development of women's football. We've pushed it over the last few years and now is our time to do it again, but I think we've been really happy with the way it's been developing."
That desire to help grow the women's game, along with a passion for inclusion, were important factors in her decision to become a Kick It Out 'Next 20' Ambassador.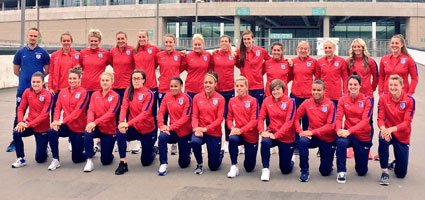 "I think equality is so important," Jordan enthused. "We want everyone playing football or getting involved in a sport and I think the more we can promote that and have people enjoying it all over the world, I think we really need to push that.
"Whether that is us going to schools and encouraging them there or just making them feel comfortable to be able to join in and play, I think that's the way we want to promote everything and be role models for them."
Jordan spoke highly of her experience as a 'Next 20' Ambassador, a role she took up in October 2013.
"It was an incredible thing for me to be asked to do and I was really grateful to be a part of it – it just opens your eyes to the world. I've really enjoyed being able to promote equality wherever I can and say that everyone has difficult times, but there are people here to support and help you with that. Don't be afraid to speak up.
"I think Kick It Out have done a fantastic job. Even most girls football appearances I go to, there's someone from Kick It Out there trying to promote equality."
But there is little chance of Jordan resting on her laurels; she remains passionate about driving forward change in football and ridding the game of sexism.
"The more you can do media-wise to really get everything out there, the better," she explained. "Sometimes you can change the world by giving out a leaflet. A post on Twitter can create a big talking point, you can show videos of people, get people's stories out there, the good and the bad.
"The more you can promote stories and encourage people to follow their dreams, with the proper support, I think that's the way Kick It Out can become even more important."
Check back later in the week for Toni Duggan's interview.