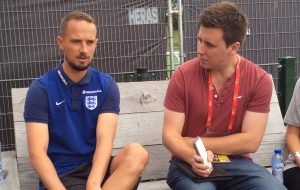 We asked Mark Sampson if he would be watching the games and cheering for a particular team as Group C concludes and England find out their potential opponents in the Quarter Finals…
'These 8.45pm kick offs are taking their toll on me,' he half-joked/admitted. 'What day did we play Spain? Sunday? It's bloody tough to get up the next morning to get on with our work.
'I tried my best to watch a bit of the Germany game yesterday — but I nodded off after about 30 minutes, then I woke up at about 75 and got back down at about 85, so as far as I'm aware it was 0-0!
'I'll try to do the same tonight but I've got the nipper [his daughter] coming round to the hotel, so I'll be on babysitting duties tonight. I'll be looking forward to spending some time with the family and then focusing on our game tomorrow. If I get a chance to peek in, I will, walking around the hotel. I'm sure some of the girls will be watching it, some will be out and about, not caring what happens, and others will be really interested.'
We will be watching but we will also be on BBC Radio 5 Live discussing the tournament so far, so tune in to hear that too!