Who set the schedule for the group games and how do I track him down and lay a series of Lego bricks by his bed whilst he's sleeping? That's right the overlapping matches were back – just wait for matchday three! – and at times it was hard to know where to look.
In what can only be described as the only group that isn't completely drunk, those in E got us underway in Sapporo again and… God it was ages ago, what happened? Right, okay, VAR popped up a few times – the theme of the day, more on that later – first to rule out an early Kadeisha Buchanan goal then to give Canada a penalty for what I'm calling a soft foul. Don't @ me Canucks. Anyway, Janine Beckie stepped up and cracked her spot kick into the upright, not that that discouraged her as she cracked a couple of goals in either side of the break. Chile looked… well, not awesome but another VAR review brought about another penalty, this time for the South Americans which Karen Araya took very well and Chile had over half an hour to score an equaliser. I'll not drag this out, they didn't get one [Sk Ed: They hit the bar though!] and Canada held out for all three points. 
Before we get on to the 700 goals of the day, can I take this moment to implore Canada/Canadians to come up with an actual nickname for your women's football team? Even if it's just the Denim Dames, gimmie something I can use. Cheers. 
Right back to the football, the second match of the day was… oh damn, EIGHT goals: EIGHT. I know Zambia want to progress at this tournament and do X, Y and Z but damn if they're not making fans. It's impossible not to like this foolhardy, attack-crazy team. And as SK Ed Jen O'Neill – who very stupidly keeps asking me to write these reactions – put it earlier today, when Barbra is on the ball it's pure Banda-monium. Back-to-back hat-tricks, are you kidddddding me?!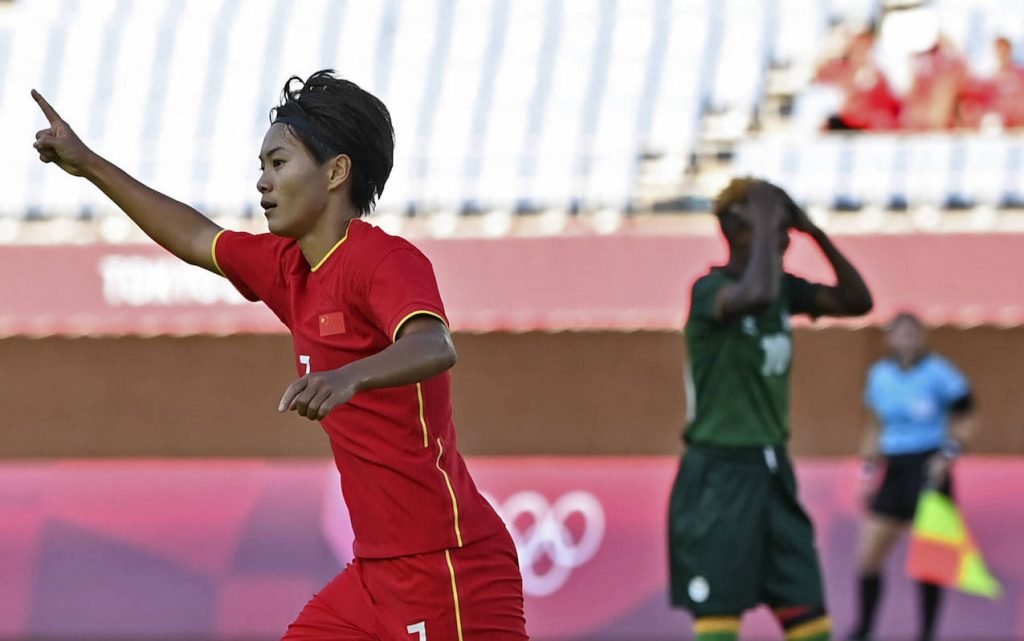 It wasn't just the Banda show today though as Wang Shuang put on her own show. Shuang (her first name, which I'm going to take a liberty and use here as not to confuse her with Wang Shanshan) got the ball rolling for China in the sixth minute as she fed the ball through the ankles of TWO defenders (who shall remain nameless so as not to shame them) and Nali's gloves with one deft whip of her foot. Now imagine if that was that and there wasn't another seven goals to talk about. 
Kundanaji header less than ten minutes later: game on. Wang Shanshan goal ruled out for offside (hello VAR): game still on. Shuang scoring twice in two minutes? Ah bugger it: game off. Tasty damn finish for the third… or the second maybe? I can't remember, whatever, she took the aerial ball down, let it drop and got it in on the half-volley. Banda penalty? Hey, game on again. Babs with another one just after the break? Lads, that's what we call a game on. Banda hat-trick to give Zambia the lead in the 69th minute? Nice.
You know what happens when two teams are just going at it for 90 minutes saying YOLO and royally pieing off the idea of defending? That's right, ANOTHER penalty, this time for China and you know Shuang took a cracker. There was still time for the Steel Roses – see, that's a proper nickname, take note, Canada – to hit the woodwork and having Li Qingtong shown a straight red. Four-four sucks though, neither team are dead in the water but would have to do something massive on Tuesday and hey, stranger things but c'mon lads, do some defending.
From eight goals we go down to a casual SIX between Sweden and Australia. Fridolina Rolfö in the 20th minute with the opener – and note the umlaut, her name isn't Rolf-o – anyway, football. Right, Sam Kerr header, oh man, I don't quite know what Viggy was doing on this, I think she forgot that she could dive and ended up doing a star-jump? Pawed the ball away but it had crossed and we didn't need GLT for that one. By the way, GLT, lovely on rye.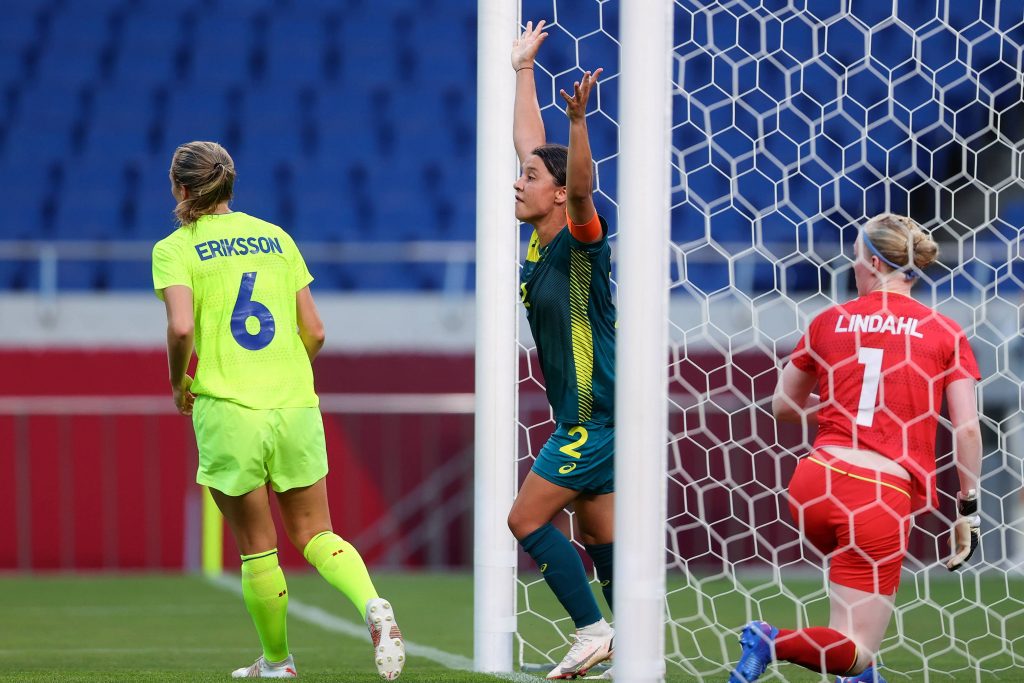 Right after the break, Kerr again, were we headed for pure group mayhem? Hurtig equaliser and Rolfö from range… maybe not group bedlam. But wait, VAR review and ANOTHER penalty, if you're not keeping count that's FIVE penalties over three matches, FIVE out of SIX teams winning penalties. I don't know if I love it or hate it, but it happened. Kerr's spot kick… look, I'll be nice, it wasn't the worst one you'll ever see, but it wasn't the best either and Lindahl kept it out with an outstretched leg… more like Legdahl…! Sorry, it's been a long day.
Blackstenius with a second, Sweden home and dry, party at your local IKEA, I'll grab the EKENÄS, you get the BJÖRKSNÄS.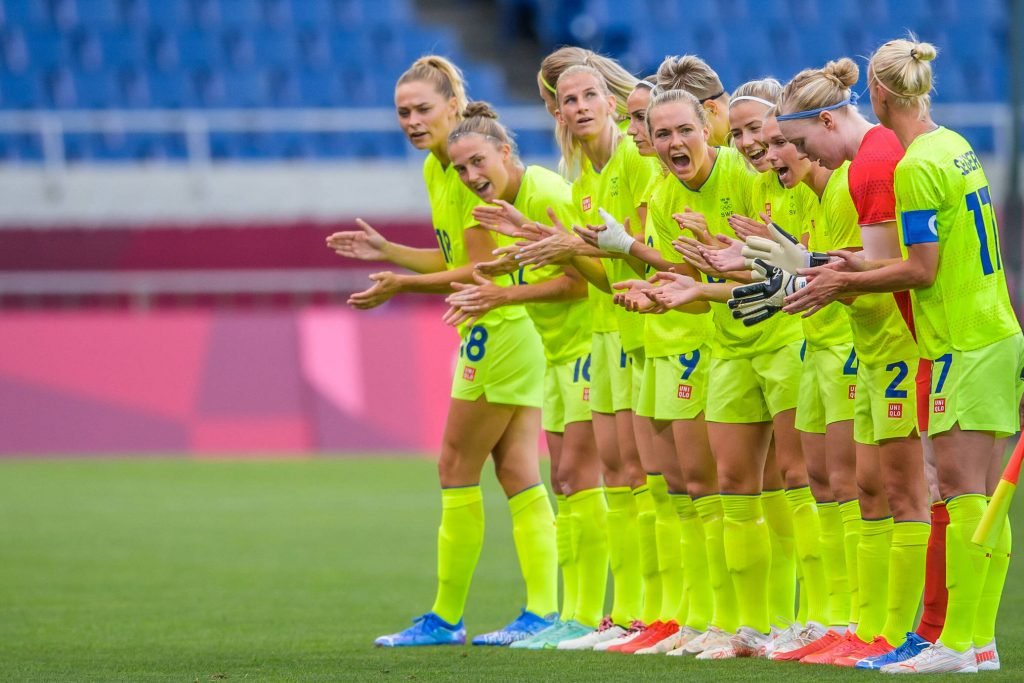 Three matches down, take a minute, get up/have a stretch, maybe get yourself a cuppa, I won't judge you.
Alright, let's all calm down, three matches into the day, we needed a breather… like getting in that pint of water before your mate screams, "SHOTSSSSS" and calls for the sambuca. Thankfully Japan were up against Great Britain and… well, that gif of Tyra Banks shouting, "WE WERE ALL ROOTING FOR YOU!" that's how I feel whenever I watch Japan. Talk about wasted potential. Ellen White's second-half header after the pressure had been mounting for a while, the figurative damp squib match of the day which I guess makes the Netherlands versus Brazil a wet squib? And if it's a wet squid you're looking for, may I suggest an aquarium.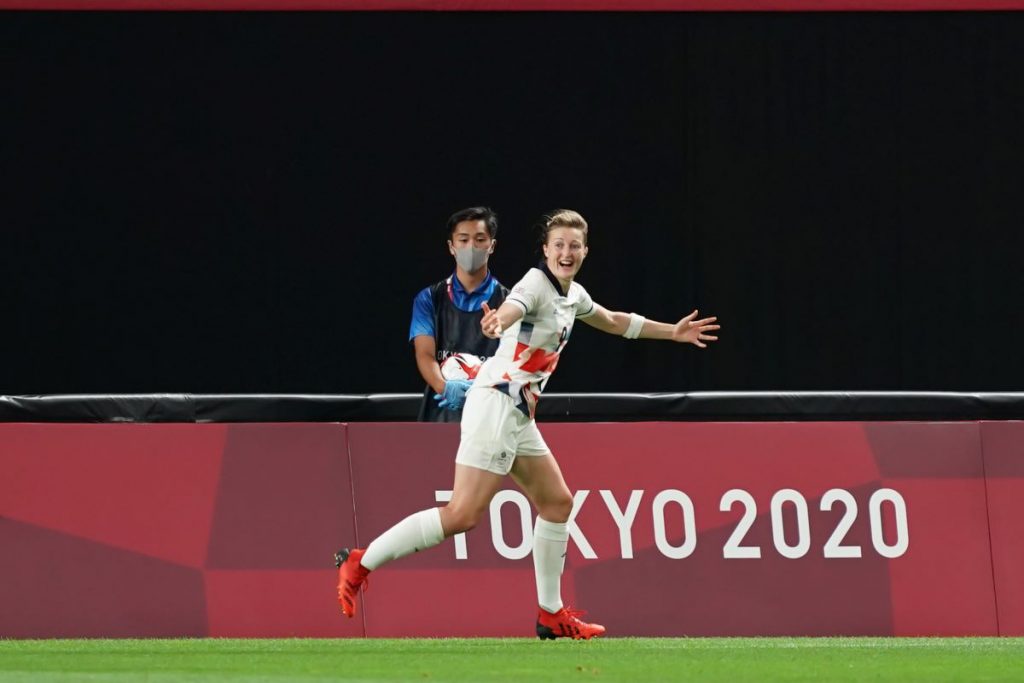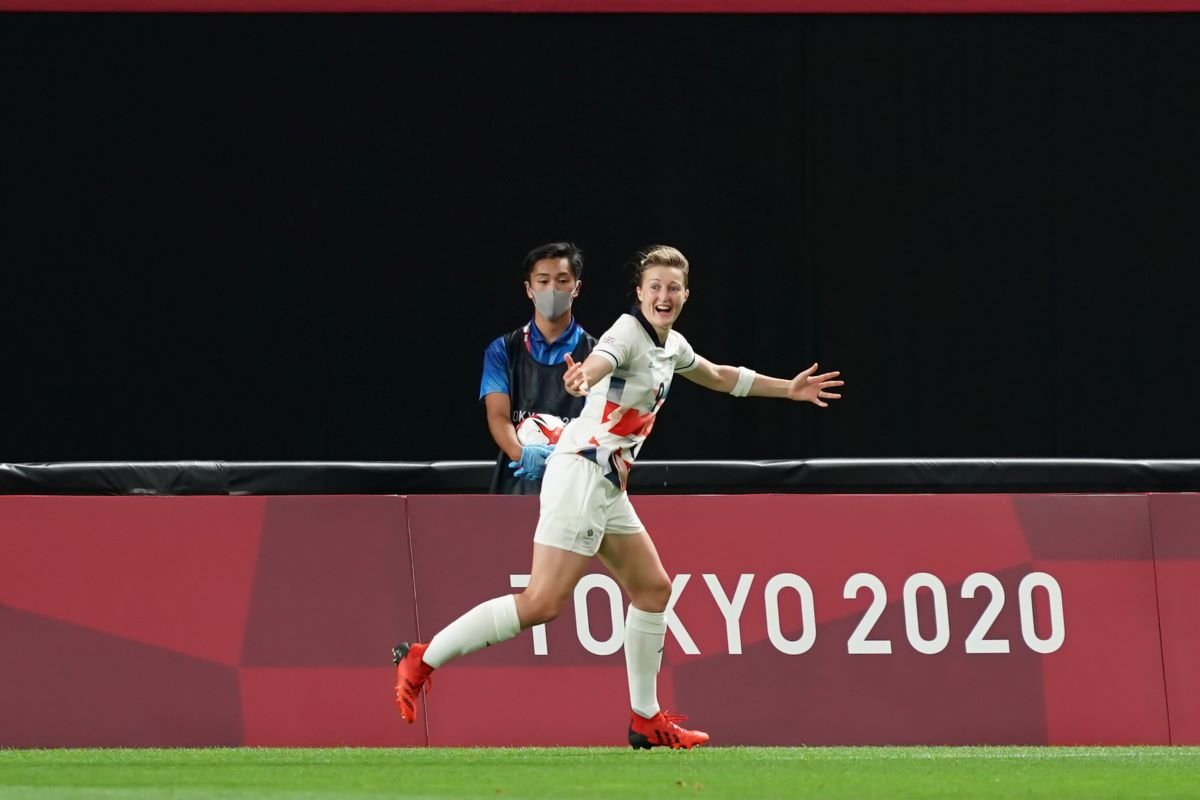 Third minute turn and shoot from Viv to give the Dutch the lead, then another penalty – that's how you know Japan vs GB was the outlier, no bloody pens – but wait, VAR review agaaaaain, penalty ruled out. Whatever, Debinha equaliser. Viv with her second on the hour before Brazil won a penalty for a foul outside the box – don't @ me Brazilians, I think Ludmila is class but that was outside the box – Marta buried it. Soft backpass and incredible speed from Ludmila gave Braz the lead but ohhh mate, you know Group F(un) wasn't done there. Dominique Janssen 27 or something yards from goal, over a free kick, you know what's coming but oh fam, you ain't really ready. Pick. That. One. Out.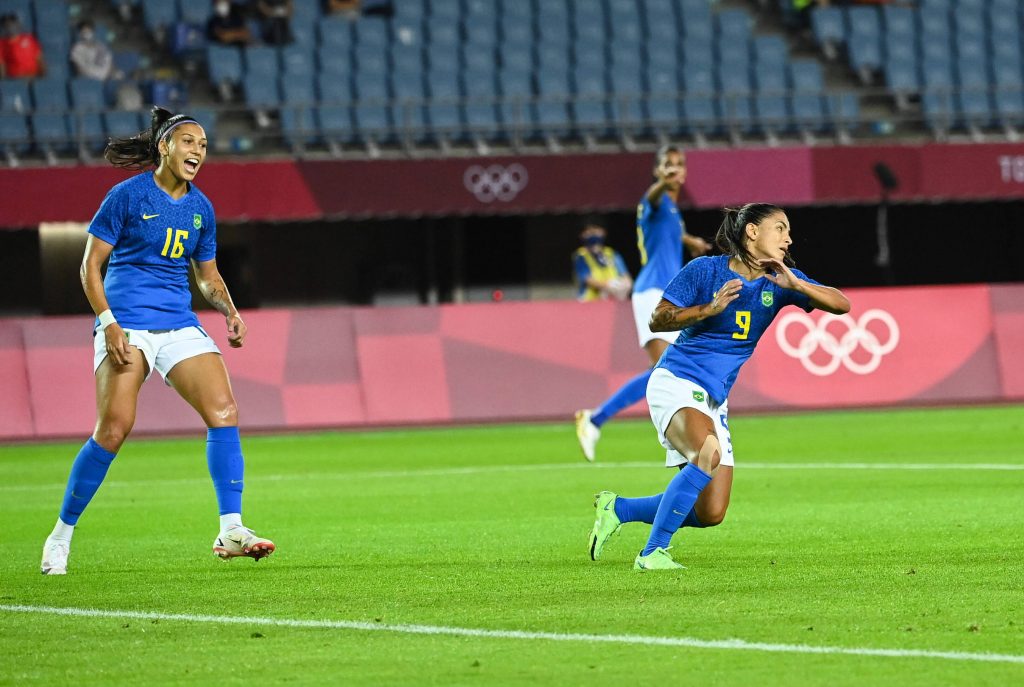 Last match of the day, glad there was only seven goals in it. If you didn't watch it and just see the the US beat the Kiwis by five goals and you're thinking, "Yah, sounds about right." Lemme tell you, the Ferns coulda had about four, Liv Chance cross-cum-shot, Wilko just wide… there were chances but more than just the near-misses, there were holes in the US side to be exploited. It felt like a lot more than just nine minutes before Rose Lavelle opened the scoring but when Horan nodded in the second, juuuuuuust before half time, you knew it was curtains. I should mention as well, that the Yanks just could not stay onside, proper White/Daly/Taylor vibes, and as such, kept having goals ruled out.
An Erceg own goal after the hour confirmed that the Kiwis would not be getting anything from the match but that didn't stop them trying and Hassett said, "Lol, nope" to Naeher's hopes of keeping a clean sheet. Losing 3-1 with ten minutes to go is decent as hell for a team that, before landing in Japan, hadn't played a match since March 2020. Unfortunately for NZ, the last ten minutes hurt about as much as when some git comes over and slaps your sunburn. Press and Morgan both scored before CJ Bott notched the second OG of the game, basically, someone get the Banana Boat.
That was day two and I'll see you on Tuesday. And if anyone has any ideas on what we can use as a nickname for the Canada team, like Dumbo, I'm all ears.
Follow Soph (and let her know your suggestions for Canada nicknames) on Twitter: @lawson_sv
#TOKYO2020 Olympics Day #1: Armchair reaction/recap (with Sophie Lawson)