Brand New Football Tournaments from Rayburn Tours
Tournaments can provide an ideal pre-planned itinerary for any tour and with ready-made fixtures, on-site accommodation, plus the chance to mix with like-minded teams, you're onto a winner. By choosing to book a tournament with a tour company like Rayburn Tours, you'll receive a full trip itinerary, allowing you to enjoy pre-planned excursions off-site as well as participate in your football tournament.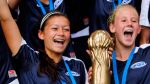 We currently have 5 tournaments on offer, all perfectly suited for girls' teams in a variety of age groups. The Rey Cup is held in Iceland and suitable for boys' and girls' U14 and U16 football teams, whilst the Gothia Cup takes place in Sweden and is for boys' and girls' U11-U18 football teams.
If you're looking a little closer to home, then our Dutch Football Tournaments are the perfect fit. Suitable for teams from U13 all the way to U18s, the Holland Cup, Hanze Trophy and Top Oss Cup are all priced at £350 per person no matter how many teams you take away – win-win!
For more information about Rayburn Sports Tours, visit their website https://www.rayburntours.com/ or call them on 01332 347 828.