What have Mark Sampson and some of the England players been saying ahead of their crunch Group D tie against Spain? What are they wary of and how have they rationalised the Scotland game? Here's just a bit of insight into their thoughts ahead of the this evening's game (Live on Ch4, Eurosport & BBC 5Live):
Mark Sampson, England Head Coach
On how they have prepared for facing Spain:
"Spain are one of those teams that on the one hand they're the football purists dream, on the other hand they're incredibly frustrating. No one would argue that their tippy-tappy football, their possession-based style is pleasing on the eye. If that was just the one element of their game I think you'd be really happy to go and watch the team but one of the reasons I think people find it hard to fall in love with the Spanish team is because they've got the other bit as well, the indiscipline, the feigning injury, the getting around the referee.
"So we're aware of the Spanish team in terms of both those qualities and we'll have to ready for the potential possession game they'll try and bring to the game and also those dark arts that aren't the nicest part but you have to manage that side of it.
On coping with that 'darker' side of the game:
"It's about making rational decisions on the field. It can't be that you just choose not to react but you want to choose your reaction. When you make a mistake emotionally, is when you read without thinking. We've got to make sure that we perform emotionally but that we always have that clarity of thought in the pressurised moment and say what am I going to do in response to this?"
"It's something from the outside you might not got a perception of but when you're in the middle, in the heart of it, it suddenly becomes very clear. It's always based on the flow of the game, if the Spanish team are getting it their way and they're controlling the ball, the sun's out then it's pass and move and pass move and not many shots. But if it's the other way round and they're facing their own goal or chasing a bit more, they're having to compete for possession, then you start to see this side of the game. It's a shame but it's something you've got to deal with and manage, both the officials and the players. In these major tournaments it is about asking good decisions and executing under pressure."
"We need to make sure we're hitting that peak that's the right balance between the controlled, relaxed football we want to play versus that passion, that intensity that we need to get to our maximum level.
"Of course, sometimes you overstep it, you can be too relaxed; sometimes you get too emotional and make poor decisions but our preparations over the past two years have put us in a place where I think, in those moments, we can make good decisions. Against Scotland at whatever phase of the game, we looked like we were making the right decisions at the right time."
One Spain's style without the vastly experienced Vero Boquete and Sonia in the squad (who were not selected):
"It probably means they're a bit more limited in terms of their structure and their system. It looks like they'll play more of a target type player in that area, whereas those players, Vero plays as a false 9, offer a different type of threat. I think with Jenni Hermoso in there we know there will be a threat with her coming short but maybe not so much running behind our backline."
On Spain's successful youth programme that has made finals and won medals at UEFA & FIFA U17s/U19s and U20s:
"Youth level isn't always the be all and end all – but a pretty good indicator. It shows us Spain have got some talented players without a shadow of a doubt.
"So we will face a team full of good technicians, quality footballers, really experienced at winning youth events. But, having said that, senior football is a different kettle of fish, with different demands and pressures.
"Spain's record in the senior qualifying tournaments against teams not in the top four is excellent. They don't often lose to teams ranked outside top for but they lost to France, lost to Brazil, lost to us in their last three big games but these big tournaments are very different events to youth tournaments, friendlies, qualifiers."
On beating Spain in October, whether it gives England an edge: 
"We've used it as an information exercise. Going into that game Spain had been 4-3-3 consistently, we played 3-5-2 and since then they've pretty much stolen our tactics. They play very similar patterns of 3-5-2. We are not sure whether they'll rely on three or four defenders on Sunday, so we've had to prepare for both but I think the profile of the team will be very similar."
On whether Spain are the most improved team at tournament – or England:
"That's for others to judge. One thing we know is that Spain are a good team. There is no doubt in my mind, Spain are thinking about going for a long time in this tournament and trying to compete with us to qualify from this group. We know that and we have huge respect for this Spanish team – the quality of players, we know from some who have played in our domestic competition, I was fortunate enough to work with three fantastic Spanish players at Bristol actually and every single one of them was a great, a great personality and a very, very talented footballer, and I owe a lot to them the fact that I'm here today (and they didn't get many caps so they must be half-decent!). But we know Spain are a good team, they know they're a good team but they also know we're a decent outfit as well."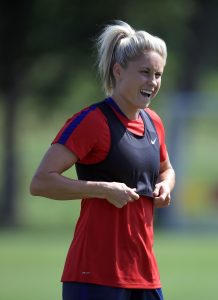 Steph Houghton, England captain/defender
On playing with one booking (in Scotland game):
"I'm disappointed because that's my first yellow card in a year. I just think I got dragged out of position, but as long as you're winning it doesn't really matter.
"It's not going to change the way I play. It's important especially against Spain that I get tight to (striker) Jenni Hermoso, try to stop her playing and ultimately try to stop their fluidity through midfield and the forwards.
"So for me it will not change the way I play, and hopefully we'll have a great performance and get three points."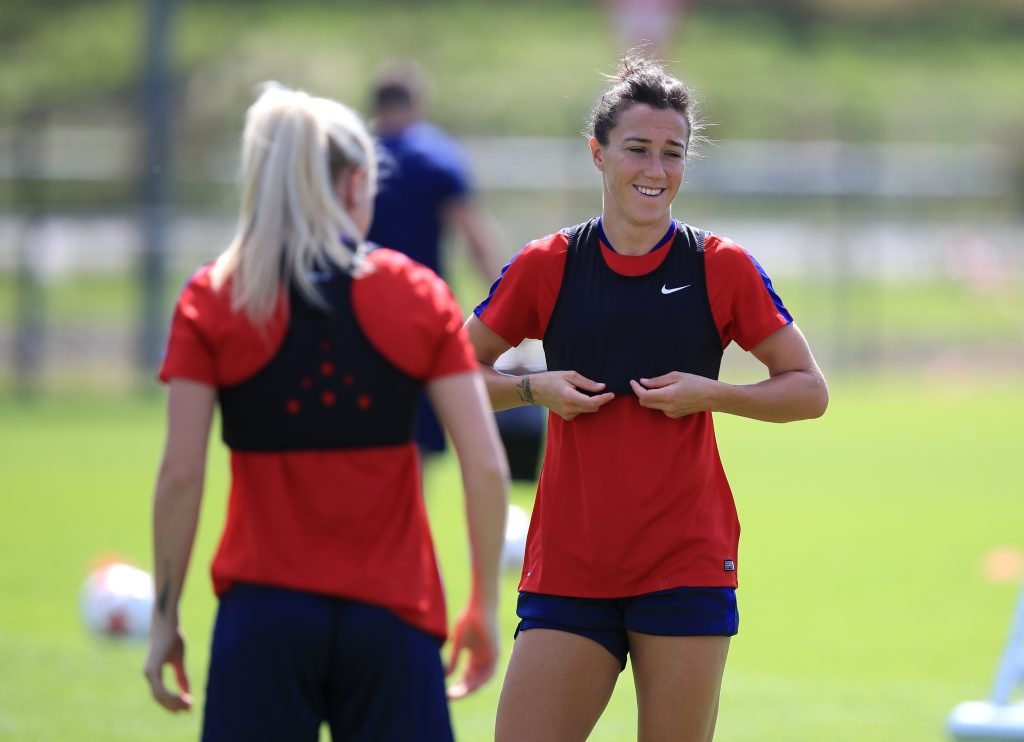 Lucy Bronze, England defender
On the Scotland result and the Spain game:
"Our targets and our goals are the same now as they were before the Scotland game. It was a great result, but you know, it was also a result we were expecting. We know where we are as a team and the 6-0 didn't shock us.
"We didn't celebrate like we had reached the top of the moon or anything like that. It was a great result but, at the same time, it was a result and a performance that we knew we were capable of.
"We are really going for this tournament, we want to reach the final. We have a lot of games in front of us, starting against Spain on Sunday, which will be the toughest game for us in the Group, but we know what we can do.
"The Scotland result might have surprised people outside of the group, but not us. We have a lot more to offer too. We haven't peaked too early."
#WEURO2017