Roared on by their noisy support, Iceland stifled and unsteadied France for much of their opening game in Group C in Tilburg, before being hit by a soft call and a cool finish by Eugenie Le Sommer from the penalty spot, in the 87th minute. A cruel, late, blow but how did the Icelandic players feel after the final whistle and saluting their fans? CHRIS BROOKES reports.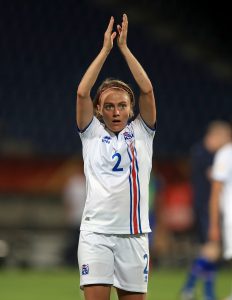 Sif Atladóttir, defender:
Overriding feeling after that?
Disappointment. Disappointment to not get anything out of the game. I think we played a really good game, but that's football.
To lose it on a decision like that and so late, do you feel fired up and want to go again? Or do you need time to switch off and then re-assess?
No, no. We had a discussion out on the field after the game and this game is over. We have maybe half-an-hour-to-an-hour to get over this – that's after the showers – and then we have to refocus on the game on Saturday.
With the likes of Le Sommer, Elodie Thomis down the right, Marie-Laure Delie coming on, how do you feel you acquitted yourselves against that French attack?
I think we did good. We scouted them really well; our scouts did a really good job and we prepared for their strengths and weaknesses. I think we exposed them a bit today, which I'm happy about. I don't think they had an open goal today; they had some long shots but our keeper can take that easily. I'm really proud of the team and the defensively part of how we played the game.
And to have that support, during the game, that roar when you're attacking, and to have it at the end after the disappointment. How does that feel?
That's why I love my country. Icelandic people are behind us and we feel it; we feel it here, we feel it at home, we feel it in the press. I'm proud of us as a nation; we come together as a nation when we have big tournaments like this. I'm really proud of being an Icelandic human being today.
It's your third Euros (after 2009, 2013), does this feel this time like it's all part of something much bigger?
Yeah, I think so, and I think that the men's team helped a lot last year by qualifying (for Euro 2016) and doing so well. The support from our federation has just grown and I'm just so proud of the build-up the Icelandic football league has been doing, both with the youth and the A teams. I'm grateful to the guys; we wanted to win this for them because they lost last year (to France), but we have to take them some other time.
Who was here to see this today from your friends and family?
My husband and my child were here, and my family, his family, and friends. A lot of people came and they're going to stay, so I'm happy about it.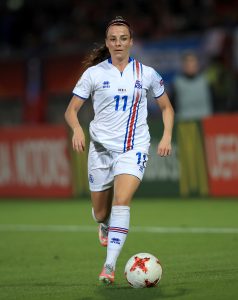 Hallbera Gísladóttir, midfielder:
Overall feeling/what's been said between you all?
I think that we are disappointed with the loss. We deserved at least one point out of the game, especially because we deserved a penalty as well, so I think a fair result would have been 1-1. Of course, the France team was dominating the game, but still we had chances to score, so yeah, it's not a good feeling, but we have two important games left. I think with this performance we can go with our head up high for the next game.
Down that left side, how much is the onus on you to attack and how much to defend?
I mean against a team like this, we were kind of underdogs, so of course I'm going to be defending a lot, but we take the chances that we get and we know we're not going to get a lot of chances against a team like this. I think we played a good game.
So against someone like Thomis, how much were you looking over your shoulder? Did you feel you managed to get forward enough and deliver with that left foot?
Yeah, I'm used to being able to cross the ball a lot more and having more space, but the way that we work is as a team, so if I have to stay down, I'll stay down. I was prepared to run a lot in this game; I'm happy to do the work. I don't think they would have scored against us unless they got the penalty kick, so I think the way we work as a team is something we can build on and take with us to the next game.
How close or how far away do you feel you are to becoming one of those top-ranking teams, after that tonight?
I think for months we have believed that we could have won this game. We had it in our mind that this was a game we would win or at least get a point out of. I don't think the France team prepared as much for us; I don't think they expected us to come out and be just as likely to take a point out of the game. I think that it's going in the right direction for us. When we have every player doing their job, I think we can beat any team.
And that support, is that still with you now as you go away from this?
Yeah, I mean, I don't know if you saw the support when we left the country – amazing. We have the support of the whole nation with us. Everyone's of course hoping for another fairytale like last year with the men's team, but just having that support of course is going to give us the extra power for the next game.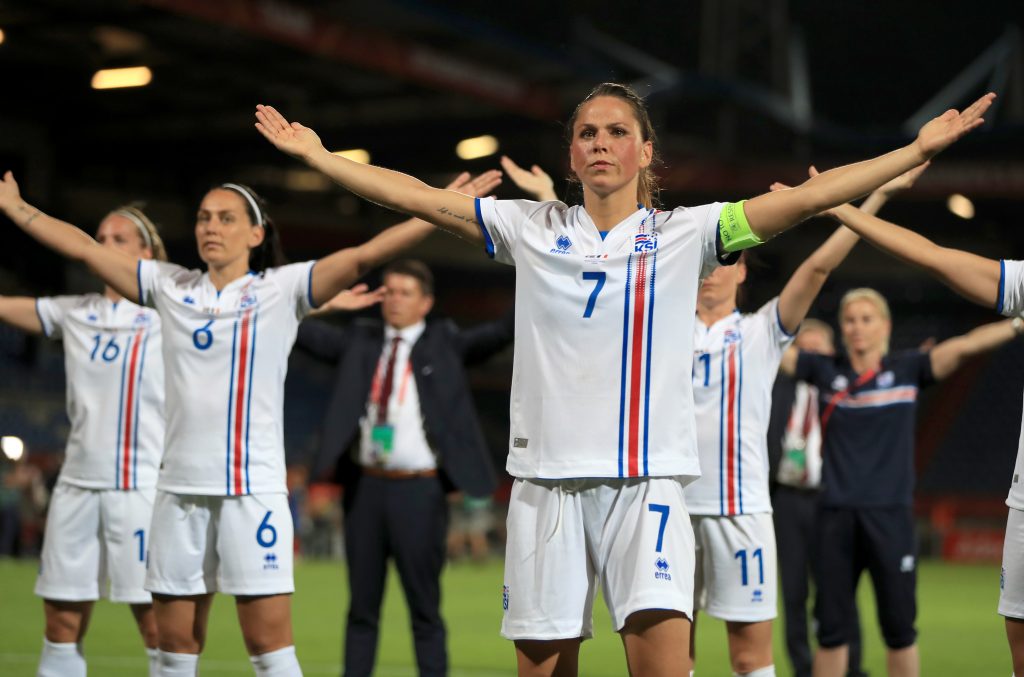 Skipper, Sara Björk Gunnarsdóttir, midfielder:
How do you feel you surprised France – was it ability, tactical, physical?
I don't know if they were surprised. I don't know what they expected, but this is usually how we play. I think they like to be with the ball, they like to be more comfortable with the ball, and I think we put them in some bad situations sometimes. I don't think they liked that so much. We played aggressive – I don't think that's any surprise to any teams – and we made some good opportunities to score, just disappointing with the penalty in the end.
Is your role different with the national team compared to Wolfsburg? More expectation/responsibility do you feel?
Yeah, it's a little bit more expectation on me, but I like that. I think many of the girls also take their responsibility in the team. Of course, I'm the captain so I have to take a little bit more and try to lead the team, but this is also my character a little bit. I try to play the same role in Wolfsburg; I'm just myself, my personality is a little bit like this. It's not so different, but I think I'm a little bit more experienced than some of the girls in the team, but I like that responsibility.
With Swiss teammates from Wolfsburg coming up, have you talked much about it with them?
No, we don't talk much about the game.
What is it that you learned or take away the most from tonight?
I just think we have to take the positive things. We take the confidence that we had in the game, we played a good defence, we have many, many positive things that we need to take from today. We have to let go of this game and focus on the next one.
#WEURO2017