More reaction from the players who battled through torrential rain and chased Spain's possession game – without losing their discipline or allowing any clear chances (aside from Steph Houghton's slip in the first minute when Losada failed to capitalise) – and ran out comfortable victors. 😉 Easy to say now!
Jill Scott was one of those players that certainly put in the legwork, even if it wasn't her finest individual display (she was immense against Scotland)… REPORTS KATIE MISHNER.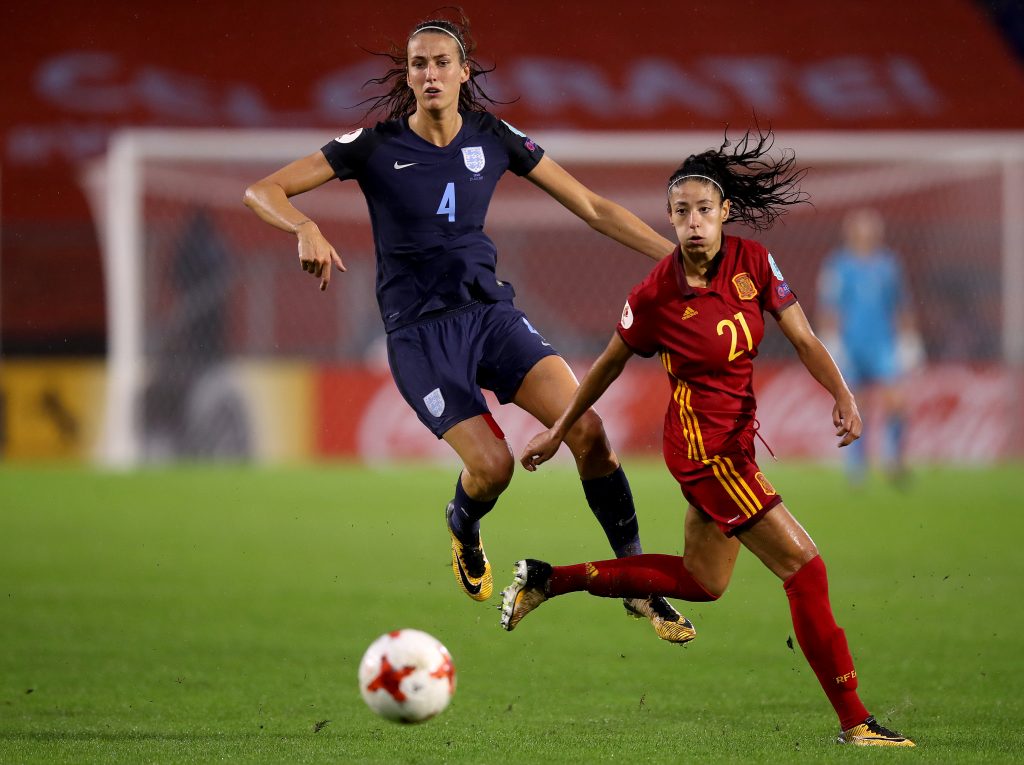 JILL SCOTT, England midfielder
On the game:
It was clear to see that Spain had a lot of possession in that game and it was tough. We showed discipline in our defending, obviously good to get two goals as well.
On rating her own performance:
I'm not sure. It's one of those things when you feel like you haven't had much of the ball and it was a lot of defending. Everybody played their part, no one went off plan, we went for first and second balls. I think we showed a great maturity in our performance today.
On whether they expected such a defensive performance following such an attacking performance v Scotland:
When you play against Spain, you're aware that they like to possess the ball. We were aware of their ability so I think that you could see that we had a good game plan against them. Probably the first 20 minutes took us a little bit of time to get into, but once we started to release the ball down the lines, and release Jodie and Fran it meant that we could get out a bit quicker. We know we defended a lot tonight, the legs will tell us that tomorrow!
On Portugal up next and going for three wins:
We'll definitely be going for three wins. With this team, you can't tell them anything else, everytime we step onto the pitch we want to win. I didn't get a chance to watch Portugal the other day but I'm sure that we will switch our analysis to them. I expect another tough game but hopefully we can put it another good performance. We've shown a couple different sides to us, you see us play against Scotland where we possessed the ball a lot and you've seen us today where we probably played a little ugly. It's good to see that we can cope against different teams.
On whether she has kept an eye on the other groups:
I don't like to get too carried away. It might be a bit of a football cliche but I've been involved in a lot of tournaments now and I know you can start looking too far ahead. I always just focus on the next job. As soon as the whistle went, it was straight in the ice bath and then starting prep for Portugal.
#WEURO2017