One of the women's game's most successful coaches, North Carolina Courage's Paul Riley became a National Women's Soccer League (NWSL) champion for the second time last year. The former Portland Thorns boss has had some of the world's most exciting players in his teams through the years – from Vero Boquete and Natasha Kai, to Debinha and Crystal Dunn. Not to mention the likes of Christine Sinclair and Alex Morgan. In his own words: "I'd rather win 5-4 or 6-3 than 1-0."
In She Kicks' April issue, the native Liverpudlian and two-time NWSL Coach of the Year was one of our interview features. Here is a much extended version of that conversation, with the 'Coach Kicks' Q&A to look forward to at the end…
SK: Striking the balance between having an expressive team, but players also adhering strongly to team values, how do you think that culture gets established? Was it more challenging to achieve that when you were just starting out as a coach?
PR: Yeah, I think so. I don't talk about winning, ever. I don't talk about three points, ever. I don't talk about championships, play-offs. I think it's been overused probably, talking about the journey and the pathway, but I tell the players that I don't wanna be a mapmaker, I wanna be a traveller. I wanna travel the same way with them, and a new season's a new season, so you build a foundation, and building a foundation's the hardest part, and then it's the evolving of the team and how we evolve, how the culture of that group evolves. Every single year, the culture changes a little bit, because you bring new players in, but I think the one thing that we've been able to do is establish the values of the team, and they stay the same no matter how many people come in and out the door. There's a tremendous amount of accountability in the group. When I first started, we were like the Bad News Birds – that's what we called ourselves before we came down to Carolina (having been relocated and rebranded from the Western New York Flash for 2017) – and it's virtually the same team, the same core group. Fourteen of us came down, and we've known what it's like to finish second-bottom of the league, we've been there, so I feel like we don't take anything for granted, and we still have that underdog mentality. People say 'well you're not the underdog now, you've got all these national team players' – yeah but we didn't at one point. They've gotten on to the national team, they weren't there when we started out. For us, it's a mentality, not a tag, so when people say 'oh, there's Paul Riley again saying the underdog, the underdog,' it's a mentality, I can't change that, it's already there. But the first year was just making it fun, taking away the pressure of trying to win, and that's really what we did. I think that was a big moment for our group, because they were young at the time, and now most of that group's 25/26, they've matured, and I think the team's matured with them.
SK: I think McCall Zerboni would fit the mould better than most of a Paul Riley player/character, but what gives you most enjoyment as a coach, to see from your team? I think back to the Thorns team you had during 2014, with Vero (Boquete) creating, Steph Catley getting down the left, Jess McDonald in there, Sinclair and Morgan, and the 6-3 win against the Breakers sticks in my mind vividly. An incredibly enjoyable team to watch.
PR: I mean obviously player development's massive, so when you see an older player like Jess McDonald and McCall Zerboni make the (U.S.) national team, in the latter years of their career, it's amazing. It probably says a lot to what they've put into it and what they put into practice, because at the end of the day, all we can do is supply the environment, and they've got to supply everything else; the energy, the commitment and off the field, this 24/7 approach to what we do. But I like an attacking, creative team, and that (Breakers) game sticks out in my mind too actually; it was a great game. I'd rather win 5-4 or 6-3 than 1-0. We've got better defensively over the years. We started out as the Bad News Birds at Western New York and we scraped in the play-offs, but we won games 4-3 and 3-2 and 5-3; there's some ridiculous scores and I think we also got hammered a couple of times, too. That was the type of team we were; a little bit up and down, lacking consistency, and I think the players have been able to change that. I think that's resulted in them being able to take the pressure of being a top team now and still being able to get better and improve, and use every single minute of the day to improve on whatever it is they wanna do. You've seen a lot of them make the national team. Everyone says 'ah well, they're stacked now.' We weren't at one point, and it's the same players; it's the same players we had three or four years ago and they've just improved. They've put a lot of work in to improve, so I'd rather take my hat off to that, as opposed to saying 'they should win every game because they have all the national team players now.'
SK: With the England job, to clarify, is it correct you put yourself forward for it in 2013 after Hope Powell left, and you were later ruled out because you didn't have the UEFA A Licence at the time?
PR: Correct, yeah. I have the licence now but I didn't at the time. Trevor Brooking actually did my interview and Trevor was actually really great with me. He said he just realised after all the interviews that I didn't have the UEFA A. Course, in this country we didn't need it. I had the A licence with the U.S. and not the UEFA A. Now I've got the Pro Licence so that's the equivalent now. But it's too late now, (Phil Neville's) doing a great job and I'm happy for him. It'd be nice to coach your own country at one point. To do it on the international stage, that would definitely be something I'd love to do. If it doesn't happen, it doesn't happen.
SK: Were there any discussions the last time the job came up (in 2017), or interest there from either party?
PR: No, it never came up again. That was the only time, when Hope Powell left, and I went in for an interview then, to Wembley, and that was really it. I never went back the second time, just because we had a contract already established here, so the timing just wasn't right the second time.
SK: At North Carolina, you unofficially became the 'Junkyard Dogs,' but when do you remember that first becoming a thing?
PR: It was during the season, our first year in Western New York, and we were scrappy, just a scrappy team, and one day I just said it in the locker room and it just kind of stuck. I said 'we play like the Junkyard Dogs,' we scrap for everything, fight for everything, and it's a great thing for a team to have, that mentality to do that all the time, every day in practice, every game. Junkyard Dogs just stuck with us, it's followed us around, and now our supporters' group's called Junkyard Dogs. We still talk about it, it still comes up. We played in Portland when we won 4-3 in double overtime, and they put on the song, we were talking about Junkyard Dogs that day, and they put on (Baha Men) 'Who Let the Dogs Out?' The whole team started singing it and it was just a great moment; not in our development but just in our mentality. It's just the way we are and you can't change that.
SK: I remember Matt Beard talking about using his Cockney rhyming slang when he was at Boston Breakers, just to throw people off sometimes! You've been in the U.S. for so long, but do you ever drop any Scouse in there with the players, accidentally or otherwise? Or throw some Beatles on now and again?!
PR: No but I do listen to The Beatles! Beatles, Rod Stewart and Elton John in the morning; 6:30 at the stadium, me and the equipment manager throw the music on and listen to some old stuff, just to keep us grounded! I'm into punk, so my favourite bands are The Clash, The (Sex) Pistols, The Buzzcocks, The Skids, so they don't get much of that here, but I do enjoy listening to The Jam and stuff like that.
SK: Is there a mistake you've made in your career that you look back on now as particularly important?
PR: Well, the only thing I can say to that is my father told me way young, he said 'I wish I'd made all these mistakes when I was younger, because I wouldn't have made them when I was older.' I think you've got to make those mistakes, and I've made plenty of them, and I'm fine with that, you've got to live with it. I've lost many games, and I try not to lose, and I try to get the players to make the decisions in games, and I think that's probably changed with me over the last 25 years. Maybe 25 years ago I was trying to win the game; now I don't. I let the players win and players lose, and I'm fine either way, I just look at the development side of it and how we can get better. I think that's changed in me, as a coach. That's okay, but I've definitely made a lot of mistakes, that's for damn sure! I'll continue to do that, you just try to minimise them as best you can.
SK: Have there ever been any misconceptions about you, as a coach or personality, or has it been mostly fair?
PR: I think mostly fair. Sometimes they think I'm tougher than I actually am; I'm a bit soft at heart. Sometimes you get that thing, 'oh he's a tough guy to play for,' but I think the most important thing for me is always the players. I go about my business making them the most important part, and I like staff, I've always hired staff that I think are really good at what they do and they're gonna tell me 'hey Paul, you're wrong on that.' I want that, I don't want someone who says 'you're just a genius, Paul.' I want someone to tell me 'you're an idiot,' if I've been an idiot, no problem with that. I think that's how you improve as a coach, and I still want to get educated and I still want to improve. But I think overall, I've been given a pretty fair deal.
SK: When you get out there out on the field for training, the sun's shining (perhaps!), is it that same magic feeling as always? Have there ever been times where the enjoyment's been lost?
PR: No, not really, to be honest. I love getting in the stadium at 6:30 in the morning with a cup of coffee and just getting ready for practice. I think the most enjoyable part is what we do on the field, being with players and affecting people's lives, seeing them grow and enjoy their careers. I love having those personal relationships with the players and seeing what makes them tick, what makes them better and how we can make them better. I'm dealing right now in pre-season with 38 players, eight staff, there's a lot of people around, and I think it's about making sure we're all believing the same thing and there's no weakness in the group. That's the important part of what we do, but the fun part is obviously going on the grass, enjoying it and seeing these players get better, I love that. That's the medicine that keeps you going. It's not about wins and losses, it's about that other stuff; even though people say it's a results business, I tend to disagree.
SK: Finally, what else gives you that crucial enjoyment in your life? You have your dogs of course!
PR: I love gardening. I'm a big gardener, so when I go home to New York, I do a lot of gardening. My two bulldogs are fantastic. Dalglish, who's my crazy bulldog, he's my shadow, he's with me 24/7, and I've got a lazy one called Charlie. I wanted to call him Keegan but my wife didn't want me to have Keegan and Dalglish! I had Shankly, he was my boxer and I just lost him; I had him for 14 years. Dogs are a big part of our lives; we don't have kids, me and my wife. My wife's been great, allowing me to further my career and push on and do things that I wanted to do. She's very supportive and she lives up in New York where her whole family is; I've been trying to get her down here, but she comes down now and again, for a month or two at a time, or a week or two. She enjoys coming but I think she enjoys the other part of being with the family, and she's got a massive family, so that's important to her. We just plug along, in other directions sometimes, but when we get back together it's like we've never been apart. She's an amazing woman and I'm thankful for 21 years, to be honest, putting up with this and allowing me to do what I love.
Coach Kicks Q&A:
SK: What is your favourite session to deliver and why?
PR: To be honest with you, I try the entire season not to repeat the same session. I want to try and be creative, I've had the team for four years so I think if you repeat the same thing they get bored. I'm an attacking coach so I think a lot of our stuff is attacking-third-minded, which isn't always the perfect scenario, but it's something I like to do. I think we don't spend enough time in front of the net; we're all trying to fix the possession when at the end of the day, you've still got to put the ball in the back of the net.
SK: Which player has made the biggest impression on you in your coaching career and why?
PR: There's a lot. Vero (Boquete), I had her for a while and she's a spectacular player and person. Amy Rodriguez. I've had some great captains; I think leadership is critical in any unit. Abby Erceg who I have now is a fantastic captain, Kia McNeill who I had at Philadelphia (Independence) was fantastic. Finding those leaders I think is the first thing you go about when you're building a team and building a foundation. I've been lucky that way, no question about it. I had Nikki Krzysik (Phillips), another captain at Philadelphia, who I call Captain My Captain. Then Kiwi's my Captain For Life; Abby Erceg, who we call Kiwi.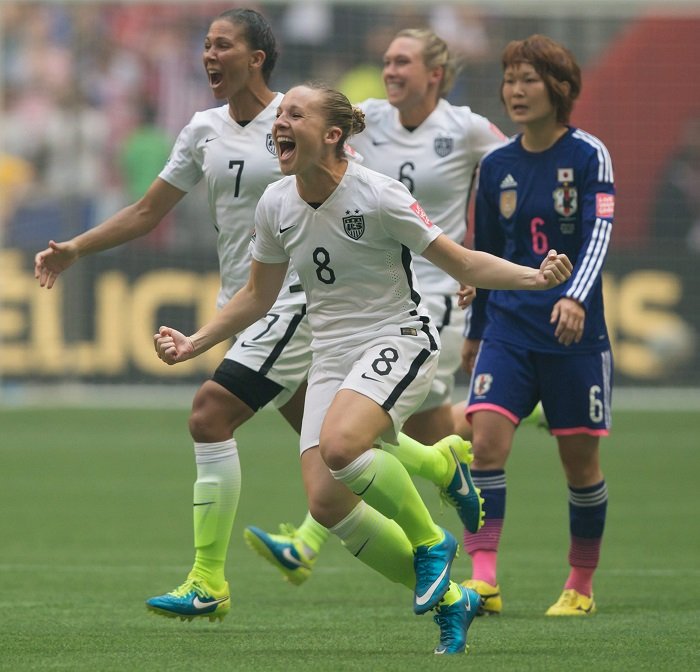 SK: Is your car, house or office full of footballs, bibs and cones?
PR: Well it's changed a little bit, but my car is usually full of it. Not my house; my wife would kill me! But certainly my car would be full of it. The old days, you'd go with a few balls and a couple of pinnies, but now there's that much gear.
SK: What do your players moan about the most?!
PR: (Laughs) I would say the physical component of our practice. They all have a good moan at it – they probably all moan about it when they're in their apartments and having a cup of coffee together – but at the end of the day, I think they all know that's the one thing we probably need to have and one thing that really sets us aside maybe from some of the other teams in the league and allows us to do what we do well, which is high press. Without that physical side of it, we wouldn't be what we are. I think they moan about it, but deep down, if I didn't do it, I think they'd be like 'God, he's got soft in his old age'!
SK: Do you ever join in, in training?
PR: I do sometimes but not very often; certainly a lot more in other years. I've had a kind of bad hip flexor going into pre-season this year so I haven't been able to do anything, but I demo everything and I'm involved in everything on the ground floor. I think that's my coaching style; I like to be involved with the players and come up with all the sessions. Obviously, using the assistant coaches to the best of our ability, in terms of maybe acting like the opposition coach in training to utilise different parts of the field, whether it be defending or attacking or midfield, depending on what the needs are. Yeah, I like to be on the ground floor, I like to be involved. Demo I think is important, because I think you need to show them that you can play – at least a little bit! I would love to still play, it's just hard when you're trying to coach now. In the old days, it used to be an important part, I felt. When I get in the middle of it, I can feel what players are like, how their thought process is, and I think it is important that coaches do play, at least sometimes. When they're playing full field I always go out in the middle; I like to be amongst them and just seeing what they're seeing and what they're talking about. I think it just gives you a little insight into what they're thinking, so I think that's important.
SK: The best coaches are always learning, what has been the latest lesson you have learned?
PR: I just learned something about set-pieces, funnily enough. It was last year, I was doing it on the Pro course in the U.S. and I'd do a set-piece and we'd clear the ball and I'd blow the whistle and we'd do it again. My mentor who was at the practices said 'why do you stop the set-pieces?' and I go 'well, it's over, I wanna do it again.' He goes 'yeah, but how many goals come off the second phase?' and he's correct. It's something that I corrected and changed; I live by it now and continue it all the way through, even the day before a game sometimes. The thing goes on for three or four minutes, where the ball stays in play. There's still a second phase, both attacking and defending of course. In the final last year, we scored off the second phase of a set-piece, which probably we wouldn't have concentrated on; they would have cleared the ball and I would have blown the whistle. Instead, we let it go, basically from mid-season onwards last year, and in the final we end up scoring off the second phase. I've definitely learned that, and I think the other side is more planning. In the last year, I've learned to plan more; I used to just think about being a player up, a player down, a goal up, a goal down, but now I think there's a lot of different plans for formations, different opposition.
SK: Which coaching book, manual, website, resource or tool do you most value and why?
PR: I watch a ton of games; I'm a huge Liverpool fan so we're in a good time at the moment. I know detail by detail Liverpool (men's), I study them a lot, Manchester City I study a lot, just because I love the way they play. I think those two teams I probably watch six times a week on video and I watch every single game live, depending on our schedule. Obviously I watch the Barcelonas of the world as well, but not as much. Right now, I think City and Liverpool might be two of the top three in the world in terms of how they play, how they press and all the different things that they offer. I love the two coaches; they're very different but both fantastic. I think if you can blend what they do and what you do, you might have something good. I respect them a lot, I've learned a lot just watching their team play and listening to them. Bill Shankly was my ultimate guy back in the day, and my favourite players Kenny Dalglish and Kevin Keegan. I've been born and bred by Liverpool people and I think Shankly gives you at least the substance and foundation of building a club.
SK: Do you have a favourite motivational line?
PR: I always use the same one: hard is fun. People think hard is difficult; for me, hard is fun. If it's not hard then it's not worth doing it. 'Hard is fun' is the one I use a lot with the players, and any time they moan, which they don't do a lot, I say 'yeah but hard is fun!'
SK: Do you repeat something A LOT?
PR: I said it a couple of years ago in the final. We lost the final and before the game I was talking about 'no finish line'. It became emblematic of our whole setup. No finish line is about for me the fact that no matter what you do today in the final, you've still got to get up in the morning, you've still got to eat right, you've still got to sleep and you've still got to train again, because it doesn't stop. You don't stop trying to be a great footballer or a great coach or anything like that. I think no finish line has become really a huge mantra for our club. It never stops, because if you want to be a world-class player then you have to keep going. You want to enjoy those moments, because sometimes I don't think we enjoy the milestones as much as we should, but when it's over, you've got to keep going. You can't just wake up and three months later think 'oh, let's start training again now,' because you lose days and lose time, and time is valuable. The more you put into the sport, the more you get out.
SK: If you could have any player in your side, who would it be and why? (Can be retired, if that makes it easier!)
PR: I've been blessed with so many great players over the years. I think Lauren Holiday. I think we were pretty close to getting her in Philadelphia, when the league (WPS) folded, and I felt that if she'd have come, that team would have been fantastic. It was great on paper to begin with, but that player would have got us over the top. I always wanted to coach Lauren; I spoke to her a couple of times at the games but never got the opportunity to coach her. She's retired now so I obviously won't get that opportunity, but she's the one.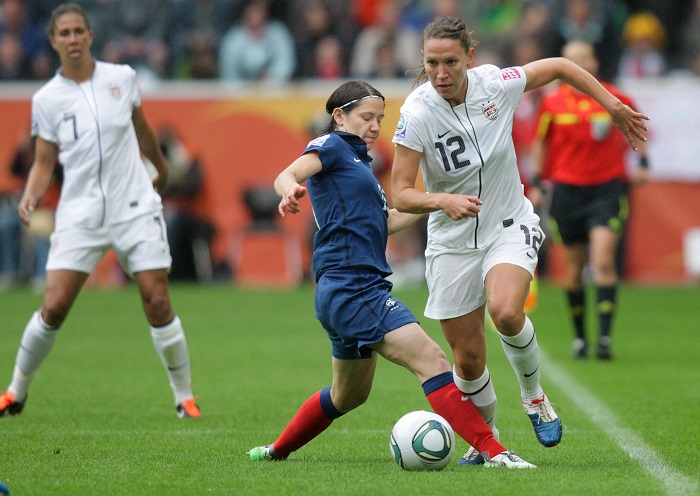 SK: What advice would you give to a player or coach moving overseas to work/play?
PR: I think – and you can ask Matt Beard, and obviously Marc Skinner coming over now (at Orlando Pride) – jumping into the league's difficult. We played Marc at the weekend (in pre-season) and I think the one thing that everybody notices immediately is the speed of the game and the physicality of the league. I think in England it's maybe not as physical and not as quick at the top level, on the female side. Then it's getting to know the college coaches and college system; it's a lot different than it is in England where you can get a player at 17 or 18. Here, those players don't come out until 21/22. So I think getting to know the college coaches, whose recommendation you can rely on to give you players, because you have to build the foundation of your club on the College Draft, and if you don't get those connections then it's very difficult to get those young players and develop them. Otherwise, there's so much rotation on your roster and I think a lot of teams in our league have had problems with coaching rotation and change, and player rotation and change. It's very difficult to evolve if you don't have a good foundation to build from.
SK: Lastly, what advice would you give to an aspiring/new coach?
PR: I think the most important part is coaching every level, whether it's youth boys, youth girls, high school, college, and then the pro level. I've coached at every single level, and I think all those experiences have made me the coach I am, especially the youth side. I think the youth side here's getting better and better, and there's more sophistication than there used to be. At the youth level, we were coaching ten/11 months of the year, so you had to be creative; you're working with kids four or five times a week so you have to go with sessions they haven't done before. That's a lot to ask, but I feel like it's a great lead-in to being a professional coach. When I go back to New York for three or four months (during the NWSL off-season), I coach a lot of the youth teams and run sessions that I've come up with to see how they work; almost using them like guinea pigs, but I think it's good for them and good for us before we bring it to the pro level. I think it's the most important thing to coach at every level, and whether it's boys or girls, I don't treat them any different; people say it's different coaching men and women, I don't find it any different at all. I do the same stuff, talk the same way, and try and motivate the same way.
Interview by @chris_brookes
You can find coaching features like this in each issue of She Kicks. Subscribe here