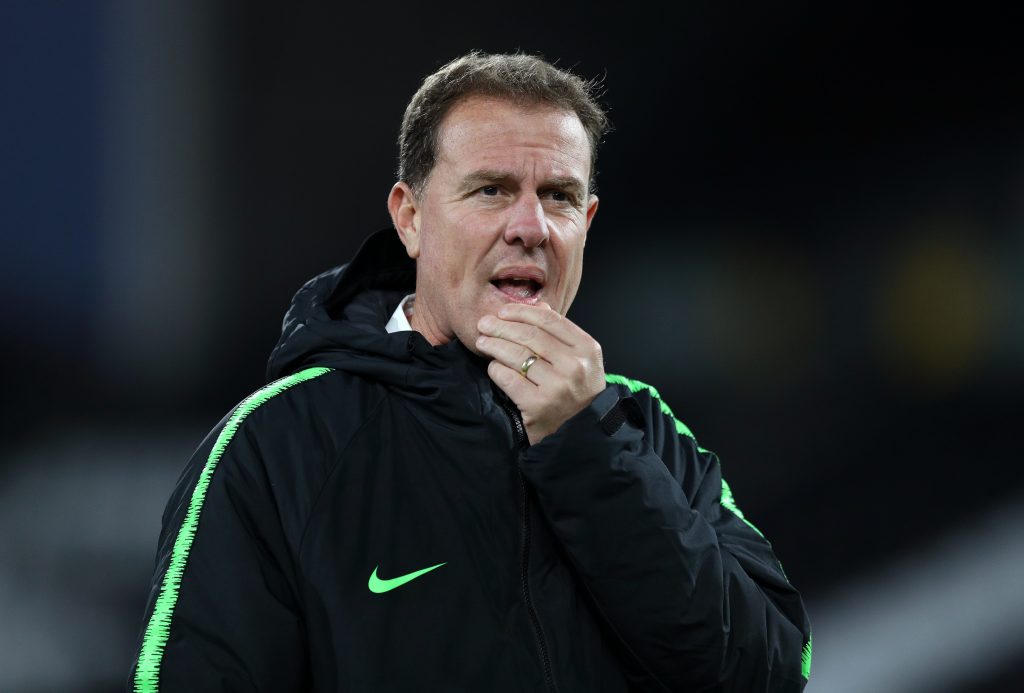 In this FIFA Women's World Cup year (it's here again…we can't believe it either!), She Kicks will be bringing you a wide range of perspectives in the magazine and online from players and coaches set to be involved in the tournament. A couple of issues ago, Australia head coach Alen Stajcic featured in the magazine. 'Staj' guided his team to the last eight of the 2015 World Cup and 2016 Olympics, and there are more than one or two who believe the Aussies can outlast the competition in France. Here is the Matildas supremo's interview (from October 2018) in its full glory, with the 'Coach Kicks' Q&A to look forward to at the end…
SK: In terms of the players, whether mentality, playing style, whatever it may be, what do you see in your team that is different now to when you took over in 2014?
AS: Yeah, it's a good question! I think there's probably one element that underpins I guess the growth and the evolution of the team, and that's maturity, on and off the field. When I took over, the average age of the team was around 21/22, and now it's around high 23s/low 24s, so our players have certainly matured a lot in life, having travelled and played abroad quite regularly. Most of our key players have now played in overseas competitions for four, five or six years straight, so they bring a lot of value and a lot of experiences back with them. I guess there's the belief that's come with that, seeing that we can compete with top nations, and beat top nations. When you put those two together I think the result is a lot greater consistency now, in training, in performances in matches and results, and that I guess all feeds into itself. You can mention the elements like technical and tactical and mental, and I think they've all improved, but I think they're all underpinned by those first three or four elements that I spoke about.
SK: The leadership specialist Peter Cox you brought in during your early tenure, how much did he aid the team's progression? Is he still involved?
AS: Coxy came in for the first year, and for me, it was important to have a little bit of separation from my role. I'd coached a number of the players as their youth national team coach, or as club coach at Sydney FC, so there were a lot of elements within the Matildas set-up that I thought needed changing or addressing, and the culture and the leadership within the group was certainly one. Peter came in and did a really good job with that. He was with us for one year, but since then, we've taken that on board with other people. In recent times, we've employed a sports psychologist who's come into the team and done a fantastic job; Kate Wensley has been with the team for about 18 months now and just given us such great value in terms of preparing the players emotionally and mentally, but also taking care of the culture and leadership side of the team. As we all know, it's a critical aspect in every team and certainly one that's involved in our team as well.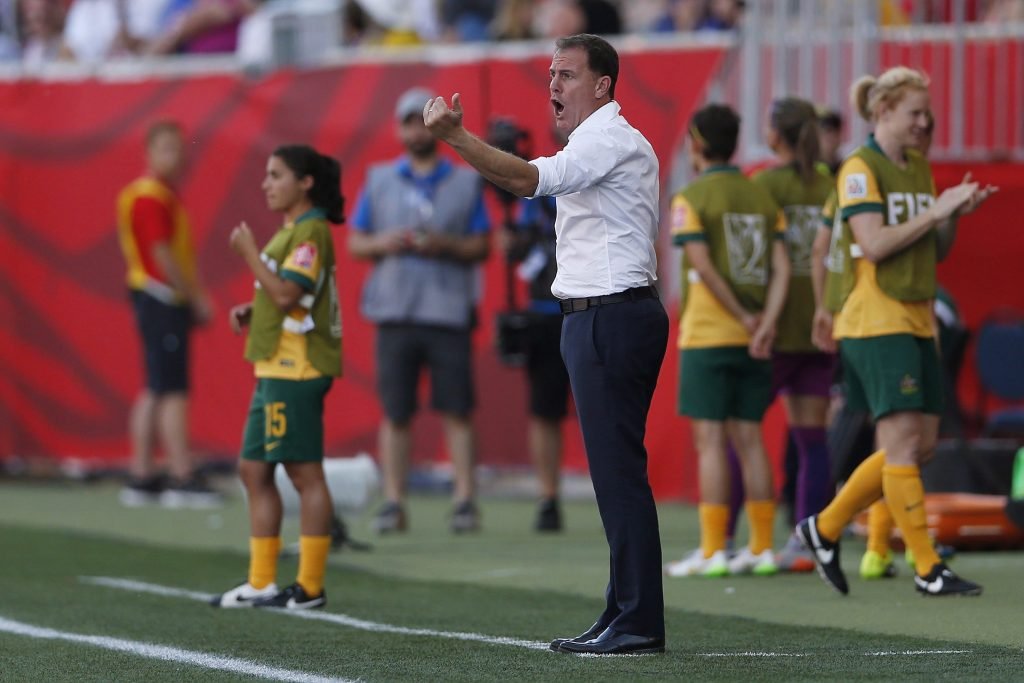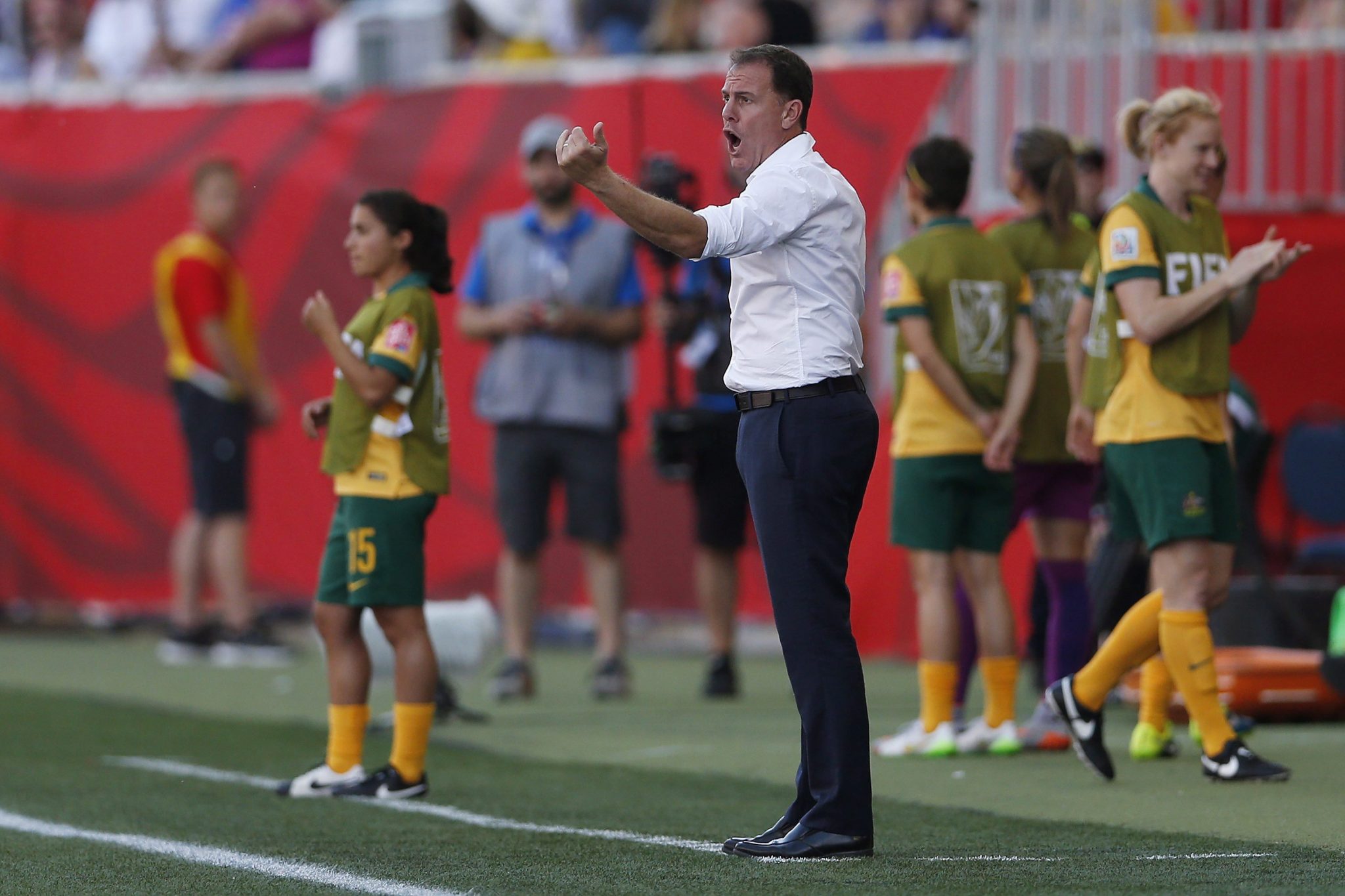 SK: Speaking with (former Matildas coach) Tom Sermanni for the magazine earlier this year, he talked about when he put Caitlin Foord in to play Brazil in the 2011 World Cup at 16. He said she didn't know who Marta was, and she couldn't have cared less! He said that's the Australian competitive mentality. Are there any of the young players in particular in recent years who really embody that?
AS: Yeah, it's a little different now to what happened with Caitlin back then, but there's probably five or six in the team now who were debuting in that World Cup as 16 and 17-year-olds. Off the top of my head, Caitlin Foord, Emily van Egmond, Sam Kerr, Kyah Simon was there, and possibly a couple of others. There were certainly a lot more teenagers in the team around that period, because we seemed to have this revolving door where we bring a lot of young players in but most of the older players were done with the game by their mid-to-late-20s. It was a little bit of an issue with the team where we'd never really get to that point where the team was ageing and maturing and getting that experience. A lot of factors have changed over time, but certainly I would say that Australians have that attitude where we want to take people on, and I'm sure Caitlin Foord knows who Marta is now! That's definitely one of the key principles within our team, that we're not going to take a backwards step and we'll back ourselves at every moment, and bring our playing style and try to impose ourselves on every match, whether it's number one in the world we're playing, or number 50. We have a philosophy and a set of values and a mentality that we want to bring to the game, and we're not going to sit back and let anyone detract from that or try and dictate the game themselves. It might not happen all the time, but that's certainly our intention.
SK: In terms of team bonding, what sort of things do you do to harness that? Any particularly 'off the wall' ideas?
AS: We've done a few things but it's a little bit harder with a national team where you're scattered around the globe for most of the year and we can only sort of work in FIFA windows now. That part of the landscape has evolved probably in the last 12-24 months to be more significant than it was when I first started, so it's a lot harder to get the team together, but certainly we do different things. The whole staff are engaged with that, but Kate Wensley's certainly been a big driver of that in recent times.
SK: What is different now in Australia in terms of recognition and awareness of the Matildas? How do we see that in practice?
AS: Our team has broken through into the mainstream in terms of awareness of the general public and sporting public. Every time we play now, the ratings are much higher on TV, the media exposure in newspapers and magazines is significantly higher, the profile of key players is significantly higher than it was before. Someone like Sam Kerr has really transcended all sport in Australia; she was awarded the Sports Personality of the Year last year in front of professional male players in NRL or AFL or our A-League. She's got to a level of exposure that we haven't really seen in a footballer in this country for a long time, with the possible exception of Tim Cahill; that's how big her name is. That wasn't happening three or four years ago in any women's sport, let alone women's football. I guess in a numbers way, to have a sell-out crowd when we played Brazil last year in a friendly out of Penrith, we had 15 or 16,000 and the game was sold out two or three weeks before the game. Two or three days later, we played up in Newcastle and had 17,000 again. There was an NRL finals match that day, I think the Wallabies were playing down in Canberra, and there was an AFL finals as well, all in the same vicinity, so for the Matildas to outdraw some of those I think is a good indicator of how far the game's come. But is the exposure and the attention as consistent as professional men's sport? We're still nowhere near that level, but it is a lot higher than it was, and every time the Matildas play there is a lot of attention from commercial TV and the most popular media outlets across the country. Also, the government support has been a lot higher in recent times, which has been great.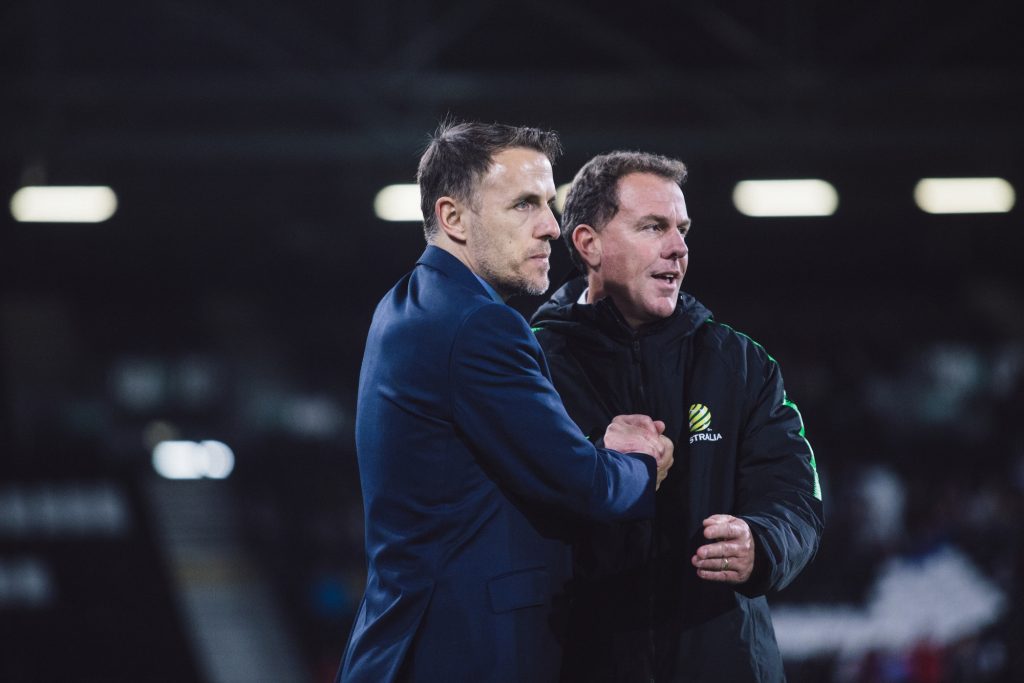 SK: We hear about the pressing, the energy, but how else would you sum up the characteristics an Alen Stajcic player must have?
AS: The players that I like are the ones who have that something special. I love players who can take people on and beat people and back themselves in one-v-one duels. I like players who can back themselves pretty much in any facet of the game, and really it comes down to almost the mentality more than the skill; obviously the skill is very important as well. But players who have that little bit of something special, that X factor. Is it the speed? The technical skill? Is it that real brute force and power? I am attracted to players who have that X factor and hopefully some other things that go with it. When I look at the key players in our team now, they've all got something. I could rifle through the whole team and just talk about the characteristics they have and the ones that sort of attracted me to selecting them.
SK: Sam Kerr is one of the Ballon d'Or nominees but it's fair to say she's been curiously/bizarrely overlooked for the big individual honours in recent years? It's sparked a lot of discussion, what are your feelings on it?
AS: Yeah, it's an interesting question and there's a couple of different perspectives. Looking at how the award's actually structured, with the voting and how it's carried out, I don't think it lends itself necessarily to someone like Sam being nominated. I think the process is fair and democratic and everyone gets a vote, but possibly players from some smaller countries or people who aren't in the public eye of mainstream media, or possibly even European media, they don't get looked at as much as some other players. The challenge for her is to carry on her exploits on the big stage, in a World Cup and things like that. She's won that many awards in the last 12-14 months – she's probably won about 10 or 15 awards that I can think of – and she even won this award called the Young Australian of the Year, which is for any Australian under the age of 30, from any walk of life. It could be a scientist, an entertainer, anything, so for her to get recognised on that level shows how far she's come. I think this year, the people who were nominated, you can't really argue that they're not great footballers, and once it gets to that level, it's so subjective anyway. I think I voted, off the top of my head, for players like (Megan) Rapinoe, who's a world-class player, and I think Sammy's without question at the moment the most dangerous player in the world, in the front third. She's a player that most defenders would fear to play against, but there's other players like Pernille Harder, who's world-class, (Dzsenifer) Marozsán as well, (Eugénie) Le Sommer from France. Even Lieke Martens I don't think was nominated this year in the top ten, so there's so many players who are world-class at the moment and I guess that's the most healthy part for women's football.
SK: Looking ahead to the World Cup this coming summer, and looking back to Canada 2015, what are the key lessons you're taking from last time into this tournament?
AS: I've obviously reflected on it quite a lot; there are things that were in our control and then things that were not in our control. The draw we had was a particularly tough draw, having USA game one, Nigeria game two, having Sweden, ranked five in the world, game three. Coming second in our group and having to play a group winner; a lot of the other second-placed teams got to play a group runner-up. Having to travel across the country and play Brazil, winning that game and then having to come back across on a five or six-hour flight to play Japan, who were the defending champions. So we really did have a tough draw and a lot of travel mixed in there, which probably no other country in the top ten had, or top five. It certainly was exhausting physically and emotionally on our team. They were the uncontrollables, but the things we can control are the depth of our team. We've worked hard over the last three years to increase the depth and flexibility in the team; should we have similar circumstances again we can rotate the squad and positions more. That's really the biggest element we've taken away over the last few years, where we're now comfortable with our top 20-25 players, and knowing that we've had a lot of players in our team play one or two positions. Regardless of who's played where or which starting eleven, we've tended to play at a decent level, game in, game out, so I've got a lot more confidence in that level of consistency I know we can bring to the next World Cup, as opposed to where we came from in the last World Cup.
SK: Your compatriots Joe Montemurro (Arsenal) and Tanya Oxtoby (Bristol City) are currently making an impression over here in the FA WSL, is that a real source of pride for you to see that?
AS: For sure. I've worked quite closely with both of those coaches and they're both fantastic coaches. Joe's obviously had quite a lot of success back home with Melbourne City and Melbourne Victory, and Tanya's a young, aspiring coach, and a former player back here, so I really wish her all the best as well. When you look at the male game, it's been especially difficult for Australian coaches to be able to move overseas and be successful; it's almost never happened. I think this maybe goes back to why Sam (Kerr) wasn't nominated; I think we've got to work harder than others to get that respect from the world of football and show that Australia is a country that loves football and is good at football. That feeds into that narrative, I think, where we need to do probably more than others to prove ourselves worthy of being considered in the elite levels of football like some other countries are. When people say Brazil, you instantly think of world-class football; when you say Australia, they think of a world-class sporting nation but not necessarily good at football. We're working hard to change that perception, for sure.
Coach Kicks Q&A:
SK: What is your favourite session to deliver and why?
AS: I haven't been asked that question before. I like all the sessions we do. There is a little counter-attacking game where it's like a 4-v-3 or a 5-v-4 that I love watching the players play. Most of the players love that as well.
SK: Which player has made the biggest impression on you in your coaching career and why?
AS: Probably won't pick one of my players or they'll be asking 'why didn't you pick me?'! But a player I like watching in recent times, and she actually did a little bit of training with me and came to Australia and spent a fair bit of time here at different times, was Megan Rapinoe. That was about six or seven years ago now and she spent almost a year training with my Sydney FC team. Just seeing that level of player and someone raising the bar of what female players can get to, it really inspired me to work harder knowing that players can be that good.
SK: Is your car, house or office full of footballs, bibs and cones?
AS: It used to be when I was a club coach but not as much now. Thankfully, my car's fairly clean and we leave it all in a storage facility now. I let my manager worry about that – he's got to have some job to do!
SK: What do your players moan about the most?
AS: I think the question should be 'what don't they complain about?'!
SK: Do you ever join in, in training?
AS: I used to, when I started out, at New South Wales Institute of Sport and Sydney FC, but when you get a bit older the knee becomes a bit worn! So I don't join in, but certainly the coaches and I have a bit of a kickaround before training; the usual crossbar comps and that kind of stuff. That's my outlet for a bit of fun nowadays.
SK: The best coaches are always learning, what has been the latest lesson you have learned?
AS: I think the latest one is just the evolution of the game, men's and women's football. In some respects they're parallel – there's obviously nuances that are different – but seeing the evolution in the men's World Cup, and in the women's game with teams like Spain improving at a rapid rate, and teams like Chile getting more experienced. Seeing the whole top 20 being so competitive, that hasn't happened before in women's football, and the different styles. Even seeing a country like Iceland, who I watched at the Euros in Holland and thought they were very impressive. Seeing the levels that these countries have got to is probably the biggest learning I've had.
SK: Which coaching book, manual, website, resource or tool do you most value and why?
AS: I like watching the game. I think the game's always the greatest teacher for me. I love watching football and I'll stay up to the wee hours here and watch your Premier League, a little La Liga if I can, and the NWSL regularly because most of our players are featuring. I watch all the international women's games that I can. I loved watching Mexico at the (men's) World Cup, where they were really brave and attacking. Always looking and learning and seeing what's effective at different levels.
SK: Do you have a favourite motivational line?
AS: I do love all that stuff! I can't think of one off the top of my head, but as a group we often use some of those pre-match.
SK: Do you repeat something A LOT?
AS: I'm sure my players could take the mickey out of me and say quite a few of those, but I do hammer a lot of the same principles to have as foundational skills that you need to be a good player.
SK: If you could have any player in your side, who would it be and why?
AS: The one Australian player who probably stands out over the last ten or 15 years who's not in the team now is former captain Cheryl Salisbury. Not only on the field but off the field; very charismatic and a personality where she cared for the other players.
SK: What advice would you give to an aspiring, new coach?
AS: To be involved in a sport you cherish and you'd do for nothing, and have that be called a job, is something you can't replace. I'd just say every day's an opportunity to learn as a coach and make your players that bit better. I guess that's the beauty of football; seeing players progress and improve and get to their personal best.
Interview by @chris_brookes