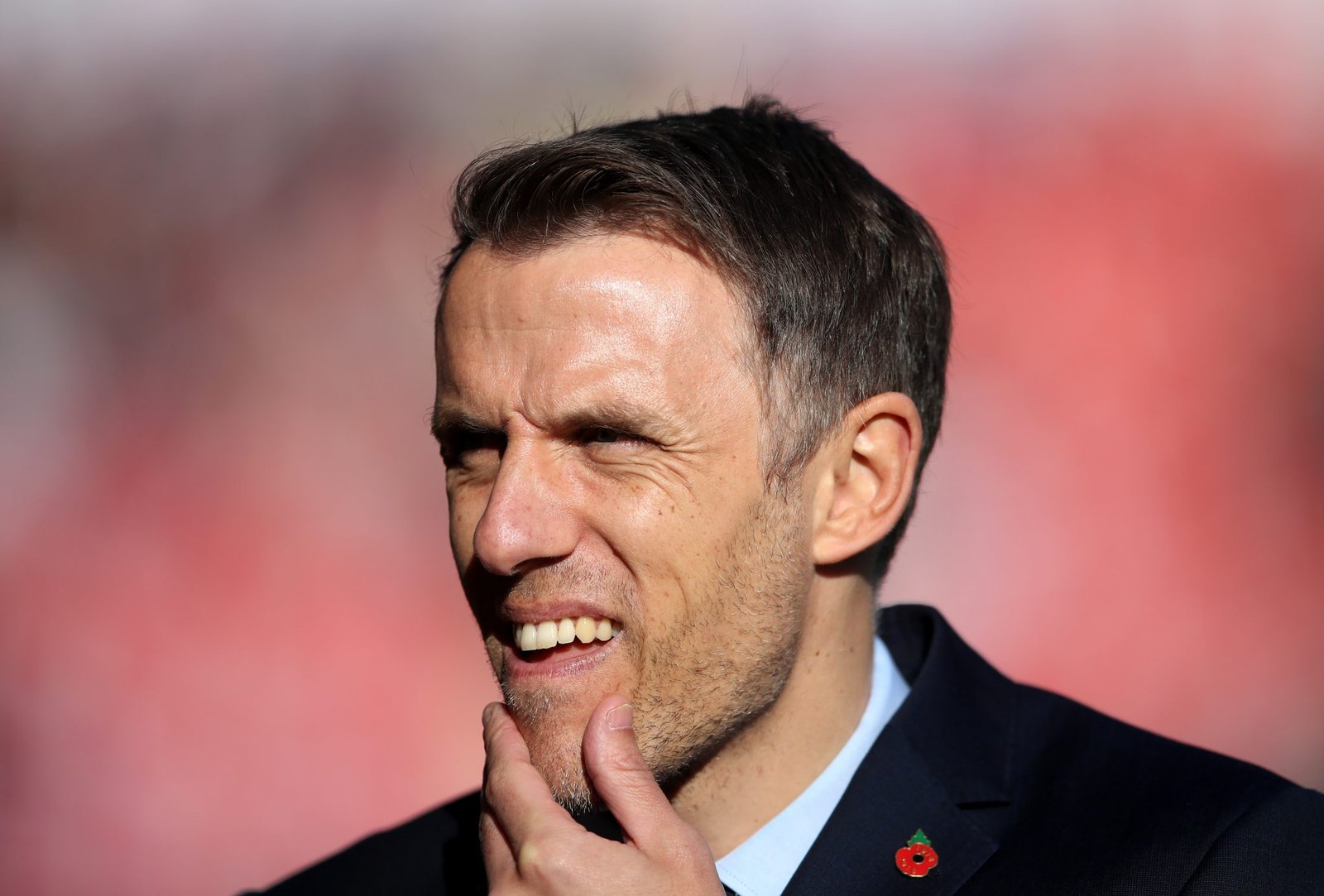 Following this evening's World Cup draw, Lionesses' Head Coach Phil Neville chatted in the mixed zone about England's group stage opponents. Here are his early thoughts…
On the draw itself and England's group, namely facing Scotland first:
We had a feeling it would be something like that. We played them in the last Euros in Holland and had a really good result against them. We've spent a lot of time with their coach today, Shelley Kerr, so we're looking forward to it. It's going to be a great game. I don't think it's a game we will need to build up. The players know each other inside out, a lot of them play at the same clubs as each other.
It's a tough group and all three games have a meaning, which means that my players will have to perform in every single game. The last game is against Japan, a top side that will probably be looking to win the World Cup, even the Argentina game has historical meaning for us as well, so three brilliant games but the first one is the mouthwatering one because it's our nearest rivals.
If we're going to go to a world cup – I always dreamt of going to a World Cup but was never fortunate enough as a player – you want the biggest and best occasions and I think that game on June 9th will be a special occasion.
I watched Scotland against the USA last month and I thought they were fantastic. They've got some players that we all watch in the WSL now that don't just make up the squad, they're actually some of the best players in the team, if you look at the [Manchester] City ones and Arsenal ones, in particular. They're top players. So this is going to be a top class game and we're going to need to be at our best and probably produce a form that we've not produced since I've become manager. I think that's how good that game is going to be.
On how much Scotland have developed since that Euros game and the job Shelley Kerr has done:
They've done really well. You go back to the game in the Euros, they're a totally different outfit now. They've got experience, they've got confidence, they've got a different system, they've got a fantastic manager who I have a lot of respect for. We had something like this when we played Wales, where there's a circus around the game and I thought we handled that well when we went to Newport and we're going to have to handle that again. It's a game of football, it's going to be no different than the Argentina game. Whoever we play, it's always about three points. We're looking forward to it because we want to play in these types of games.
On the aim of 'turning the bronze into a gold' and if he is still confident now he has seen the group:
I don't think the group swayed my mind in terms of where we are. If I stood here now and said we want to go to the World Cup in France and win a bronze medal I'd probably have 26-28 players all texting me saying you're not the right manager for us. My players are ambitious and want to be pushed and challenged and they want to try and win a World Cup and that's what I was brought in to do, so work starts now. If you go into a competition wanting bronze or silver you're going in with the wrong mentality, particularly if you're a third or fourth best team in the world, like we are.
On the venues that England will play in:
Yeah, I think playing in Nice twice will be fantastic for the supporters and fantastic for us because we will get to know the venues and acclimatise to hotels, pitches, the stadium and I've spent a lot of time in Nice and that time of year it's quite a nice place to be. So we are pleased. Obviously the flight from Nice to Le Havre is at the other end of the country but I think that logistically we will be fine and playing two games in the same place is a positive for us.
On how different it is being at a draw as a coach, rather than watching them as a player:
It's different because as the draw's going on you're think about who you're going to play pre-world cup. All my staff are at home, locked in a room, planning who we want to play in May, June and maybe April, so you've got to look at it differently. All the players see is June 9th and they're probably booking flights for their family now [if selected], so you do look at it strategically because the next six months is now being prepared to play those teams and get us out of that group.