Although there is now uncertainty over how the football season will play out in 2020, it is fair to say that 2019 was a good year for Queen's Park WRITES CATHERINE ETOE.
Quarter finalists in the Scottish Cup, the Glasgow-based club amassed more than 100 goals over the course of the season. To top it all, the Spiders secured promotion to the top flight and they did so in gripping fashion, battling back with a late-late equaliser against Hibernian U-23s to earn the point they needed to reach SWPL2. Midfielder Helen McLeod had played her part in the campaign, but had to watch that eight goal thriller with Hibs from the sidelines due to injury. Even so, the 31-year-old student counts their epic promotion decider as the best moment of the season.
Here, former Kilwinning player Helen gives us the lowdown on what we can expect from Mark Kirk's side this season, when it hopefully kicks off again later this spring…
SK: Can you describe how it felt to gain promotion to SWPL2?
HMcL: It was a great feeling, it was quite close in the end really. The last game we knew we just needed a point to go up and we were playing Hibs who were a decent side, we scored an equaliser with the last kick of the game!
SK: What was your best moment last season?
HMcL: My favourite moment came when I wasn't even playing believe it or not. I was injured for the last game so I was a supporter on the bench. Watching and cheering on my teammates getting that equaliser was something special.
SK: You're in your second spell at Queen's Park, where were you in between times?
HMcL: I was there for two seasons, I left, then suffered an ACL injury at the beginning of the 2016 season. I was at a team called Westerlands at the time. I didn't play for couple of years then I came back to Queen's Park for the second time at the start of 2018.
SK: What was it like getting over an ACL?
HMcL: It was tough because football is something I really enjoy so having two years out was tough, but you focus on where you want to be and it's easier to get there.
SK: You were in your 20s when you took up the game seriously, how do you view your sport now?
HMcL: When I was growing up there was literally nothing on the TV. I didn't have female football players to look up to, it was always men, now you're getting girls growing up seeing Scotland at the World Cup, these girls have heroes now which is great. It's on the up, everything is on the up for women's football.
SK: Can you describe yourself as a player?
HMcL: I'm box-to-box, I've got an engine, I like running into space and I'm quite aggressive.
SK: How do you prepare for a game?
HMcL: With plenty of rest and the right foods. I also like to watch Match of the Day with my morning coffee.
SK: What do you like doing in your spare time?
HMcL: I've started to get into running now. I like doing Munros, I've done a few.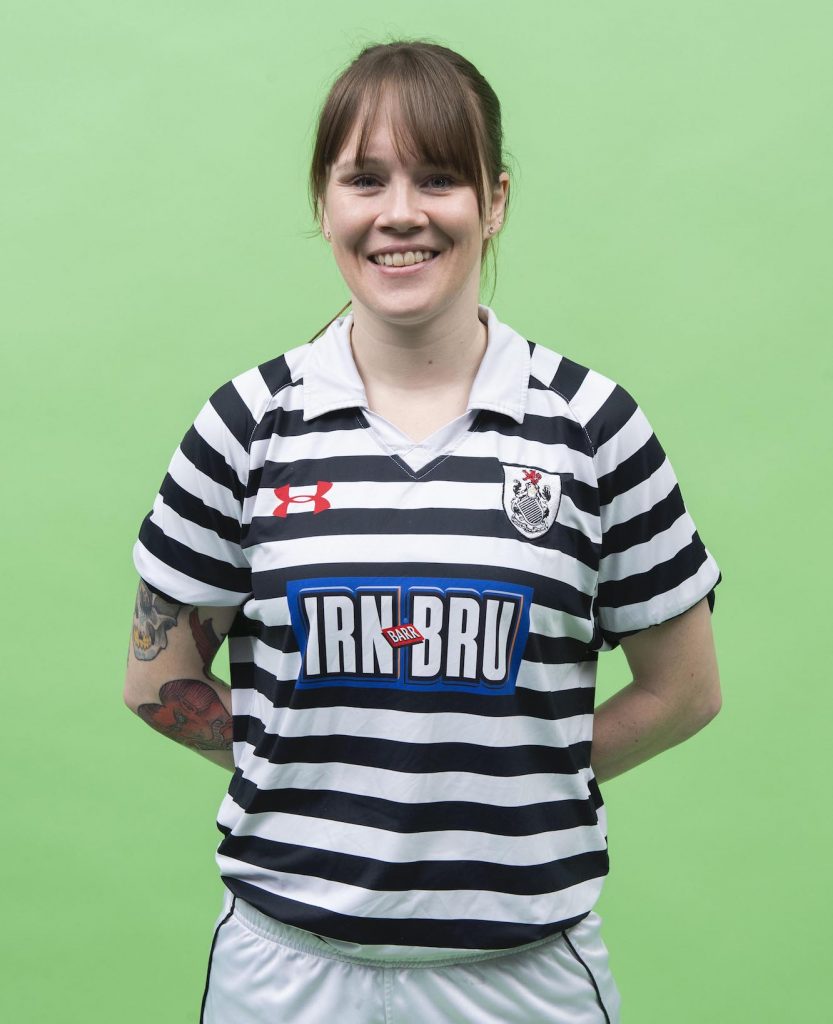 SK: What are you hoping for on the pitch this season?
HMcL: Last season I got quite a few injuries which knocked me back a little bit. We had quite a lot of injuries as a team as well, a lot of our defenders were out so I had to fall back into defence, so my season was kind of up and down with injuries and playing out of position so I'm hoping for no injuries and a few extra goals.
SK: What was it like coming back for this new season?
HMcL: There was a buzz because you've got new players, and finishing last season on a high, everyone was happy to get back to it.
SK: How are your new signings settling in and who has impressed the most?
HMcL: All the new signings are settling in very well. The Queen's Park girls always try to make it easy when new players come in. Of the new signings I'd say Jayne Cameron has impressed so far, she's a natural leader and even became captain in her first season.
SK: What 's your home ground like?
HMcL: It's brilliant. Lesser Hampden. It's a fantastic big pitch, brilliant stadium. We train and play there so it's a really good facility for us. We train three nights a week and a game on a Sunday, and that's an advantage in itself training and playing in the same facility.
SK: What's the atmosphere like at training?
HMcL: The atmosphere is always a positive one, we like to have fun but in the right way. We push each other to get the best out of ourselves.
SK: What's the best team building exercise you've done together?
HMcL: Footgolf!
SK: Is there a team DJ? If so who and what kind of music?
HMcL: We have a QP match day playlist where everyone can add their favourite songs. It's usually a mix of dance tunes and the odd Susan Boyle tune for Frankie [Fern].
SK: Could you describe your team style?
HMcL: We are a very attacking, pressing team.
SK: And what we can expect once the season resumes? 
HMcL: We've just got promoted, we're the underdogs, everyone looks at us and thinks we're going to get relegated. Our aim is to stay up and I hope we can do that. Everyone is excited about what the 2020 season has in store, we've worked hard to get to this stage and now we want to prove we're here for a good reason.
Follow Queen's Park on Twitter @QueensParkLFC and Helen @Helen_McMetal