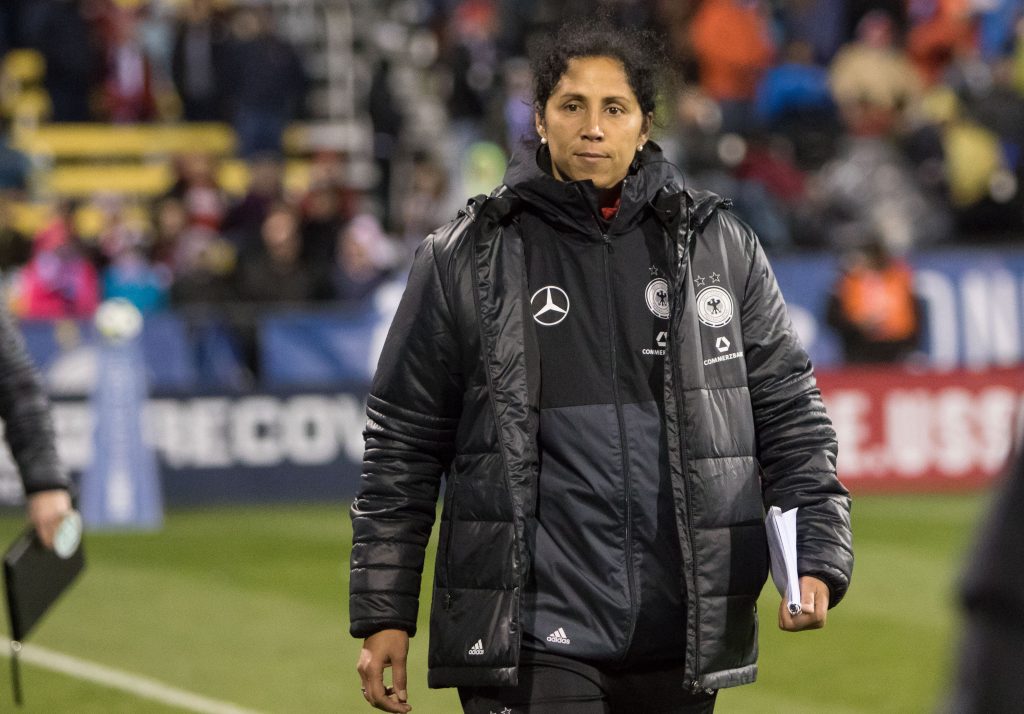 News came through this morning that the German Football Association (DFB) has relieved women's national coach Steffi Jones of her duties with immediate effect.
The decision was made by President Reinhard Grindel during a telephone conference and followed the recommendation of the Director of National Teams Oliver Bierhoff as well as the Sport Director Joti Chatzialexiou (who had intensively analysed and evaluated the team's performances over the past months). Horst Hrubesch will take over the team for the two upcoming games in April against the Czech Republic and in Slovenia, Ulrike Ballweg (who was Silvia Neid's number two) and his longtime companion Thomas Nörenberg will assist him. Hrubesch had led the German men's selection 2016 to Olympic silver in Rio de Janeiro.
A quarter-final exit at last summer's Euros – a competition that Germany had totally dominated since 1995 – and a home loss to Iceland in World Cup qualifying and then last place at the recent SheBelieves Cup in the USA all contributed to her demise.
DFB President Reinhard Grindel says: "Steffi Jones has showed great commitment and dedication as a trainer, and I would like to thank her most sincerely on behalf of the entire Bureau, she remains a defining feature of German women's football and I would happy if she stays with the DFB and women's football in another function. "
Oliver Bierhoff, Director of National Teams and Football Development, said: "The decision was preceded by an intensive analysis of recent months, most recently with Joti Chatzialexiou accompanying the team on their trip to the U.S. We wanted to continue working with Steffi after the disappointing European Championship and have her in view of the athletic development, the importance of qualification for the World Cup and the varied feedback from the SheBelieves Cup has led us to the conclusion that the team needs new leadership – to further professionalize the structures in women's football, to strengthen the integration with the men's sphere and go to new ways of thinking. "
Joti Chatzialexiou, Sporting Director National Teams, adds: "We will therefore now take the time to find a suitable head for this task in close cooperation with the League."
New interim Head Coach Horst Hrubesch says: "I have been following women's football in recent years and have also been to the European Championships this summer, and I am happy to help in this phase and I am very pleased that Uli Ballweg and Thomas Nörenberg will support me in the coming games. "
Hannelore Ratzeburg, DFB Vice President of Women's Football: "I hope that the team gets a new impulse through a change and quickly return to their old strength and former self-confidence." I am very grateful that Horst Hrubesch will help in this situation. We all know that qualifying for the World Cup is of enormous importance for the further development of women's football. "
The next two World Cup qualifiers will take place on 7th April in Halle an der Saale against the Czech Republic and on 10th April in Slovenia.
We spoke to Steffi Jones after their 2-2 draw with England at the the Red Bull Arena, at the recent She Believes Cup. Both last year and in this edition, the team did not quite get the results that their performances warranted (although they were pretty awful against the USA in the opener last year – put down to jet lag). Over the three games they were good but not great and failed to convert chances, whilst never truly convincing defensively. The She Believes Cup is an odd tournament, with very up and down games, often affected by poor conditions and demanding in terms of travel and little contact time on the training pitch with the team. Though the process outlined above suggests this was not a snap decision, it was clear that Jones was feeling the scrutiny of her position from within the DFB, as she explained in our chat: